LIVE camera launch! Watch the Sony ZV-1 II announcement
Sony just launched a brand new camera: the Sony ZV-1 II. Watch the announcement right here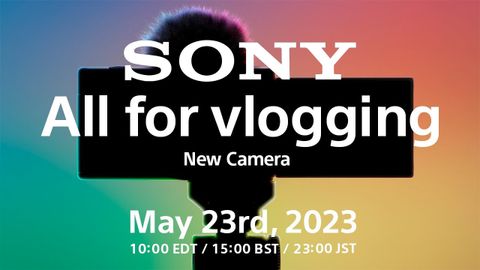 (Image: © Sony)
IT'S OFFICIAL: The Sony ZV-1 II camera has just been announced, with a brand-new 18-50mm f/1.8-5 lens with a range of new modes to make vlogging easier and better. Check out the full Sony ZV-1 II specs and details!
You can watch the launch via the embedded YouTube video below, and read our live play-by-play of the event as it happened!
Read our full Sony ZV-1 II review
Refresh
We're just a few hours away from today's Sony camera launch! And there's already some interesting chatter on the YouTube announcement page.
"Sony needs to give us more features that are missing on iPhones. TBH cameras on phones are getting much bigger updates every year than ZV1" says commenter Kim.
It's an interesting observation. Not only do phones have many features that we take for granted (which are often absent on traditional cameras), but the manufacturers are also much more committed to quality of life improvements via firmware.
Apple sells a new iPhone every year, but that doesn't mean it refuses to add or improve features for fear of cannibalizing sales – quite the opposite. So why are camera manufacturers so shy about releasing meaningful firmware?
We're just a few minutes from showtime!
Very interesting that a few commenters have been asking for an EVF – which seems a rather strange thing to want on a vlogging camera.
Folks have also asked for a lens with a filter thread, as the original ZV-1 didn't have the ability to attach filters (without using an adhesive / stick-on solution), which we would also love to see.
Aaaaaaaaaaaaand HERE WE GO!
All for vlogging, with a vlog-oriented design that suits a variety of scenes "to capture your emotions wider"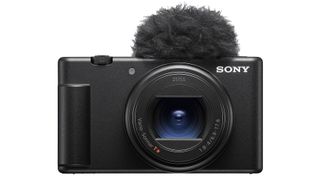 (With a new, wider lens, to boot)
"Breathtaking 4K detail" with a vari-angle screen and touch control – a FULLY CAPABLE touchscreen, unlike previous models
Cinematic Vlog Settings are new here, with five Looks and four Moods to choose from
Intelligent three-capsule microphone that works in all directions
Sony is pushing the Active mode stabilization, which hopefully is a bit more stable than before
Want S-Log3 and S-Gamma3? You got it!
"Made from recycled plastic and less waste", says Sony, which is on a big green initiative right now
In short…
Same features:
20.1MP 1-inch Exmor RS sensor
Bokeh Switch
Product Showcase
Real-time AF tracking
8bit / 4:2:0 / Long GOP
PP / S-Log3, S-Log2
2.4GHz / (IE Webcam)
(Still no headphone jack)
New features:
18-50mm f/1.8-4.0 lens
Fully touch-capable screen
3-capsule mic with changeable direction
Animal AF recognition in movie
Cinematic Vlog Settings
My Image Style
USB-C
Short and sweet! That's it from the Sony announcement. The Sony ZV-1 II looks to have addressed some of the limitations of the original camera, while adding a slew of useful features for vloggers – but, crucially, not the content creation features that make the recently announced Sony ZV-E1 so exciting for that audience.
Make sure to check out our full story with all the details on the Sony ZV-1 II and see for yourself if it ticks the boxes you want!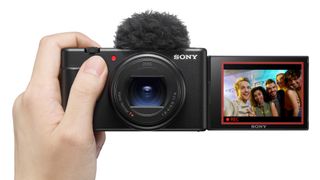 Thank you for reading 5 articles this month* Join now for unlimited access
Enjoy your first month for just £1 / $1 / €1
*Read 5 free articles per month without a subscription
Join now for unlimited access
Try first month for just £1 / $1 / €1