LIVE: Watch the DJI Double Up event live here with us – is it the rumored DJI Air 3?
According to various leakers, DJI is expected to launch a new drone with two cameras today. Watch along live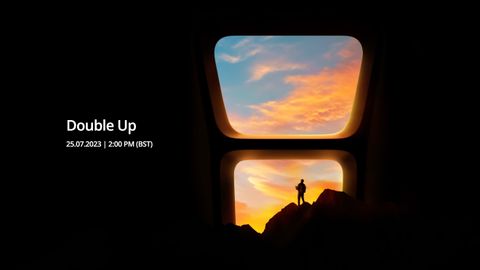 (Image: © DJI)
DJI's big announcement is at 9:00 EDT / 14:00 BST / 23:00 ACT and if all the rumors prove true we'll be seeing a brand new drone. The event will be shown live here.
Refresh
While we're waiting...
The graphic certainly makes us think drone, as we've already discussed when looking at the teaser – is this the DJI Air 3 rumors suggest?
The DJI Air 2S has been around a little while, but it is still a powerful drone, with 5.4K video from a 1-inch image sensor. The internet, however, seems to be expecting something a bit different from the (as I type) still theoretical replacement for DJI's mid-weight consumer drone.
The Mavic 3 Pro has three cameras. The Mini 3 Pro has one camera (albeit one it can rotate between horizontal and portrait). It makes sense that a device which sits between them in the range might have more cameras than one and fewer than the other, right?
If true, just how much weight is required to hoist such a camera system aloft, and what the benefits are remains, however, very much to be seen. Sure, there have been a few box shots on twitter, but now we want to know the specs for sure.
DJI have done nothing to restrain comments on the YouTube page for its live announcement - I suspect the poster expecting to see an Inspire 4 will be disappointed!
Counting down the seconds watching the live chat my favourite suggestions so far have been "This drone will let you ride it" and "a Mini 6," the later from someone who presumably is looking to skip forward into the future. Oh, and "a robot that does the dishes." That'd certainly be a surprise, though I'd be happy with a robot that filled and emptied the dishwasher!
Also some folk out there hoping for a Pocket 3, too. Interesting.
Cue dramatic countdown graphic...
OK, well Air 3. Dual cameras. 70mm. New RC. 46 min flight time. 100FPS slow mo. We've seen all that on screen in the opening moments. And a speedboat. And a hot air balloon. And O4 transmission. Omnidirectional sensors.
Looks a lot like a slightly smaller Mavic 3.
Oh, and that was it? Thousands of us watched live and it was just a three minute video.
Very nice and all, but there wasn't even an announcement of the pricing.
Luckily we do happen to know that here at DCW...
• News about the DJI Air 3 2 camera system and pricing
We can also share some specs...

Weight: 720g
Folded: (without propellers): 207×100.5×91.1 mm (L×W×H)<br>
Unfolded: (without propellers): 258.8×326×105.8 mm (L×W×H)
Max speed: 21m/s (or 19 m/s in EU where the C1 spec is applied)
Cameras: both 1/1.3-inch stacked CMOS sensor 48 megapixel
Flight time: 42 minutes hover, 46 mins forward
The drone also boasts 8GB internal storage, the wide camera has 24mm EFL (slightly narrower than the only camera on the Air 2S's 22mm) at f/1.7 while the tele has a 35˚ field of view or 70mm EFL and f/2.8.
ISO is 100-6400 though night mode can extend that to 12800 with a limit of 30fps.
O4 has a transmission range of up to 20km in perfect conditions, and 1.5km even in urban noise.
This drone can look up – the gimbal's controllable range is -90 degrees to +60 degrees (and even -5 to +5 pan).
Thank you for reading 5 articles this month* Join now for unlimited access
Enjoy your first month for just £1 / $1 / €1
*Read 5 free articles per month without a subscription
Join now for unlimited access
Try first month for just £1 / $1 / €1