The Camera & Imaging Products Association (CIPA) has published its camera shipment report for September, and year-on-year shipments have continued to decline.
The latest graphs show September 2018 shipments of 1,732,128, which is down significantly from September 2017 shipments of 2,301,700.
For interchangeable lens cameras specifically, September 2018's shipments (931,319) were only 88% of September 2017 (1,057,145), which in turn were 95% of September 2016 (1,114,114).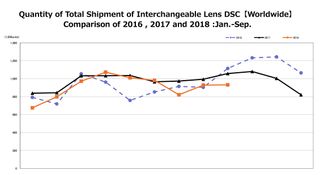 While shipments of mirrorless cameras are eating into DSLRs' numbers, the overall shipments are still shrinking – and with advanced phones like the Nokia PureView 9, with its five Zeiss lenses, that pattern is likely to accelerate.
The question is, with October being the big month for the Canon EOS R and Nikon Z7, can the big two full-frame mirrorless bodies prompt a pickup in shipments? Indeed, will the industry-wide shift to mirrorless help turn the tide, or is the rise in the camera phone to blame?
Unfortunately CIPA's research poses more questions than answers them.