Cast your minds back and you probably still won't remember the Yongnuo YN450, or the YN455, Android-powered Micro Four Thirds cameras that, it's safe to say, failed to set the world alight. Times have changed, and Yongnuo is back. Will things be any different?
We can't say for sure as all we have is a report by 43 Rumors, accompanied by photographs. There is no evidence, as yet, on Yongnuo's site, of this new YN433. Previous models were only released in China at first, though, including the Yonguno YN450, so that isn't conclusive – and there is no evidence of the previous ones either!
• Check out the best Micro Four Thirds cameras, even if there's not a Yongnuo among them
What we can say is what seems apparent from the images; firstly there appear to be two tripod screws for horizontal and vertical operation. Secondly, a USB-C hub was dangling from a socket of the compact design in the show model, and what looks to be an HDMI cable too – there was no display at the rear, so clearly this isn't Android-control as we knew it before. Instead, the back seems to have a removable battery.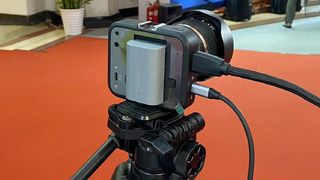 The Micro Four Thirds camera shoots 4K and is built for broadcast and live streaming. Streaming, especially, is often a budget operation – and done on a much larger scale – so perhaps Yongnuo will finally find a welcome. It wasn't the idea, however, that earned hostility last time; it was the quality of the product that got it slammed, and it seems a hostile reception is already warming up.
Commentators on 43 Rumors were somewhat sneery about the device's early showing, referring to the reversed lens hood as, "the camera equivalent of wearing a baseball cap backwards." To be fair, we'd imagine you'd want the glass to be on show at a trade show and suspect the bottom half of the internet of simply finding fault. But that's not to say the camera will be any good, or even available outside China. We'll keep you posted.
If you're interested in live streaming there are also plenty of options out there, from apps to drones, so check our best cameras for streaming.