When we think of great locations in the UK to witness the Northern Lights (the aurora borealis), Scotland and the north of England are the places that first come to mind.
This is all changing, however, says astrophotographer Josh Dury, who captured this image at Glastonbury Tor in Somerset – in the southwest of England and one of his regular haunts for shooting the stars.
"Forecasts by AuroraWatch UK in early September suggested that the aurora borealis would be visible with the naked eye from across the UK," recalls Josh.
"A red alert was issued – usually we get green alerts, which indicate minor levels.
"Looking ahead, I hoped the weather forecast would allow for clear skies. So when I received notification that the solar wind would be arriving in no more than 20 minutes, I grabbed my camera bag and drove to the Tor.
"Cresting the Tor as fast as I could, I waited for the sub-storm to hit. My photograph shows a vertical bank of cloud drifting above, which didn't look like it was going to move any time soon.
"Fortunately, a gap in the clouds revealed a red glow on the horizon – the aurora borealis. My phone was pinging with aurora alerts and I started to see pillars low on the horizon."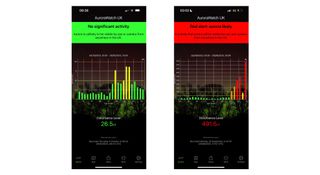 As seen in the AuroraWatch UK app screenshots above, we are used to getting green – minor – aurora levels in the UK (above).
But on this particular night, the red bars were spiking through the roof (right), generating one of the highest aurora alerts that Josh has ever seen in south west of England. And there will be more of this to come, he adds.
"As the sun reaches the maximum in 2025 [the solar maximum is a cycle every 11 years where the sun peaks in activity], we can expect to see more sightings of the aurora borealis from across the UK.
"The latest advances in technology allow us to predict the aurora in ways that we have never been able to do before, and give us greater chances of knowing when the aurora will be visible on a given night.
"All we need now is to wait for clear skies!"
Read more: Josh's pro techniques for bagging awesome astro shots
Astrophotographer, film-maker and night-sky conservationist, Josh is based in south-west England and uses photography and film-making as a way to promote conservation and highlight the effects of light pollution.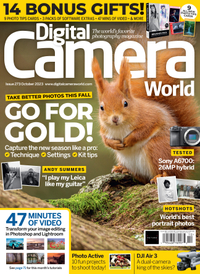 Digital Camera World is the world's favorite photography magazine and is packed with the latest news, reviews, tutorials, expert buying advice, tips and inspiring images. Plus, every issue comes with a selection of bonus gifts of interest to photographers of all abilities.