After tantalising our taste buds by teasing the device at the beginning of the year, Huawei has officially unveiled the world's fastest foldable 5G camera phone, the Huawei Mate X.
Hot on the heels of revealing the Huawei Mate 20 X 5G, which will be the company's first consumer 5G phone, Huawei stepped up its arms race with Samsung by showing off the jaw dropping – and, as yet, completely unbroken – folding camera phone.
• What is 5G? And what does it mean for photographers?
It's not just the fact that it isn't (yet) broken that separates the Huawei Mate X from the Samsung Galaxy Fold, though. The Mate X boasts a more impressive camera array than its South Korean rival, with a lust worthy Leica Quad Camera setup that's sure to make this one of the very best camera phones around upon release.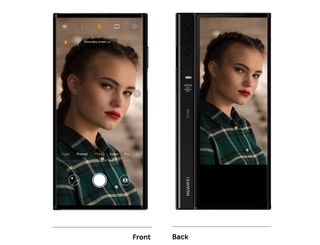 Its chief camera boasts a 40MP sensor with a wide-angle, f/1.8 lens. The second camera is a 16MP affair with an ultra wide-angle lens and an f/2.2 aperture. Thirdly there's an 8MP sensor with a telephoto f/2.4 lens, which boasts optical image stabilization.
The final ingredient in the four-way lens array is a Huawei Time-of-Flight Camera. And if you're asking "what is a time-of-flight camera?", check out our in-depth feature to explain what it is and how it works.
If the magic of time-of-flight isn't enough for you, the Mate X' imaging system also supports all manner of hi-tech assists, such as three kinds of autofocus (laser focus, phase focus and contrast focus) as well as Huawei's AI Image Stabilization.
In terms of specs, the Mate X packs a monster 8-inch screen when unfolded, with a 6.6-inch front panel (compared to the Galaxy Fold's comparatively modest 4.6 inches) and a 6.38-inch back panel when the device is doubled over.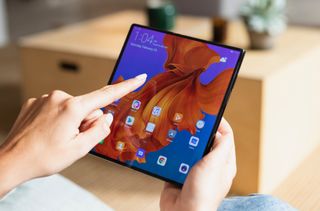 Powering the camera phone is a lightning fast tag team: a Kirin 980 processor paired with a Balong 5000 5G modem. For an idea of just how fast that is, it can download a a 1GB movie in just 3 seconds.
This requires a lot of juice, so it's good to know that the phone has another tag team – duo batteries that combine for 4,500mAh, capable of charging to 85% in 30 minutes thanks to Huawei's new 55W SuperCharge capability.
The Huawei Mate X is due to be released in the second half of 2019 and will cost an eye-watering €2,299 ( £2,008 / $2,569) – though at least you'll be able to fold out that giant screen to catch your tears.
Read more:
The Huawei Mate 20 X 5G launches in the UK in June
What is 5G? And what does it mean for photographers?
What is the best camera phone in 2019?