Watch video: Home photography ideas – Capture creative camera movement
The technique of intentional camera movement is one that employs a long shutter speed while moving the camera during exposure, in order to introduce motion blur intentionally.
This normally works best when moving in just one direction, and that makes the best pan and tilt tripod heads (also known as three-way heads) the obvious choice to use. However, for this project we're instead using a ball head.
It sounds like we've gone mad. After all, three-way tripod heads make this so much easier; all you have to do is unlock one of the three directional movement controls and you can pan or tilt the camera in one direction, smoothly and with precision.
However, most of us buy our tripod with a ball head – and we're certainly not expecting you to invest in a three-way head just for this technique. So we'll show you it is possible to take intentional camera movement shots using a ball head.
Sure it's a little trickier, as a ball head moves in all directions. With a steady hand and a tiny bit of practice, though, you should be able to achieve great results in a matter of minutes.
How to shoot intentional camera movement
01 Choose a subject that works
The direction of camera movement should parallel the shape of your subject. For example, trees grow vertically, so we moved the camera vertically to follow the lines of the trunks. Coastal landscapes are typically horizontal, so here you should move the camera horizontally.
02 Set up your tripod
Although you'll be moving your camera intentionally to create motion blur, you will still need to use a tripod for this technique to work. Keeping the body fixed in one place will make it easier to introduce blur that looks intentional, by moving in only one direction.
03 Use the ball-head
For horizontal movements, use the panning movement of the ball head for steady, flawless, side-to-side motion blur. For vertical movements, lock the panning lever and loosen the ball-head locking screw, then move your hand as steadily as possible when tracking up and down.
04 Slow down your shutter
To introduce motion blur we set a shutter speed of one second in shutter priority mode. The aperture and ISO are almost completely irrelevant, so we kept the ISO low at 100 to minimize image noise, and the camera automatically chose f/3.2 to expose the image.
05 Pause for thought
Slow down – or stop completely – part way through your movement. The image sensor will capture more scene detail during this rest period, so you'll be left with a clearer image of your environment at this point, but still maintain some artistic motion blur in the final shot.
06 Aim upwards and spin
Up, down, left and right are all fine for the typical intentional camera movement shot, but how about rotating the camera? Here, we shot up towards the tree canopy, and panned our camera around while exposing for a circular motion blur effect, to create even more of an abstract result.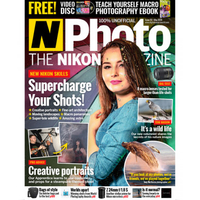 N-Photo: The Nikon Magazine is a monthly publication that's entirely dedicated to Nikon users. For the best news, reviews, projects and more, subscribe to N-Photo today!
Read more:
The best ball heads for tripods: quick and simple tripod heads
The best pan and tilt tripod heads: precise camera control for your tripod
The best tripod for photographers: get sharper shots in any conditions