H&Y have just launched a Kickstarter for a new 2-in-1 magnetic filter system.
The 2-in-1 Evo-Series Filter system will include both a screw-mounted adapter as well as an all-new magnetic one on the reverse. H&Y manufactures filter products for photographers and filmmakers and aims to give both markets a quick and easy solution for their filters, that compliments those creators with a fast-paced on-the-move workflow.
• Check out our guide to the best filters for photography
The new Evo-series, named after the word 'evolution', introduces a dual-mode design that sets them apart from other filters. Circular screw-in mode allows the filters to be used in the traditional way, for maximum control and image quality. On the reverse, in magnetic attachment mode, you can "swiftly snap the filters into place, making on-the-fly adjustments a breeze."
When using wide-angle lenses in combination with magnetic filters, the additional step ring can often lead to vignetting issues, but if this is the case the filter can easily be flipped and screwed in to avoid any vignette. Whether it is video work with temperamental lighting or landscape photography with ever-changing glare, the ability to quickly change or add filters is extremely useful.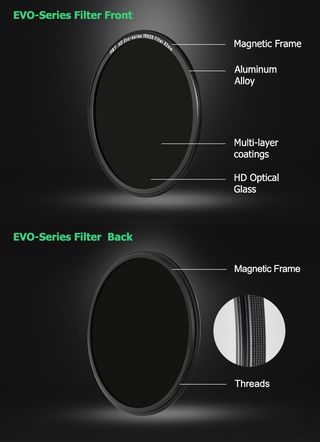 Built from a magnetic aluminum alloy frame, the filters are very lightweight yet still robust enough to use in tough conditions, with water-repellent coatings. The filters also have multi-layer lens coatings that prevent fingerprints and lens reflections. HD optical glass is at the heart of the filters and "ensures distortion-free, sharp, and vibrant images." H&Y state that 'From 16mm to 400mm, these filters consistently deliver sharp, clear images even at extreme light reductions of up to 10 stops'.
Color shift is also a cause for concern when using filters, but H&Y say that the Evo-series are "expertly crafted to guarantee color neutrality." The Evo-Series Filters have also been redesigned to fit traditional threaded filters, ensuring that they don't interfere with the use of original lens caps and lens hoods. This is a very convenient design that compliments workflow not having to remove filters when packing gear away in a bag. Filter stacking is still an option when using them magnetically.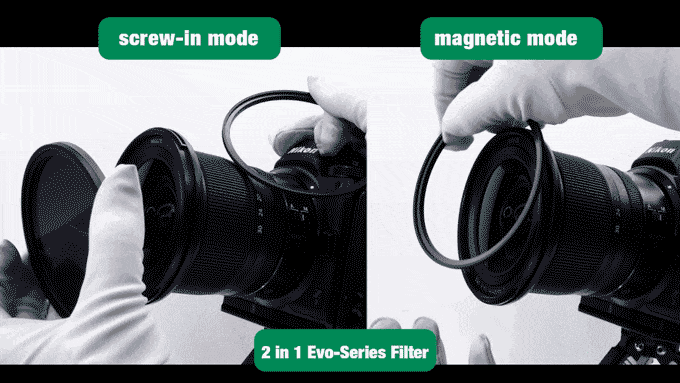 Overall this new system looks like a really great idea. Having the option of traditional screw-in or quick and easy magnets gives the best of both worlds and more options to fit our own unique workflows.
The Kickstarter is currently live with the goal of shipping in December 2023, with photography and videography kits available. Each has a selection of CPL, ND, and specialty filters. More details can be found on the H&Y website.
For more information on filters and filter systems see, The Best Filter Holders, "I chose the ND filter to avoid overexposure and control the powerful glow", and The Best Neutral Density Filters in 2023