Google has changed how it handles RAW photos in the new Pixel Camera app, and the changes make no sense.
The Google Pixel 8 Pro is an incredible device for photography and has just made it up to the second spot on our best phone cameras list, narrowly beaten out by the iPhone 15 Pro Max's superior video. One of the things that has won the Pixel 8 Pro the most plaudits is its pro camera system for photography, backed up with the excellent Google Photos and its simple AI editing magic.
However, in the last few days, Google has absolutely nerfed the way its Pixel phones handle RAW photos.
Now, this isn't the most used feature in Google's photography arsenal, but for serious photographers, this is one of the best features for getting fine control over their images. As Google has recently added a whole heap of new manual camera control features for pros, it should be especially red-faced that it now handles RAWs so poorly.
Google's was always my favorite implementation of RAW image capture on a phone. You could just turn it on periodically, or just leave it on, and just shoot normally. In the background, as well as the regular processed JPEG, the camera would produce a handy little album of RAWs that you could sync with Lightroom or cloud storage with minimal to no effort. Clearing out the RAW album when it got too cumbersome on phone memory was just a few simple taps.
Sure, no one needs every photo in RAW! But sometimes you wish you had taken a photo in RAW that you didn't think to at the time, so always on RAW was often my saving grace when traveling.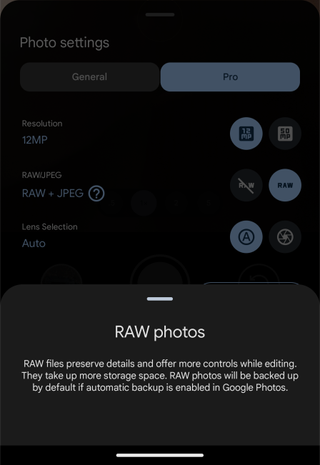 However, not anymore! Now Google adds the RAW photos right into your camera roll, not only adding significant file sizes to clog up your storage (but don't worry, Google will sell you more of that), but it also makes it harder to work with the RAWs as third-party applications now need to separate out only the RAW photos in your camera roll as they are no longer in one consolidated album.
As someone who uses multiple cloud storage providers, this feels like a big anti-competitive step from Google as it is now an additional chore to manually select and back up only RAW photos into Microsoft OneDrive, Amazon Photos, etc.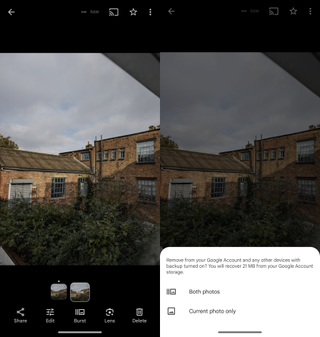 Want to delete all your RAW photos to save space? Well, in that case, as they are no longer in one album, you now have to open every photo in Google Photos individually, swipe through to the RAW image, and delete it manually. Or you can delve into Google's separate files app.
It begs the question of whether Google has actually consulted any photographers when making this change, as I think anyone who uses RAW photos on a Pixel would have told them how anti-photographer this idea actually is.
Hopefully, Google can look past its projected cloud storage revenue and give Pixel owners back the prior Pixel RAW experience.
Check out our picks for the best camera phone for the best of the best, or take a look at the best budget camera phone for low-priced photography on the move.