Wex Photo Video has just launched a brand new range of studio lights by Polish lighting specialists GlareOne. Offering a range of studio flash heads, continuous lights, light shapers, stands and backgrounds, GlareOne is available exclusively in-store at Camera Nu (Netherlands), Calumet (Germany) and now Wex in the UK.
GlareOne launched in 2019 in response to a demand for affordable, quality-built video lights and studio photography lighting kits. Originally focussed on the Polish market, GlareOne was recently acquired by European Imagine Group which also owns Wex Photo Video and has since expanded across Europe. Compared to some of the big-name brands such as Profoto, Elinchrom, and Bowens, GlareOne lights are very competitively priced and look the part too.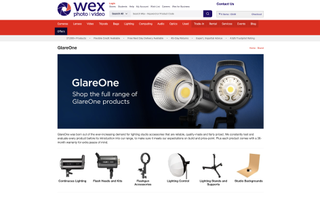 A single GlareOne Vega 200 monolight with 200-watt LED bulbs, a recycle time of 0.9s and an energy range of 6 stops has an RRP of £349 while a 60W, 5500K GlareOne LED 600D continuous light comes in at just £199. A wide range of light shaping tools including easy collapse softboxes in a range of shapes and sizes, umbrellas, pop-up reflectors and barn doors with colored gels are also available to buy separately making these lights extremely versatile and suitable for a huge range of lighting setups.
Made by people who have a lot of experience with both flash photography and continuous lighting, GlareOne is continually expanding its product line, improving its products and giving customers a reason to stay loyal. Products with an impressive 36-month warranty show GlareOne's confidence when it comes to supplying reliable, well-made products.
All GlareOne's flashlights feature a Bowens mount so whether you're looking to invest in new flash equipment, upgrade existing, or switch brands, there's a huge range of non-GlareOne compatible products. We haven't had a chance to get our hands on any of the range yet but looking at the price and specs, we would bet money on being pretty impressed by their performance capabilities.
Also check out the best softbox lighting kits which are a great way to get started