Who doesn't stand in awe of wildlife photography? After all, capturing intimate images of celebrated beasts usually involves far-flung travel, a good deal of patience and – more often than not – expensive long lenses. But wildlife pro Tom Mason says there's more to it than simple animal portraits, and shows how to shoot creatures creatively in our lead feature.
And that's not all. Also in this month's N-Photo:
We also speak to penguin photographer extraordinaire Stefan Christmann in the N-Photo interview and showcase the best Nikon Wildlife Photographer of the Year images in our Lightbox gallery.
We join our Apprentice in the Lake District with reigning Landscape Photographer of the Year Pete Rowbottom to shoot the impossibly picturesque scenery around every corner - whatever the weather.
But if you'd prefer to stay indoors at this time of year, then a flashgun can be your very best friend. We put eight of the best through their paces in this issue's Big Test.
Also under the spotlight in our Gear section we have Tamron's 35mm f/1.4 fast wide prime, and try out a selection of camera remotes for candid setups.
Over in our Skills section, we explain how to capture creative portraits, shoot slick burst sequences, get prepped for photographing the great outdoors and light-paint a night scene. Plus we have our usual tutorials to help you master Adobe CC, Affinity Photo and Capture NX-D.
This issue also comes with a bonus Nikon Beginner's Handbook ebook, designed to help you get to grips with your camera.
Where to find N-Photo magazine
So rush down to your newsagent today. Or ever better, why not subscribe to a print edition, and have the magazine delivered to your door every month?
Alternatively, we have a number of different digital options available, including:
• Apple app (for iPad or iPhone)
• Zinio app (multi-platform app for desktop or smartphone)
• Google Play (for Android devices)
• Readly (all-you-can-eat digital magazine subscription service)
If you wanted a printed version of any of our most recent issues we have a selection of back issues to choose from in our online store.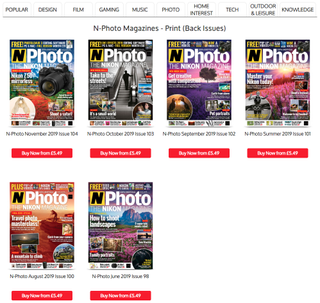 Subscription deals: Our guide to the best photo magazines