Skill up in time for spring with Digital Camera's April issue. We've gathered 50 top tips from professional photographers that will transform your images, no matter which type of photography you love to shoot.
Over 13 pages, we delve into wildlife with Simon Roy, landscapes with Mark Bauer, portraits with Dani Diamond, nature with Ross Hoddinott, and night-time with Ollie Taylor, plus you can get creative with Dina Belenko.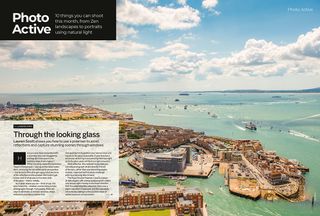 And there's more inspiration in our Photo Active projects section. Among this issue's 10 projects, we explain all about using a polarising filter to photograph through glass, plus how to shoot a Zen landscape and capture the International Space Station.
Other highlights in the April issue include learning all about apertures in Camera College, and joining leading pet portrait photographer John Alexander on a dog shoot.
We take two readers on a low-light photo challenge in Bristol Aquarium and find out what it takes to become a top fashion photographer, in a Q&A interview with New-York based Lindsay Adler, ahead of her appearance on the Super Stage at The Photography Show this month.
Kit reviews this issue centre on the Canon EOS RP – a new model that brings full-frame mirrorless to the masses – and we run a face-off between the much-garlanded Nikon Z 6 and Sony A7 III full-frame CSCs.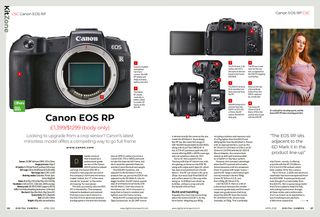 Elsewhere, we group test eight beginner cameras ideal for anyone looking to move up from a smartphone camera, stage a six-way film scanner shootout and tell you all you need to know about teleconverters.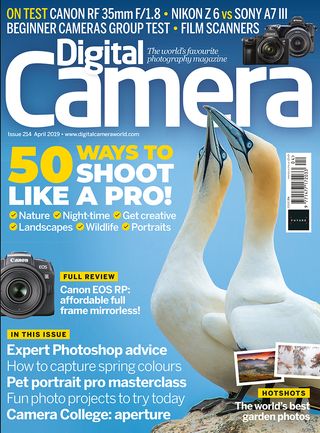 The April 2019 issue of Digital Camera comes with 14 fabulous gifts
One pair of fingerless gloves for photographers (UK stores only)
Download of SoftOrbits Photo Retoucher 5.0 for Windows, worth £50 ($69.99)
Video disc featuring 73 minutes of Photoshop and Lightroom video training
148-page Camera Shopper ebook packed full of buying advice
Nine tips cards covering techniques for shooting portraits
79 moody sky images to add to your own landscape photos
Subscribe now
Every issue of Digital Camera magazine is packed with tips, techniques, pro advice, reviews, news and inspiration. To make sure of your copy every month, subscribe at our online shop from just £12.50!
You can buy limited back issues of Digital Camera magazine in print at our MyFavouriteMagazines secure store.
Alternatively, there are a number of different digital options available, including:
• Apple app (for iPad or iPhone)
• Zinio app (multi-platform app for desktop or smartphone)
• Google Play (for Android devices)
• Readly (digital magazine subscription service)