Today Fujifilm is launching the latest in its iconic Instax Mini line of instant cameras – the Instax Mini 12. Building on all the features of the Instax Mini 11, the Instax Mini 12 comes with some new updates and a brand-new design.
Pre-order the Instax Mini 12
While not a huge departure from previous models, the Instax Mini 12 has undergone a subtle design update from the preceding Instax Mini 11, with the new Mini 12 featuring a more rounded bubble-like design. The lens structure has also been updated to provide a more intuitive experience to power the camera on and off, as well as accessing the close-up and selfie modes by twisting the lens.
The Instax Mini 12 continues the current features from the Mini 11, including close-up and selfie mode, as well as Instax's auto exposure adjustments.
The Mini 12 features automatic flash control, which manages the flash and exposure both in bright light and low light scenes.
The Instax Mini 12 also now features a new parallax correction feature, Fujifilm has worked to line up the lens with the viewfinder in close-up mode, which reduces object shift and creates a more aligned photo when shooting subjects that are near to the camera.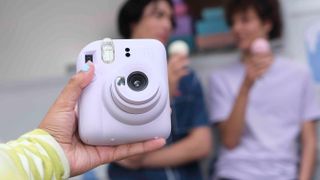 Launching alongside the Instax Mini 12 is Fujiflm's latest smartphone app – the new INSTAX UP! The app is designed as a place to digitally scan, store, and share photos all in one place. Fujifilm says this app was developed in response to consumer requests for a way to digitally store Instax prints that weren't the main smartphone camera and photos app. Fujifilm claims the app creates better-quality images of your prints.
INSTAX UP! users can scan and store prints, with easy options to categorize images, or make lists of photos for easy reference, you can also import photos from other Instax apps, such as the Instax Mini Link. Users can easily share photos stored in INSTAX UP! via messaging or social media.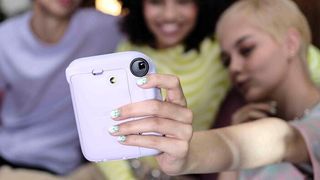 The Instax Mini 12 will be available from March 16 in the UK and US and April 6 in Australia, and will cost $79.99 / £79.99 / AU$119.99. The Instax Mini 12 will be available in five colors that include Clay White, Blossom Pink, Mint Green, Lilac Purple, and Pastel Blue.
INSTAX UP! is available as of today to download for free from the Apple Store or via the Google Play store.