The new issue of Digital Photographer (opens in new tab) is out now.
As the world starts to come out of hibernation we have another amazing issue for you, packed full of pro techniques, advice and insight.
Shoot for the Light
(opens in new tab)
The core skill which sets professional photographers apart is their ability to read the light and use its characteristics to best effect. We don't always end up with the light we expected and desired, but using what you have by making the light work for you can ready you to find beauty in all lighting types. From sunset to, harsh midday light, to working is overcast conditions, our feature will help you identify the best qualities of a scene and use these to create masterpieces.
Why shoot with a CSC?
Next up we have a special feature on switching to mirrorless cameras. We explore every aspect of Compact System Cameras (CSC), looking closely at the technology behind this rapidly expanding corner of the camera market. We examine the relative pros and cons of the camera format, the process of moving from a more traditional DSLR system and hear from the biggest names in the industry currently using CSCs, as they explain why they made the switch.
Shoot a Vertorama
(opens in new tab)
Next up we were on location in Barcelona (pre pandemic of course) at the famous La Sagrada Familia, to show you how to capture a tall subject with a longer lens, side-stepping the usual issues of converging verticals. We'll cover both the shooting and editing steps, from setup to final shot.
Plus we've got the usual tutorials, interviews, insight and opinion, from a range of experienced professional photographers from across the industry. It's not to be missed!
Sharper images with creative AF
(opens in new tab)
Get your copy of DP Issue 231 today! (opens in new tab)
Get a digital copy instantly for £3.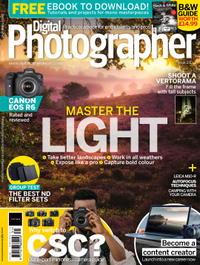 (opens in new tab)
Digital Photographer (opens in new tab) is a monthly magazine, and the kitbag essential for enthusiasts and amateurs alike!
Inside, you'll find practical guides, shooting tips and techniques from working photographers, plus all the latest industry news.
Where to find Digital Photographer
Don't miss out on all of this essential professional-level advice. Get your copy of Digital Photographer now.
Why not Subscribe (opens in new tab) for a print copy or you can read us on your mobile device with a digital subscription.
You can get your copy of Digital Photographer in stores - but if you can't get out, then order a copy direct from us, either in print or digital form.
For printed back issues go to Magazines Direct (opens in new tab)
For digital editions of the magazine, you have a variety of options available:
Apple app (opens in new tab) (for iPhone and iPad)
PocketMags app (opens in new tab) (multi-platform app for Android and other devices)
Zinio app (opens in new tab) (multi-platform app for desktop and smartphone)
Readly (opens in new tab) (all-you-can-eat digital magazine subscription service)
Connect with us
Find us on Facebook and Twitter and subscribe to Digital Photographer, to ensure you never miss an issue!
Digital Photographer on Facebook (opens in new tab)
Digital Photographer on Instagram (opens in new tab)
Digital Photographer on Twitter (opens in new tab)
Subscribe to us today (opens in new tab)
Read more:
The best webcam for home working (opens in new tab)
Home photography ideas: Commercial product photos at home (opens in new tab)
The best camera gear for landscape photography (opens in new tab)
Home photography ideas: Commercial product photos at home (opens in new tab)