DxO has launched Nik Collection 2, an updated version of the renowned Nik Collection plug-in suite it acquired from Google in 2018, with some useful enhancements to its features but a substantial change in its pricing package.
From now on, the Nik Collection 2 will come with DxO PhotoLab 2.3 Essential edition as standard, for a new, higher price of £125/$149, or £69/$79 for upgraders. To sweeten the pill, however, DxO is offering a reduced price until the end of June 2019 of £86.99/$99.99 for the full version and £49.99/59.99 for the upgrade.
You'll still be able to use the Nik Collection plug-ins with Photoshop, Lightroom and other host applications as before. Using DxO PhotoLab 2.3 is not compulsory, but it is now part of the package.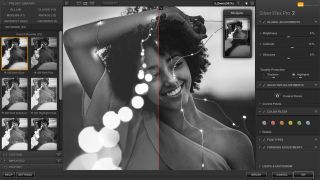 So why add in DxO Essential 2.3?
Nik Collection 2 buyers will be paying extra compared to the old version, but DxO's decision to include DxO Essential makes a lot of sense. It raises the cost, but it does introduce a key feature to the Nik Collection – the ability to browse and organise images and work directly with raw files. Previously, the Nik Collection acted as a plug-in suite dependent on Adobe Photoshop or Lightroom as a software 'host' – and DxO is aware the backlash against subscription software (principally Adobe's!) does not seem to be going away.
Pessimists will say DxO has practically doubled the price of the Nik Collection by adding software they didn't ask for, but optimists will be applauding the new browsing and raw processing capability – and the combined price is pretty good compared to what users would previously have paid for the Nik Collection and DxO Essential as separate purchases.
In DxO Essential 2.3, the company has also added raw file support for nine new cameras: the Leica M10-D and -P, Nikon D3500, Panasonic Lumix S1 and S1R, Panasonic LX100 II, Sony A6400, Sony RX100 VA, Canon EOS RP, Olympus OM-D E-M1 X.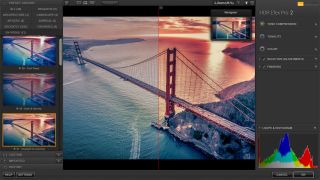 Nik Collection improvements
Other improvements to the Nik Collection include support for HiDPI monitors on Windows computers, for better scaling of the software interface, and more than 40 new 'En Vogue' preset effects for the different Nik Collection plug-ins. The plug-ins themselves, however, have not seen any functional changes apart from stability improvements and compatibility with modern operating systems introduced by DxO in earlier versions.
The Nik Collection is one of the best – and best-known – plug-in suites in the photo editing market. It consists of seven different plug-ins, with a couple designed for fixing image problems (Dfine, Sharpener Pro) and the rest made for creative photo manipulation.
Of the rest, Color Efex Pro offers a huge array of individual photos filters and the ability to combine them in 'recipes', Silver Efex Pro is reckoned by many to be the best black and white tool there is, HDR Efex Pro can merge and enhance HDR exposures, Analog Efex Pro recreates old film, camera and darkroom 'looks' and Viveza offers local 'dodging and burning' tools but for colour images. All off them use Nik Software's celebrated U-point technology for simple and effective local adjustments.
The DxO Nik Collection is available right now from the DxO website. The full price is £125/$149, reduced to £86.99/$99.99 until June 30 2019, and the upgrade price is £69/$79, reduced to £49.99/59.99 until June 30 2019.
Read more:
• The best photo-editing software you can get right now
• Tight on cash? These are the best free photo editors today
• These are the best laptops for photo editing right now