This week, DJI unveiled its newest drone, the Mavic Air – and it could well be the company's masterpiece - and a contender for best DJI drone and best camera drone.
The new model takes the sophisticated specs of the company's flagship Mavic Pro, sticks them in a compact body reminiscent of its Spark, and tops it off with a few new features and a gorgeous design.
Let's dive straight in and take a closer look.
Design and build
Weighing just 430g, the Mavic Air is significantly lighter than the 734g Mavic Pro, and it's far smaller too. Packing so much technology into a compact form factor is certainly impressive.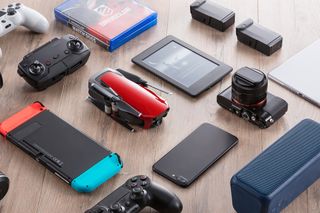 The unit houses a recessed three-axis mechanical gimbal, and its folding arms and propellers sit flush against the frame. It's so compact, DJI boasts, that when folded up, it's not far from the size of a large smartphone.
It comes with a control remote that features detachable sticks to improve portability, and omnidirectional antennas allow it to be controlled with a range of up to 2.5 miles, with 1080p (Full HD) real-time video transmission.
Those who like an immersive flight experience will be further pleased to learn that it's also compatible with the DJI Goggles.
Read more: DJI announces Ronin-S stabiliser and Osmo Mobile 2
Imaging technology
The Mavic Air sports a camera with a 1/2.3in CMOS sensor and a 24mm f/2.8 lens in front of it, and it's capable of shooting 12MP still images.
The camera employs new HDR algorithms said to preserve detail in highlights and shadows, while stabilised 4K video can be captured at 30fps at up to 100Mbps – the highest bitrate ever for a DJI consumer drone. Users can also shoot 1080p slow-motion video at 120fps.
Read more: Integral introduces 512GB microSDXC card
The intelligent camera system features plenty of shooting modes for photos and videos, together with a mixture of features from previous drones and some new arrivals.
The new Sphere mode for stills shooters, for example, can create automatic 32MP panoramas by stitching together 25 images. This process is said to take less than a minute, with panoramas capable of being captured in both horizontal and vertical orientations.
Read more: CES 2018: Year of the Drone?
Elsewhere, QuickShot intelligent video modes use preset flight paths to create dynamic videos of subjects. These include Rocket, Dronie (drone selfie), Circle and Helix options from previous drones, as well as two new modes: Asteroid and Boomerang.
Asteroid begins with a spherical image then descends towards its subject on the ground, while Boomerang traces an oval around a subject, finishing at the same point it started. There's also an improved ActiveTrack mode, which follows subjects with improved precision.
8GB of onboard storage, meanwhile, is complemented by a microSD slot for storage expansion, while a USB-C port is included for exporting footage and stills.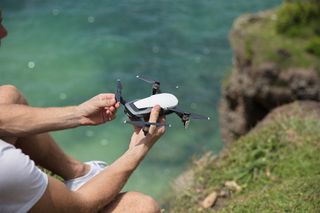 Flight
DJI claims to have optimised the computing power and flight algorithms to improve the Mavic Air's flight capabilities over previous models. Using seven onboard cameras and infrared sensors, DJI claims the Air is better than ever at navigating past obstacles and dealing with complex outdoor environments.
The company says the unit can handle itself in winds of up to 21mph, and up to heights of 5km. In Sport mode, it can reach speeds of up to 42mph, while flight time is rated to 21 minutes.
Read more: The best cheap drones in 2018
DJI Mavic Air price and availability
Available in Onyx Black, Arctic White or Flame Red, the DJI Mavic Air is priced at £769/$799/AU$1,299 for the drone only. There's also a Fly More Combo, including three batteries and various accessories, available for £949/$999/AU$1599.
Shipping for pre-orders is expected to start on January 28th – see DJI's website for more details