Iconic photographer Bill Brandt co-stars in a major new exhibition at the Hepworth Gallery in Wakefield, England… sharing the billing with renowned sculptor Henry Moore.
Two of the leading artists of the 20th century, Brandt and Moore first met in 1943 and their creative paths intersected for decades after that.
Now, 200 works in a variety of mediums by both men feature in a major retrospective titled Bill Brandt | Henry Moore, supported by The Henry Moore Foundation, Hiscox and The Hepworth Wakefield Contemporary Circle.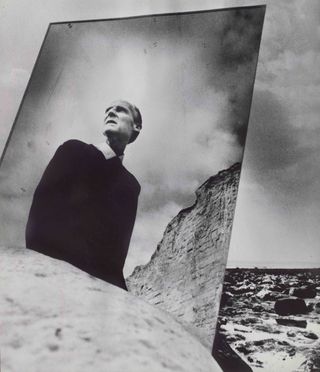 Iconic photographs, unprinted negatives, rare original colour transparencies and little-known photo collages appear alongside major sculptures and drawings.
These works present the creative response of both artists to the British landscape and communities during the turbulent times they lived in.
Bill Brandt | Henry Moore runs until 31 May and transfers to the Yale Centre for British Art in New Haven, Connecticut, from 25 June-13 September – so Stateside fans of Brandt and Moore won't have to miss out.
The exhibition will also be accompanied by a book published by the Yale Center for British Art in association with Yale University Press.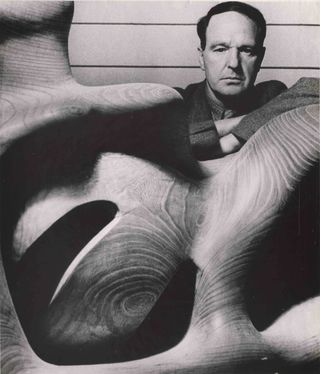 Bill Brandt and Henry Moore are fêted as important 20th century artists, and came together after creating images of civilians sheltering on London's subway network during the Second World War.
The exhibition opens with their first meeting, in 1942, when Brandt photographed Moore in his studio. The shoot produced images for a Lilliput magazine feature on their shelter pictures – it was the first time the work of the two artists had appeared side by side.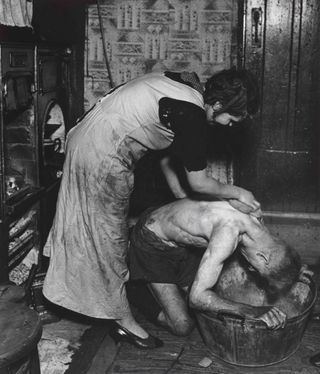 And their output was certainly complementary. In the late 1930s, Brandt became well known for photographs documenting the impoverished mining communities and families in the north of England.
During the war, given the focus on ordinary people, home and labour, Moore sketched the civilian war effort at his father's colliery in Castleford; his drawings were more optimistic than Brandt's photographs.
After the war, though, both artists changed styles and for their primary source of inspiration eschewed urban claustrophobia in favour of light-filled open landscapes and nature.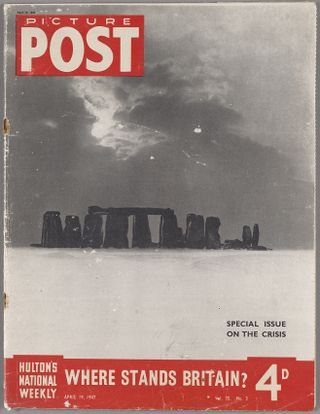 A significant proportion of the exhibition therefore explores both artists' interest in rock formations, geological artifacts and megalithic sites including Stonehenge.
Providing a neat counterpoint, Brandt's photographs of Stonehenge will be presented alongside Moore's lithographs of the same subject – examining how each artist chose to capture the enigmatic nature of the site.
Another interesting aspect of the exhibition will reveal the important relationship between 2D images and 3D objects that both men had.
While Moore was a sculptor and draftsman who made a serious commitment to photography both as a creative medium and as a means of presenting his work, Brandt will be revealed as a photographer who looked to sculpture as a subject and as a way of considering nature, landscape and the human body.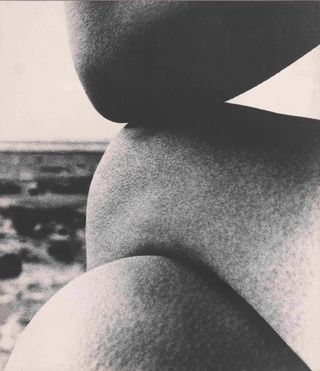 In the exhibition, this is explored by a series of rare colour transparencies of sculptural rock formations on the beach.
Bill Brandt | Henry Moore will also examine the complicated relationship between pictures and objects, between 'primary' works of art and 'secondary' published images used as an important means of disseminating the work of Brandt and Moore to a wide public, and the material nature of the printed photograph.
"We are delighted to be working with the Yale Center for British Art on this major exhibition that presents side-by-side for the first time, the work of Bill Brandt and Henry Moore," says director of The Hepworth Wakefield, Simon Wallis.
"These two important artists, born only 10 years apart, were both commissioned by the UK government in the 1930s – Brandt as a photojournalist and Moore as a war artist – and subsequently supported by the British Council, developing significant reputations internationally.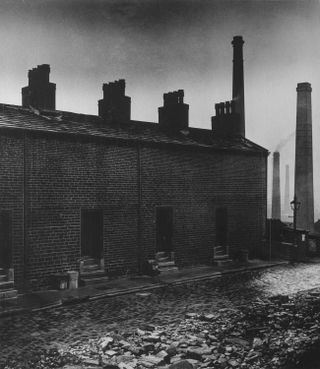 "Both artists had a fascination and poetic sensibility for capturing the spirit of place and it is particularly poignant to be presenting this exhibition in West Yorkshire, where Henry Moore was born and grew up."
Bill Brandt | Henry Moore is on now at The Hepworth Wakefield until 31 May 2020. Opening hours are 10am-5pm, and admission costs £8.25 (free for members, Wakefield residents and under-16s).
Following its run at the Yale Centre for British Art, New Haven (25 June-13 September 2020), the exhibition will return to the UK from 22 November 2020 - 28 February 2021 at the Sainsbury Centre for Visual Arts in Norwich.
Read more:
The 50 best photographers ever
The best coffee table books on photography
The best books on portrait photography