Canon's PIXMA TS3450 series expands the firms range of entry level PIXMA TS printers and as a 3-in-1 model allows users to print, scan and copy.
The new all-in-one printer is aimed at students and those now needing to work from home due to the pandemic, and claims to be cost effective with its FINE ink cartridges which can print 180 pages or up to 400 with the XL cartridges installed. It's also claimed that a 4x6" high quality pic can be printed on Glossy Photo paper in 65 seconds.
• Read more: Best photo printer
It comes in three different guises which are black, white and a combination of black & white respectively (TS3450, TS3451 and TS3452) but all share the same specifications and 1.5" LCD display for checking the printer status and accessing core printer functions.
Canon say it has improved its Web Setup Guide which has easy to follow videos and step-by-step instructions to help users get set up in rapid time. It also features one-touch wireless connectivity which instantly links the printer with a smart device, PC or laptop when connected to Wi-Fi.
It's due to start shipping in January with an RSP of £44.99.
FINE PG-545 (Black) and CL-546 (Colour) ink cartridges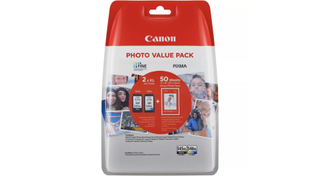 The new series boast an interesting hybrid ink system which uses a mixture of both dye and pigment-based inks in tandem, which Canon claim will deliver vivid colours as well as sharp text - perfect for course materials.
It can be loaded with PG-545 (Black) and CL-546 (Colour) FINE inks which can print 180 A4 pages in black and white or 180 in colour. Though XL cartridges are available which should be able to print 400 A4 mono prints or 300 A4 colour pages.
You can also set up Easy Ink Delivery Reminders which will send you an email when you're running low on ink and provide links to genuine Canon ink so you can order fresh cartridges straight to your door - fuss free!
Wireless technology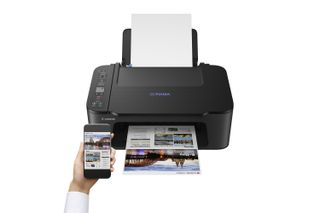 Using the PIXMA Cloud Link via the Canon Print app users can print directly from Google Drive, Dropbox and Evernote over Wi-Fi making it easy to print important documents even if you don't have them directly to hand.
The new models can also be used with the Google Classroom app for teachers and students allowing them to print documents and photos directly in the app.
Voice command services such as Amazon Alexa and Google Assistant are supported so you can print directly, check ink levels or power the printer on and off all handsfree.
Students collaborating through Facebook Chat can also send and print photos directly through the Facebook Messenger app using PIXMA Chat Print.
Read more:
The best photo printers
Best all-in-one printers
Best wireless printers
Printer maintenance explained
The best portable printers
Best 3D printers