UPDATE 06 NOVEMBER: The Canon EOS Ra (review here) has now been officially announced, a full day after Adorama sent out an email blast and listed camera on its website. The astrophotography camera will be available in early December, at a price of $2,499.99 / £2599.99.
Among the Canon EOS Ra features that the manufacturer is crowing about is the fact that it is the first full-frame astrophotography camera that doesn't require external power, as well as the first astro camera with 4K video.
ORIGINAL STORY: The Canon EOS Ra – the dedicated astrophotography version of its flagship mirrorless camera – has been leaked in a series of images, and has now been unofficially confirmed by a pre-order listing on Adorama.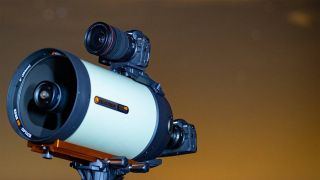 A specialist for shooting stars and space phenomena, the Canon EOS Ra uses a modified version of the standard EOS R sensor. From the (likely Canon-originated) blurb on Adorama:
"Positioned in front of the CMOS imaging sensor, The EOS Ra's infrared-cutting filter is modified to permit approximately 4x as much transmission of hydrogen alpha rays at the 656nm wavelength, vs. standard Canon EOS R cameras. This allows for a higher transmission of deep red infrared rays emitted by nebulae, without requiring any other specialized optics or accessories."
• Read more: Astrophotography tools – the best camera, lenses and gear
The Adorama listing – which itself might actually be an early "leak", as we've received no official announcement from Canon and no other retailers have yet listed the camera – came after images were leaked by Japanese outlet Nokishita.
We first reported on the Canon EOS Ra back in June, shortly after it was coincidentally revealed that the company had patented a Moon Shooting Mode. Canon itself leaked the camera by mistake in September, when it accidentally published the EOS Ra instruction manual on its UK website.
Not only is the Canon EOS Ra the manufacturer's first dedicated astrophotography camera since 2010 (which saw the release of the EOS 60Da, with the company's first ever astro cam being the EOS 20Da in 2005), it is also Canon's first ever full-frame star shooter and its first ever mirrorless one.
You can place you Canon EOS Ra preorder at Adorama for $2,499 – we will update this story as further pricing and availability (not to mention an official announcement from Canon) is revealed.
Read more:
Canon EOS R review
Astrophotography tools: the best camera, lenses and gear
The best CCD cameras for astrophotography
Best telescopes in 2019
Best head torch