Asus has made Android phones for half a decade, but they've struggled to reach a mainstream audience. The Asus ZenFone 6 wants to fix that, but Asus hasn't chosen a timid design for this new top-of-the-line mobile – the ZenFone 6 has a motorised flip camera, letting the main sensor take both "standard" and selfie photos, and video.
This offers feature even the best camera phones from rival makers don't have yet.
ZenFone 6 camera
Phones with motorised cameras are rapidly becoming common, but the Asus ZenFone 6's is a little more "out there" than most.
Instead of extending out of the top of the frame, a hinge flips the camera from the standard position on the back, towards the front. This requires a more complicated mechanism, and makes you wonder: what happens if you pull it too hard the wrong way?
Asus has attempted to protect the Asus Zenfone 6 from such damage by making the housing from "liquid metal", a specialised flex-friendly alloy used in the stems of glasses.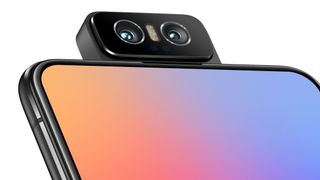 This housing is home to two cameras. A Sony IMX586 with f/1.79 lens takes the job of main sensor. It's a 48-megapixel chip currently flooding into new phones at a pace. It takes 12-megapixel photos by default, using a quad bayer array to exploit the extra pixels to improve dynamic range and image fidelity.
A 13-megapixel 125-degree wide is your other camera.
The sensors are not groundbreaking, but what you can do with them is truly unusual, as the flip mechanism is not limited to just standard and selfie positions.
Instead, if you press the volume buttons while in the camera app, the camera tilts, degree by degree. This lets you shoot from usual angles without losing your view of the preview image, and offers a new way to keep the camera still for night shots or classic family photo scenarios – just prop it up at 90 degree extension on a solid surface.
The Asus ZenFone 6's flip mechanism long-term resilience is a worry, but Asus says it has tested its movement 100,000 times. For reference: OnePlus tested the 7 Pro to 300,000 times.
There is one other obvious highlight of the flip feature: you can shoot 4K 60fps EIS-stabilised video in vlog fashion where the camera is pointing at you and you can still see the display. Other "normal" phones can't.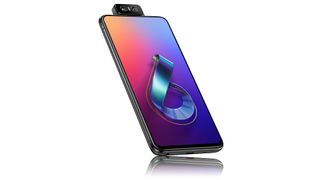 ZenFone 6 hardware
Camera aside, the Asus ZenFone 6 has the very powerful Snapdragon 855 CPU, 6GB RAM and 64GB storage. The RAM and storage can be upgraded to 8GB and 256GB respectively.
Its battery is huge too. 5000mAh represents an extra (almost) 50% capacity over the Samsung Galaxy S10. The screen measures 6.4 inches across, and has a 2340 x 1080 pixel IPS LCD panel. Thanks to the flip camera, it's also free of image-eating notches or punch holes.
You can order the Asus ZenFone 6 now at the Asus eshop. It costs £499 with 6GB RAM, 64GB storage. An extra £50 upgrades you to 128GB storage. And the ZenFone 6 with 8GB and 256GB storage is £599 (US prices to follow). It's direct competition for value-centred high-end phones from Honor, OnePlus and Xiaomi.