Jason Momoa, Leica aficionado and star of blockbuster movies Dune and Justice League, has donated one of his custom Leica cameras to raise money for charity.
The actor's prized Leica M10 Monochrom is one of the star charity lots in the upcoming Leitz Photographica Auction, taking place in Vienna, Austria, on November 24 and 25. The camera carries what feels like a conservative estimate of $6,000-$7,000 (approximately £4,900- £5,700 / AU$9,500-AU$11,000).
In case you didn't know, Momoa is a huge camera fan. He is an unofficial Leica ambassador and is also an unabashed fanboy for Red cinema cameras, often receiving custom-made bodies from both brands – which is how this personalized M10 Monochrom came to be.
The official listing for the camera (Lot 4) reads:
"Leica M10 Monochrom, owned by photographer, actor and filmmaker, Jason Momoa. The camera is engraved with a compass symbol and "ROAM" on the top plate and with the compass on the base plate. On The Roam is a creative production company, owned and helmed by Jason Momoa and Brian Mendoza, which produces scripted and unscripted original branded content, television series and feature films.
Harnessing an atypical approach to production, the team is in pursuit of groundbreaking storytelling infused with innovation and excellence that improves the human spirit. The camera comes with a thumb grip and shows light signs of use."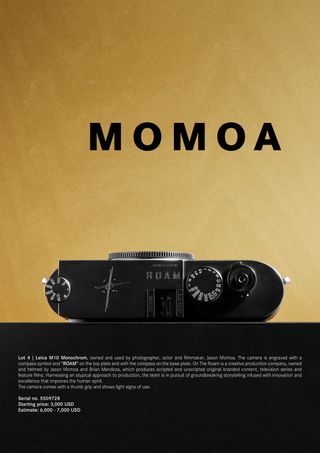 The charity that Leitz Photographica is raising money for is the Committee to Protect Journalists (CPJ), defending press freedoms and the right to safely report news worldwide without fear of reprisals for journalists.
The charity lots for the CPJ are titled Truth in Focus, and include other rare cameras including a prototype Hodinkee Ghost Edition M10-P, a Leica SL previously owned by photographer Mathieu Bitton, and digital and analog camera sets from photographer Constantine Manos.
Additional Truth in Focus lots include 17 historic art prints from the likes of Leonard Freed, Dennys Ilic, Manfred Bauman and Deborah Anderson – among them Freed's iconic Dr Martin Luther King, Jr being greeted upon his return to the United States after receiving the Nobel Peace Prize.
"The tapestry of Leica's history is interwoven with the path and purpose of photojournalists," says Mike Giannattasio, President of Leica Camera USA. "Our mission is to protect the right to bear witness to our world and document its narratives without fear of retribution. Our auction lineup this year is a tribute to this spirit."
Find out more about Momoa's camera, the Truth in Focus lots and the wider Leitz Photographica Auction at the official website.
For additional information on this year's auction, lots, and programming, please visit Leitz-Auction.com/Auction.
Take a look at the best Leica cameras – including the Leica M11 Monochrom, which has replaced the M10 version. Check out the best Leica M lenses to go with it!