Aputure has lifted the curtain on four new Amaran series COB LED lights: the 100d, 100x, 200d and 200x. All these new models come with Bowens lamp-compatible fittings, but are aimed towards the economy end of the market for the more budget-conscious users.
The 'd' suffix indicates that the lights are daylight balanced, for easy control of color reproduction in the studio. Those bearing the 'x' nomenclature, meanwhile, are bi-color units, with adjustable color temperatures on a scale ranging from 2700–6500K.
• Read more: Best photography lights
While this offers color correcting options when using the lights in less controlled environments, it also opens up creative lighting opportunities and increases the versatility of the units.
Adding to this further, all of the models are equipped with built-in Bluetooth remote control, which is compatible with the Sidus Link system. By using a smartphone app, the user can control lighting settings without having to physically access the controls on the unit heads themselves.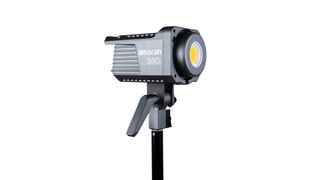 Each of the 100d / 100x units has a power output of 100 watts, while their 200d / 200x siblings provide 200 watts. Unlike Aputure's high-end C120D II and C300D models, though, the 100d/x and 200d/x don't have DMX (Digital Multiplex) support.
The new models are all monolights, meaning that they have their own independent power supply – in this case a 48-volt XLR connector, which can either be plugged into Aputure's battery power station or a mains connector. The light stand type is a simple tilt bracket.
The Amaran 100d is priced $199 / £221 (approximately AU$261), with the Amaran 100x at $249 / £277 (AU$327). Meanwhile the Amaran 200d can be found for $299 / £321 (AU$392) and the Amaran 200x for $249 / £277 (AU$327).
Pre-order the Amaran 100d at B&H (US and worldwide)
Pre-order the Amaran 100x at B&H (US and worldwide)
Pre-order the Amaran 200d at B&H (US and worldwide)
Pre-order the Amaran 200x at B&H (US and worldwide)
Read more:
The best LED light panels: portable lighting for photography and video
The best photography lighting kits: for studio, location and video
Home photography ideas: learning how to light interiors