The world wide web is a wonderful thing for photographers and photography, but the issue of image theft has escalated to unprecedented heights in the digital age. The latest report from image rights agency Copytrack says that as many as 2.5 billion images are stolen per day on the web.
The group's latest Global Infringement Report makes for eye-opening reading. According to a pair of studies by Copytrack and IMGembed, around 85% of the 3 billion images shared daily on the internet are used without a valid license – with the creators and image agencies largely unaware that they have been used without permission.
When broken down by continent, it is actually North America that's the biggest copyright offender with 33.90% of the world's violations – closely followed by Europe at 31.40% and Asia at 29.38%. Each continent is accountable for about one third of global copyright offenses, with South America (2.57%), Africa (1.48%) and Australia (1.27%) comprising just 5.76% combined.
"Our leader in regards to copyright infringement was not Asia, as many may have assumed, but rather North America," the report stated, speaking to the assumption that countries like China with a more 'relaxed' attitude to copyright might have been more abundant in their violations.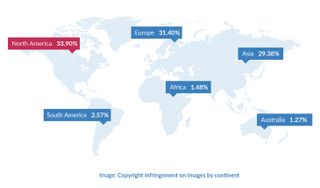 "Exact reasons are hard to pinpoint considering that accurate information on the number of websites per country and continent is hard to compile… we do know that internet and e-commerce sites are used extensively in North America and Europe, which could be an indicator for why image theft is higher on these continents."
Indeed, when broken down specifically by country, it is the United States that's far and away the most prolific nation in terms of copyright infringement, with a staggering 22.96% of violations – well over triple the number of infringements of the second leading country: Panama.
"What is astonishing however, is that Panama, with a population of only 4 million, comes in second place with 6.76 percent of copyright violations," the report notes. "While this may be shocking at first glance, the reason why this is the case makes this figure much more reasonable.
"Panama is actually a popular destination for privacy protection services to register domains on behalf of third parties. This service is provided in order to disguise domain ownership information and publicly accessible 'Whois' data with the intention of keeping a site's actual owner undetected."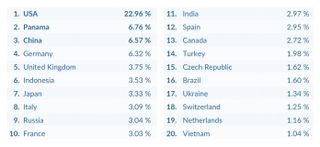 China, despite earning a reputation for playing fast and loose with copyright law, only comes in third with 6.57% of illegally used image material worldwide.
While the report may suggest the lack of regard given to image rights in the modern age, Copytrack does point out that this isn't the full story. "Concealment of actual image sources through search engines, as well as the very nature of the internet itself, often make it difficult for people searching for images to properly identify authors and confirm their image uses," it states.
"This problem will most likely continue at a similar rate until major search engines such as Google, Yahoo, and the like figure out a way to reliably identify the authors of images posted online."
Read more:
Google Images finally adds credit metadata to images - and copyright is coming soon!
How to add copyright and website details to every image