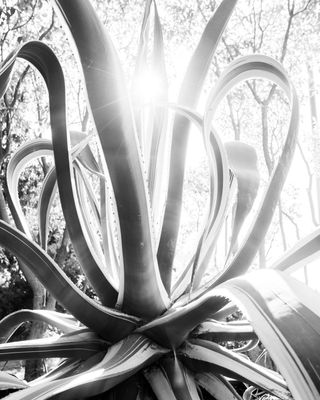 About Benedict Brain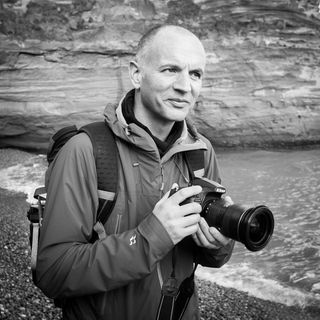 Benedict Brain is a UK based photographer, journalist and artist. He is an Associate of the Royal Photographic Society and sits on the society's Distinctions Advisory Panel. He is also a past editor of Digital Camera Magazine.
These sensual succulents are in The Park Güell in Barcelona. Stumbling upon them, I was seduced by their flaying, tentacle-like 'limbs', which were accentuated by the low raking light streaming through them.
Naturally, as I was in Antoni Gaudí's world-famous park, I was searching for ways to capture the magic of the pioneering architect's vision. However, I just couldn't seem to do his work justice with a camera, and there were tons of pesky tourists in the way anyway. Given that Gaudí's life's work was inspired by the organic shapes of nature, it's weirdly more fitting that it was actually images of nature that I left the garden most happy with.
I love shooting directly into the sunlight. It is often referred to as shooting 'contre-jour'. However, shooting this way has its challenges: primarily, your camera's light meter will be fooled. Exposure compensation can get you out of this pickle, but it's much easier to simply switch to Manual mode and select the appropriate aperture and shutter speed. It really doesn't matter if you start to lose detail in the highlights, especially if the sun is in the scene and it's been properly controlled. It adds to the atmosphere.
For me, it's precisely the low light flowing into this image that makes it a success. It adds layers of depth, drama and a sense of awe. I feel like you could almost 'drink' the light.
The final stage in the creative process was converting it to black and white. This helped me emphasise the organic Triffid-like shapes, textures and pattern of the plant.
Later I submitted this photo to a well-known stock library. I wasn't surprised it was rejected: it's not really the kind of image it needs. However, the justification of "exposure error" tickled my sense of humour.. BB
• Other articles in the Art of Seeing series
Read more:
• The 50 best photographers ever
• 100 best photography quotes from famous photographers
• The best coffee-table books on photography