Nikon D850 vs Canon 5D Mark IV: Viewfinder and LCD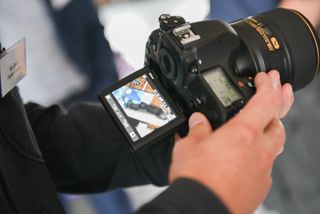 Nikon D850: 100% pentaprism with 0.75x mag / 3.2in tilting touchscreen, 2.36million dots
Canon EOS 5D Mark IV: 100% pentaprism with 0.71x mag / 3.2in fixed touchscreen, 1.62million dots
While both cameras are fitted with 3.2in touchscreens, there's a big difference between the two models.
The EOS 5D Mark IV has a fixed screen, while the D850's LCD is tiltable. Not only is this useful when setting up awkward compositions, but it also allows you to angle the screen for a better view when the light is strong.
The resolution of the D850's monitor is also superior (2,359k dots vs 1,620k dots), which is sure to be appreciated by photographers looking to get a better view of what they're capturing.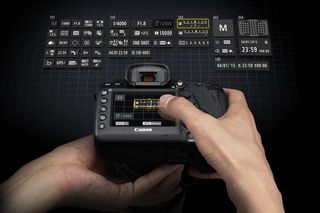 The increased resolution, and the versatility of the tilting screen, may also be tempting to videographers looking to compose sequences more easily. So, here, the D850 comes out very much on top.
Both cameras sport pentaprism viewfinders with 100% coverage, although magnification on the D850 is slightly higher at 0.75x, next to the 0.71x offered by the EOS 5D Mark IV.
Nikon D850 vs Canon 5D Mark IV: Build and design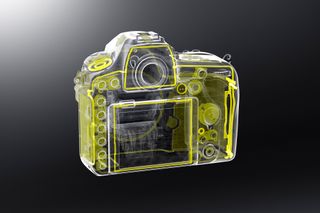 Both cameras make use of magnesium alloy in their build and offer weather-sealing to a high standard; photographers shouldn't have any reservations taking these models into harsh environments.
In terms of build, the EOS 5D Mark IV is the lighter of the two units – 800g vs 1,005g (with body and battery) – and also has slightly more compact dimensions.
The design of the EOS 5D Mark IV builds on the success of the EOS 5D Mark III, so if current Canon photographers are trading up, they should instantly feel familiar with the layout. Likewise, Nikon hasn't also strayed too far from the template set out by its predecessors for its D850.
Nikon D850 vs Canon 5D Mark IV: Other features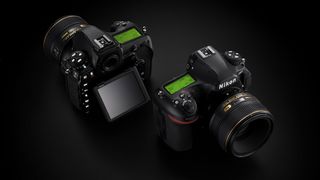 Both of these cameras have much in common. Neither, for example, offers sensor-based image stabilisation for stills, but there are plenty of compatible lenses that make use of the technology.
Both cameras offer built-in Wi-Fi and NFC, and both also have two card slots. The EOS 5D Mark IV offers one for SD-type cards and another for CompactFlash. This is the same arrangement as its predecessor, which this is a good thing as nobody wants to ditch media they've spent a lot of money on. The D850, meanwhile, also has one SD-type slot, but the other accepts XQD media.
Delve a little deeper into each camera's spec sheet and you'll find plenty of unique features that could well sway a buying decision.
Macro shooters will marvel at the D850's Focus Bracketing mode, which can be set to take up to 300 shots at different with different points of focus, which can be subsequently merged together to create a single image with front-to-back sharpness.
The D850 also inherits the illuminated buttons from the D5, which can put an end to fumbling when working in low light. Lastly for the Nikon, because the D850 sports both electronic and mechanical shutters, images can be captured in complete silence – no doubt a great relief for any wedding photographer who has suffered the icy glare of a vicar while shooting during the service.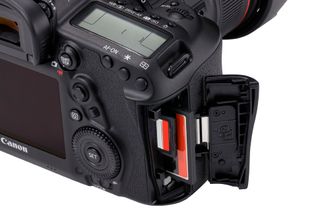 The EOS 5D Mark IV has some noteworthy features of its own, including the advanced Dual Pixel Raw technology that enables photographers to make micro-adjustments in post processing for maximum sharpness, as well as for bokeh shifting and ghosting reduction.
Built-in GPS, meanwhile, allows landscape photographers to mark and map locations for future reference, while the HDR video mode is an interesting addition to the movie functionality, one that enables users to get more details shadows and highlights when recording footage.
Nikon D850 vs Canon EOS 5D Mark IV: Battery life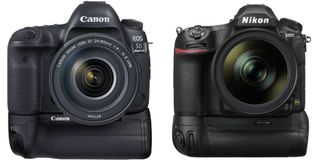 Nikon D850: 1,840 frames per charge
Canon EOS 5D Mark IV: 900 frames per charge
Canon states that the EOS 5D Mark IV is good for 900 shots between charges. That's a decent amount and, for the average photographer, should be enough to last a full day. Better still, those upgrading from cameras like the EOS 7D Mark II or the EOS 5D Mark II will be able to use their existing batteries.
The D850, however, is considerably more impressive here, with Nikon claiming 1,840 frames between charges. Set up the optional battery grip and photographers can then go for over 5,140 image between charges – highly useful when out in the field and access to charging points is rare.
Verdict
Canon's EOS 5D Mark IV builds on the success of the EOS 5D Mark III, and further strengthens the reputation of the legendary 5D line of cameras.
What's more, videographers that wish to shoot 4K footage but can't stretch to the EOS-1D X Mark II should be pleased with the EOS 5D Mark IV's movie-making capabilities, although the crop factor when shooting 4K may discourage those needing to retain wide-angle framing.
Nikon has clearly struck a huge blow to Canon with the D850, with its 45.7MP sensor, more advanced AF system (at least for conventional shooting), faster burst rate (albeit with the addition of a battery grip) and far better battery life. True, Canon also offers a similar pixel count with its EOS 5DS and 5DS R cameras, but the Nikon D850 seems to offer more in one package.
Considering either camera? Check out our best deals below.