Portrait photographer Barbara Asboth says she regularly hears self-deprecating comments from millennial and Gen Z women. "This concerns me on a societal level," she says. "Especially since the advent of Zoom, people are staring at their own faces for hours each day, picking their flaws apart."
Toward the end of 2022, Barbara launched her #Unfiltered project, which explores the effects of social media and filters on young women's self-image, and celebrates women's natural appearance. "I asked each woman to take a phone selfie, to compare their own chosen and controlled angles with an unretouched portrait taken by me. The lens I used closely mimics the angles and detail seen by the human eye, which was an important aspect of the setup."
Barbara has been a freelance photographer since 2013, including a variety of genres in her work. From e-commerce marketing campaigns to street portraits, her images have been exhibited and published globally. She currently lives in Oxfordshire and works with clients across the UK.
Why is a project focusing on selfies relevant?
"With just one day to go before the FUJIFILM GFX Challenge Grant Application deadline in early 2022, the clear idea of this project came to me in the shower, as many ideas tend to. It had been formulating in my head for a long time, but this was the moment it all came together as a specific plan," says Barbara.
"I'd been ruminating over the prevalence of self-hating comments I encounter in my job and daily life, on- and offline, coming from millennial and Gen Z women. I'm 33 years old myself and find it concerning on a societal level; especially since the advent of Zoom where people are staring at their own (mirrored) faces for potentially hours each day, picking their flaws apart."
Barbara had also read this Forbes online article on How Beauty Filters Are Changing The Way We See Ourselves, and found some of the stats eye-opening:
"77% of girls studied in Dove's latest study reported trying to change or hide at least one part of their body before posting a photo of themselves and 50% believed they didn't look good enough without photo editing."
Barbara had to write up a proposal, budget and detailed timeline, and submit it to Fujifilm quickly. "I made it to the second round of global selections! In the end, the project was declined before the final round, as I found out through email – but shortly after I received the bad news, the amazing team at FUJIFILM UK reached out and offered to help make it happen anyway, albeit with a somewhat smaller scope than originally planned."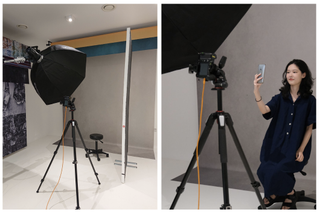 With #UNFILTERED, Barbara set out to invite viewers to consider the ways in which each woman chooses to portray herself and how they are seen by an impartial stranger in Barbara. The only edits made to the portraits were color corrections, cropping, and cloning out the poly board.
• The best camera for portraits
Barbara also interviewed each woman about their experiences with selfies and whether their self-confidence has been affected by the use of filters to enhance appearances. The final portraits are accompanied by poignant quotes from these interviews, with the text and images viewed together to tell the whole story.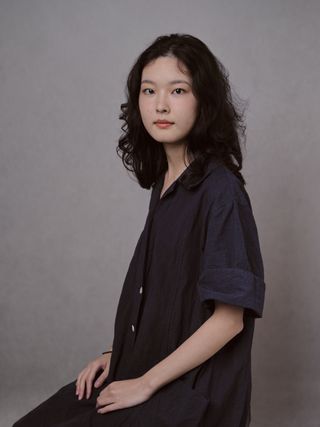 "#Unfiltered was made possible by the support of the amazing team at FujiFilm UK, who let me use their House of Photography studio in London," says Barbara. "They also lent me the fantastic medium format Fujifilm GFX 100S camera, with the Fujinon GF 63mm F2.8 R WR lens, which allowed me to capture an excellent tonal range and details while keeping the photos looking natural," Barbara explains. "I had these items for a month to really test them and see whether they would work for the shoot. At first, I considered using my trusty Fujifilm X-T3 with the Fujinon XF 35mm F1.4 lens, but the detail and tonal range captured by the GFX100S absolutely blew me away after a few test shoots. I knew I wanted to shoot everyone in a studio, with controlled light and capture the imperfections that make people real, so this was perfect for my needs."
• These are the best Fujifilm GF lenses
As for the lighting, Barbara wanted to keep things simple to bring out as much detail as possible while remaining flattering for any face shape. She used a large octabox on a boom 45 degrees to camera left, raised above the subject's eye level, and feathered to avoid hotspots. She then added a white polyboard on the right of the camera to fill in shadows on that side.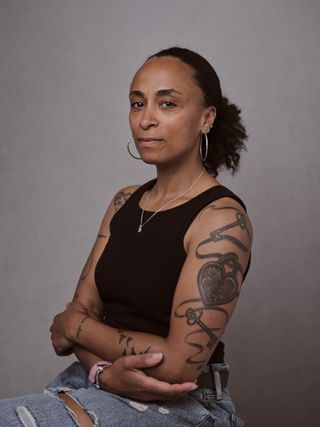 Barbara's verdict on is a mixture of pride and hope. "For some women, it took real strength and bravery to own up to their self-critical thoughts, which makes me so grateful for their participation. Others were more confident in their current selves, despite challenges earlier in their lives. It was important to include a range of opinions, but it was a challenge to find women on the less confident end of the spectrum. I'm hoping to create another set of images, encouraging more reluctant women to face themselves... completely unfiltered."
We also interviewed each woman about her personal experiences with selfies and whether their self-confidence was affected in any way by the wide availability of filters to enhance appearances. These interviews give a diverse and honest insight into the subjects' experiences."
You can read the full interviews on Barbara's website to find out more about each participant's thoughts about selfies, filters and their own self-esteem.