The photography industry never stands still, which is one of the things that makes it so exciting. However, keeping up with the latest camera tech and knowing what's trending isn't always easy.
Even over the past few years, camera technology has developed significantly, with content creation proving more popular than ever before.
Here, we'll discover what photography gear is currently popular, what the best cameras can offer – value for money as well as impressive specs – and the latest must- have tech for camera enthusiasts and content creators.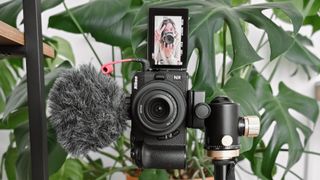 One of the biggest trends seen within cameras in recent years has been the addition of vari-angle screens, which can be tilted and flipped to capture creative compositions, group shots, and selfies, as well as make content creation more intuitive.
Articulating screens aren't new, and they can be seen on cameras as far back as 2005. However, what was once a feature that used to be a rare talking point now comes as standard on a wide range of models, from beginner to professional.
The Nikon Z30 has a fantastic 3-inch front-facing flip screen that's perfect for vlogging and video creators. Being a touchscreen, it's ideal for changing focus, taking photos and tweaking settings like brightness – all with a light gesture. Flip screens make camera operation simple and even fun. And because the Nikon Z30's screen flips back inwards when not in use, it's protected from damage while traveling.
Speaking of ease of us, the Nikon Z30 also features smartphone connectivity so that creators can transfer shots in an instant, with Nikon's free Nikon SnapBridge app allowing the camera to be controlled remotely.
Nikon's Creator's Accessory Kit for the Z30 includes a Bluetooth remote that fires the camera shutter, starts and stops recording and even records audio away from the camera – thanks to the quality built-in stereo microphone.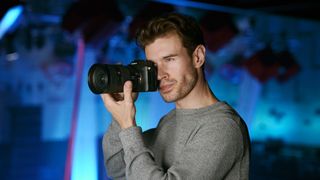 The newest cameras are always going to be smarter, faster and more sensitive, but some are more of a breakthrough than others when it comes to the technology inside. The Sony Alpha 7S III is one such milestone camera.
Although it's been designed with filmmakers in mind, the Alpha 7S III is an incredibly capable stills camera in its own right, offering a full-frame sensor and a fast hybrid autofocus system with 759 phase detection AF points.
For the Sony A7S III, the headline is the 4K 120p recording video from the 12.1-MP sensor. By producing a sensor with a low resolution – by modern standards – Sony has not only given the camera huge advantages at high ISO's, but allowed the camera to read data much faster, which hugely reduces the dreaded rolling shutter that blights many mirrorless cameras. In real-life results, the Alpha 7S III offers cleaner low-light images up to an impressive ISO 409,600, plus 15+ stops dynamic range.
The Sony Alpha 7S III is anything but entry-level when it comes to its features, yet it has an inviting price and an ease of operation that would suit beginners as well as advanced users.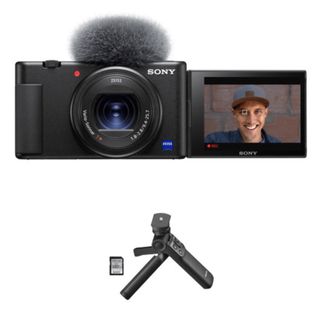 Vlogging is the key trend of the moment, and it doesn't look to be going away anytime soon. While many of today's cameras could be adapted for vlogging use, the Sony ZV1 vlogging kit is the ideal companion for the job, especially for those who want a more compact camera setup.
The Sony ZV-1 vlogging kit includes the excellently featured Sony ZV-1 camera, a Sony Bluetooth Wireless Grip (that doubles up as a tripod), and the Sony 64GB UHS-II SD Card to capture hours of content.
About Henry's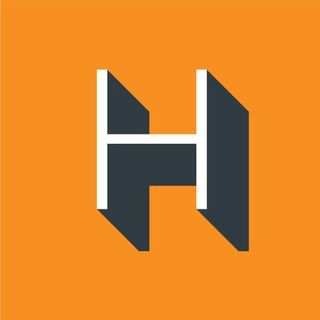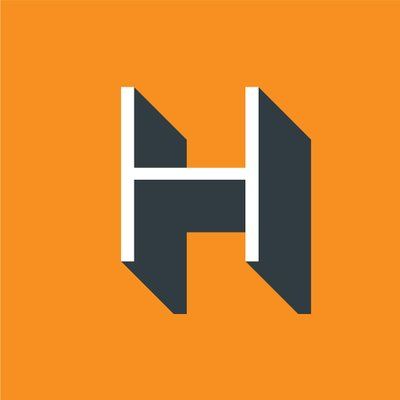 Henry's is the leading specialty digital imaging retailer in Canada, with over 15,000 imaging products. Family-owned and operated, Henry's first opened its doors in 1909 and is now the source for the best and newest products, expert advice and award-winning customer service in camera-related hardware and accessories for photography, videography and content creation.
Henry's on Twitter
Henry's on Facebook
Henry's on Instagram
Henry's on YouTube
The Sony ZV-1 is a superb but small camera, with a selfie-friendly vari-angle LCD screen, recording lamp, and directional mic with a wind screen to pick up your voice clearly. It's like a re-imagined Sony RX100 repurposed for the vlogging market, and as such, the controls, audio and the rear screen are all optimized brilliantly.
Despite its pocketable size, the ZV-1 has a 1.0-type Exmor RS CMOS sensor, to deliver high-quality images even in low-light environments, plus 4K and super slow motion video capture. It even offers soft-focus backgrounds, real-time autofocus tracking and image stabilization for steady handheld shots – even when walking.
With its reasonable price, portable design, and extra accessories to get content creators started, it would be difficult to think of a better vlogging setup than the Sony ZV1 vlogging kit.
Feeling inspired? Want to learn more? If you are in Toronto between August 25 – 28 visit Henry's at the FanExpo/Bufferfest. Find out more and buy Tickets for FAN EXPO Canada, and visit the Henry's booth to learn more and speak to experts on hot new trends.