Have you ever thought about what a "smart camera" might look like? Cameras are expensive enough already, without the ability to support custom apps, but it would be pretty cool. We already have firmware updates for cameras (and lenses), plus the option to connect them to our phones, so why not?
The idea of a camera with its own app-supported operating system actually goes as far back as 1998, and many early digital cameras were equipped with technology known as the FlashPoint DigitaOS operating system. In more recent years, big brands such as Samsung actually attempted Android-compatible mirrorless cameras – and the world barely noticed.
• Here's the next best thing – the best Android phones
Did you know that Android was originally designed for digital cameras? Well, it's true. A YouTuber video has delved into the origins of camera operating systems and revealed how the industry, even the world, could have changed if the idea had truly taken off.
The video above explains how, in the late Nineties, 11 camera models emerged with DigitaOS. Different brands were involved, and custom scripts could be used across them. The first was the Kodak DC220 in 1998, but by 2001 – after Pentax and HP had also joined the fun – DigitaOS was discontinued.
This, even though DigitaOS could be programmed for complete custom control of settings and functionality – and even the ability to play games, including Doom! This operating system could be thought of as the early implementation of apps on digital cameras.
Classic digital camera enthusiast James, of YouTube channel snappiness , shared this video that offers an insight into how close cameras came to having apps. He goes on to highlight the Samsung Galaxy NX APS-C camera, released in 2013 and equipped with, you guessed it, apps.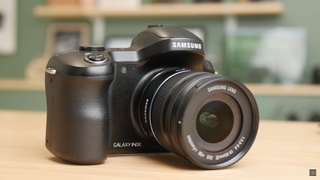 The Samsung Galaxy NX never made waves in the photography community but as James demonstrates in the video, it offers photographers the option to edit images using advanced software in-camera, as well as uploading images directly to social media apps or to cloud storage services. How was this not a complete game-changer?
The perfect mix of smartphone and professional camera would be the dream, but no doubt an expensive dream. The Samsung Galaxy NX camera retailed for $1,600 / £1,200 (around AU$1,540) back in 2013, and even then it was held back by app compatibility issues.
While the idea of being able to shoot, edit, and upload an image all with the same device is a highly soughtafter concept, it might not be as easy or practical as we hope.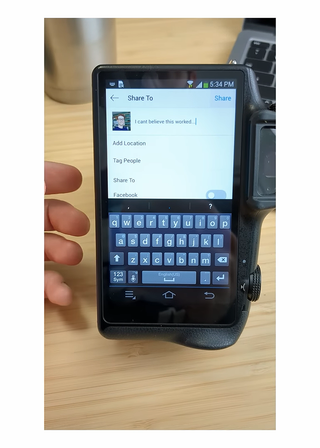 To some, this idea might even seem a bit pointless, and as James states, "Maybe we don't want smart cameras after all." Cameras, after all, tend to live a long life, while phones – especially with fixed operating systems – are, at best, passed on sooner. At worst they end up in landfill.
Would you consider purchasing an Android-based professional camera for the right price? Well, after Samsung abandoned cameras in 2016, we had the Zeiss ZX1 in 2018 – another Android-powered camera, this time with Lightroom built into it. Alas, it was barely available anywhere (Zeiss never even sent us one to review) and was quietly discontinued in February this year.
Samsung has decided that phones are where the money and innovation is, so perhaps look to the best Samsung phones to find your ideal app-powered photography. Not forgetting the best iPhones for photography, either.