UPDATE: The long-awaited Zeiss ZX1 camera is now, finally, available – albeit only in the United States and Germany. The unusual fixed lens camera, which features a built-in Lightroom app, carries a price tag of $6,000 (£4,636 / AU$8,526) or €6,000.
The 37.4MP full-frame camera features a Distagon T* 35mm f/2 with leaf shutter, designed specifically for this system. The integrated Lightroom app (which comes with a one-year Lightroom subscription and 1TB of cloud storage) makes use of the 512GB internal memory to reshape photographers' ability to shoot and share shots.
• Sample images shot with Zeiss ZX1
"The concept of the Zeiss ZX1 opens up new ways in digital and connected photography," said Zeiss' Jörg Schmitz on the launch of the camera. "The Zeiss ZX1 combines the potential and superior image quality of a full-frame camera with the mobile experience and intuitive use of smartphones for photography."
On the infamously long wait for the ZX1, originally revealed over two years ago during Photokina 2018, he added, "We have once again worked intensively on the overall workflow and the smooth integration of hardware and software and are convinced that it was worth the wait."
Whether or not it's worth the weight, the question is whether it's worth the price. After all, a Leica Q2 is just $4,995 and a Creative Cloud subscription costs much less than a grand. When a Leica is the cheaper option, the battle is an uphill one…
• See also: Why I dumped Lightroom CC and went back to Lightroom Classic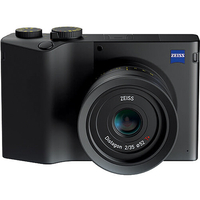 Zeiss ZX1: $6,000
The 37.4MP Zeiss ZX1 features a street-friendly fixed 35mm f/2 lens, 512GB internal memory (with no card slots), built-in Lightroom with 1-year subscription and 1TB cloud storage, and captures 4K 30p and FullHD 60p video.
Ships worldwide
ORIGINAL STORY: First announced at Photokina 2018, it's fair to say that consumers have been waiting for the Zeiss ZX1 for quite a long time. With a $6,000 price tag and some interesting design decisions, some have questioned how viable this product even is. However, after over two years of waiting, it seems that the Zeiss ZX1 is finally ready to enter the global stage.
One of the Zeiss ZX1's main selling points is that Zeiss has partnered with Adobe to ensure that Lightroom CC would run directly on the camera's 4.3" screen. Combined with an Android OS, The ZX1 is apparently designed to enable users to shoot, edit and share images without having to rely on a traditional smartphone.
On the camera side of the equation, the Zeiss ZX1 has a full frame 37.4MP sensor and a fixed 35mm Distagon f/2 lens. You can see more information on the specs and key features below, but we do have to wonder how excited consumers will be about a two year old camera design that costs $6,000 and has a fixed 35mm focal length – especially when the camera's biggest draw (its ability to natively edit and share photos) can be easily replicated with a decent Wi-Fi connection and your own smartphone.
• Read more: Best full frame compact cameras
Zeiss ZX1 specifications
Sensor: 37.4MP full frame CMOS (36 x 24mm)
Lens: Zeiss Distagon T* 35mm f/2
Autofocus: Contrast AF, single point, multiple areas, object detection
ISO range: 80-51,200
Max image size: 7,488 x 4,992px
Metering modes: Multi-pattern, center-weighted, spot
Video: 4K UHD 30p, 1080p at 60p
Viewfinder: 0.7-inch OLED, 1920 x 1080px, 0.74x magnification
Rear screen: 4.3-inch TFT, 1280 x 720px touchscreen
Memory: 512GB built in, external storage via USB-C
Max burst: 3fps
Connectivity: Wi-Fi, Bluetooth
Size: 142 x 93 x 94mm
Weight: 813g
Zeiss ZX1 key features
We got very excited about the ZX1's 37MP full frame sensor when the camera was first announced, but that was back in 2018, and a lot has happened since then. 37MP now fees a bit ordinary in a world where 42-61MP sensors are where it's at.
The fixed Zeiss Distagon 35mm f/2 Zeiss lens might tempt prestige camera buffs, but what we don't know is how much this differs from to the Zeiss Sonnar T* 35mm f/2 fitted to the Sony RX1R Mark II ('Distagon' vs 'Sonnar'... hmm). The Sony has 42 million pixels and was launched four years ago (yes, FOUR YEARS) in 2015, so apart from its avant-garde styling the ZX1 will need some pretty special features just to catch up with a camera that's already out there, let alone improve on it.
But the Zeiss ZX1's secret weapons become visible round the back. First, there's a comparatively huge 4.3-inch touchscreen display; second, it comes with Lightroom CC built in, so you have powerful editing tools right there in the camera – this suggests the ZX1 is running some version of Android.
Elsewhere, though, the specs look unadventurous. The Zeiss ZX1 will shoot 4K UHD video, but it will have a pretty pedestrian burst speed of just 3fps. And with an old-school contrast AF autofocus system, we're not expecting particularly snappy responses – it might come with the ideal 'street photography' focal length, but will it be fast enough?
Full frame compact cameras: the alternatives
Right now, there are just two full frame compact cameras on the market: the 2015 Sony RX1R Mark II which we've already mentioned, and the lovely but hard-to-find Leica Q2. You can find out more in our best full frame compact camera buying guide, though with just two candidates on the market, it's more of a head to head. The choice of best APS-C compact cameras isn't much better, at just four candidates, but they are a lot cheaper. And you can actually buy them.
Read more:
• These are the best full frame compact cameras
• Which is the best APS-C compact camera to get today?
• Don't expect the Zeiss ZX1 camera any time soon…