The year just gone and has brought pop-up selfie cameras, improved bokeh modes and the first instances of three cameras on the back of your phone – but 2019 is set to bring some even more groundbreaking innovation to the shooters you slot into your pocket and multi-camera arrays like the one on the Nokia 9 PureView look set to become one of the major trends.
Whether it's the front or the back of your phone, we're expecting big things from some of the high-end handsets we'll see unveiled over the next 12 months.
Nothing in the list below is certain yet, but we're hearing rumors of big phones that are set to make waves in the camera space that you won't want to miss out on.
Below we've listed our five most exciting cameras phone of 2019, but remember this is all based on leaked information and rumors. Here's why you should be excited to upgrade your phone next year.
1. Samsung Galaxy S10 Plus
Our list is kicking off with the biggie, and while there's a whole Samsung Galaxy S10 series of phones rumored, if you're looking for the best camera phone you'll want to focus on the largest of the three phones.
The Samsung Galaxy S10 Plus is currently rumored to have five cameras – that's three on the rear, and two on the front – but some other reports have suggested it may even boast six cameras by upping that to four on the back.
We currently believe it to just be the five though, with the back of the phone sporting a 12MP f/1.5-f/2.4 variable aperture lens alongside a 16MP f/1.9 lens with 123-degree field of view. Then there's also a third, which is a 13MP f/2.4 lens.
This all comes from a report by The Investor that cites a well-respected analyst, but other rumors have suggested a similar setup so we currently think this will be what's on the final product. It's a powerful camera, and if that 13MP is a telephoto lens this has a good chance of being the best camera phone of 2019.
When is it expected? February or March 2019
2. Huawei P30 Pro
Expected at a similar time to Samsung's next phone series, there's also the Huawei P30 Pro. The P20 Pro and Mate 20 series from 2018 have blown us away, and both offer some of the best photography we've ever seen on a phone.
Once again we expect to see three cameras on the rear of the P30 Pro, and right now we've only heard about one of them; it's set to be a whopping 38MP Sony IMX607 sensor. That is if information from a report on MySmartPrice is to be believed.
According to that leak, it features Quad-Pixel PDAF tech which means it is set to have some impressive autofocus speeds.
That 38MP number means we may see the P30 Pro feature one of the highest megapixel counts on any phone, but remember that higher megapixel count means the pixel size will likely be smaller. Little else is known about the P30 camera, but we're excited to hear all about it.
When is it expected? March 2019
3. The next iPhone
This list wouldn't be complete without one of the easiest to use phone cameras, and we may see an overhaul of the iPhone camera after a relatively disappointing upgrade in 2018. Rumors aren't hot on the new iPhone right now, but there are a few reports from analysts that suggest what we may see.
Ming-Chi Kuo is a well-respected analyst in the mobile industry, and while not all of his predictions come true we've often seem his information become fact. He believes Apple will include a flood illuminator in at least one of the new iPhones to help improve low-light photography. That's likely to be the most expensive iPhone, which could be the iPhone XI Max.
Another report from Bloomberg says the company is focusing further on augmented reality tech so it'll be including a 3D camera system on the rear.
A separate report from ET News has also said the new iPhones may be able to shrink the notch by combining the front camera with the Face ID sensor. That may mean we don't see significant front-facing camera upgrades as the company is focusing on combining those two.
On top of that, some reports have suggested this may be the time Apple embraces a triple lens rear camera so the most expensive iPhone in 2019 may be a true step forward for the company's shooting prowess.
When is it expected? September 2019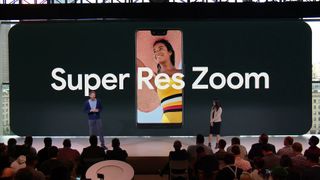 4. Google Pixel 4
We don't currently know much at all about the next phone from Google, and the main reason we've included it here is because the Google Pixel 3 currently sits at the top position in our best camera phone guide.
The Pixel 3 range is the current pinnacle of smartphone photography, so we're excited to see what Google do next.
Often we've been hearing about breakthroughs from the company on its software side, but we may see some improvements to the hardware too. Could Google also embrace a triple rear camera? Could we see two selfie cameras on the front of a Pixel device for the first time? We don't know yet.
With no rumors to report here at this time, the options are truly limitless and we're excited to hear all about it. You may be waiting a while though as we normally wouldn't expect Google to announce a new phone until late in the year.
When is it expected? October 2019
5. OnePlus 7
Much like the Google Pixel 4, little is known about the camera on the upcoming OnePlus 7. That said, the company has cemented itself in making affordable phones with impressive shooters (considering the price) so we're excited to see what OnePlus can come up with.
So far a lot of the news around the next OnePlus phone has been based on the company's innovations in 5G as well as improvements to the design, but we may soon start to hear leaks about its camera tech.
The OnePlus 6T featured the same shooting hardware as the OnePlus 6, so we're expecting to see some improvements in the spec of the camera on the OnePlus 7.
Plus we can expect the company to do improve the software too in an attempt to offer similar level photography to top-end, much more expensive phones.
When is it expected? June 2019