Clever Supply Co is best known for its minimal leather goods, including its chic leather camera straps and camera accessories. However, it is now about to step into new areas with the launch of its first camera sling bag.
Based in Louisville, Kentucky, Clever Supply Co was started with the purpose of providing high-quality and individually hand-crafted camera accessories that would not only stand the test of time, but also motivate and inspire photographers to use their kit more.
It takes a lot to stand out among the field of best camera sling bags, but the company's new Camera Sling is crafted using weather-resistant waxed canvas, leather, and weatherproof zippers for a stylish and timeless design – with materials that are not only built to last, but also to age well.
The new camera sling measures 6L in total volume, which is perfect for small or medium camera kits. Keen travel photographers with modern mirrorless gear can carry a body and two lenses as well as a range of accessories. The bag features two of the company's signature Clever SD Dividers, for separating different camera gear while also protecting it from colliding during travel.
Featuring three separate interior pockets and one hidden exterior pocket, the bag also contains storage for 8 SD cards and an interior sleeve for carrying tablets with a screen size of up to 11 inches. The bag has an adjustable shoulder strap as well as three separate grab handles so you can quickly grab and get moving.
Clever Supply has been kind enough to send us a sample copy of the Camera Sling bag, and on first impressions, it appears very well made, with lovely materials, and is also a very good-looking sling bag that I would be happy to be seen around town with it. We look forward to giving the bag an in-depth review when it goes on full sale.
You can find out more information and pledge to be an early backer on the Kickstarter page for the Camera Sling by Clever Supply Co. Or for all the Clever Supply products available right now, check out Clever Supply's shop on the Moment store, or you can see a few of the highlights below.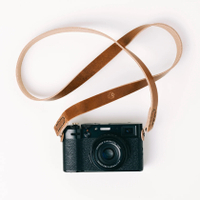 Clever Supply Original "Skinny" Strap (Split Ring)
Moment | $64
The original camera strap from Clever Supply Co. The signature handcrafted leather strap is built to last, age beautifully, and always look very stylish. At 1/2in wide, this camera strap is perfect for traveling around town with smaller mirrorless camera bodies.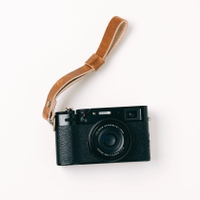 Clever Supply Camera Wrist Strap (Split Ring)
Moment | $58
The split ring camera wrist strap from Clever Supply is a stylish way to keep your camera safe and secure to your wrist while not having to have a long trailing neck strap. Made in the signature leather styling of Clever Supply Co and available in black, chestnut, natural, and tan colors.
For more of the best ways to carry your photography gear in style, check out our guides for the best camera sling bags, the best camera backpacks, and the best camera bags.