The hybrid camera market is booming. These are cameras designed to shoot both stills and video to professional standards without compromising on either.
The best hybrid cameras tend to be full frame models and the best Sony cameras and best Panasonic cameras regularly feature in our guides to the best filmmaking cameras and best vlogging cameras.
The Panasonic S5 II is a major release for Panasonic, incorporating a hybrid phase AF autofocus system for the first time to put the company on a level playing field with its key rivals. The S5 II is also packed with both video and stills features that make its price look very compelling. And if you need more professional/high-end video capabilities, the Lumix S5 II X will be here soon, and still won't cost more than the Sony A7 IV.
It's not just about features and value, of course, and the Sony A7 IV is an extremely good hybrid camera in its own right. It's a major step up from the previous Sony A7 III, it boasts Sony's excellent AF system and lens choice and is perhaps the camera to beat in this section of the market.
So how do the Panasonic Lumix S5 II and the Sony A7 IV compare? We do a deep dive into the specifications to find out which one has the potential to come out on top.
Panasonic Lumix S5 II vs Sony A7 IV
Why you can trust Digital Camera World Our expert reviewers spend hours testing and comparing products and services so you can choose the best for you. Find out how we test.
1. Sensor
• Lumix S5 II: 24.2MP full frame CMOS
• Sony A7 IV: 33MP full frame CMOS
Both of these cameras have full frame CMOS sensors, but the Sony has a resolution advantage with 33 megapixels versus the Panasonic's 24MP. Now 24MP is probably enough for many users and it has no impact on the video capabilities – in fact the S5 II offers higher video resolutions – but for stills photographers worried that 24MP might be a bit borderline, the A7 IV has a definite advantage. Having said that, if resolution is a priority then the Sony A7R V would probably be better still.
2. ISO range
• Lumix S5 II: ISO 100-51,200 (exp. 50-204,800)
• Sony A7 IV: ISO 100-51200 (exp. 50-102,400)
There are no real surprises here, as the higher-resolution A7 IV has a slightly lower maximum ISO – though we know better than to predict a winner without the opportunity to test the S5 II fully. Both cameras can shoot in extremely low light, which is a testament to the advances made in sensor sensitivity and noise control over the past few years.
3. Autofocus
• Lumix S5 II: Hybrid phase detect
• Sony A7 IV: Hybrid phase detect
Without having tested the S5 II yet, we can't say for sure how its new hybrid AF system stacks up against the Sony's, but the A7 IV is surely the camera to beat in this respect, thanks to Sony's remarkably effective Eye AF and Real Time Tracking advances. However it works it, it seems pretty certain that these cameras will be much more closely matched than before, when Panasonic only had the contrast AF system in the Lumix S5.
4. Stabilization
• Lumix S5 II: 5 stop IBIS, 6.5 stop Dual I.S. 2
• Sony A7 IV: 5.5 stop IBIS
Both cameras have IBIS, and the Panasonic's is rated at half a stop less than the Sony's, at 5 stops versus 5.5 stops for the latter. However, Panasonic also quotes Dual I.S. 2 effectiveness up to 6.5 stops with stabilized lenses. Both cameras also over active digital stabilization. Predicting a winner is difficult, though we've never been especially impressed with Sony's IBIS performance.
5. Video (internal)
• Lumix S5 II: 6K 'open gate' up to 30p, 5.9K up to 30p, C4K/4K 10-bit 4:2:2 internal up to 60p (with APS-C/Super35 crop)
• Sony A7 IV: 4K 4:2:2 10-bit up full width up to 30p, 60p with Super35 crop
Here, Panasonic and Sony have taken two distinctly different routes, with Panasonic favoring resolution and Sony going for capture quality (more on this shortly). On paper, the S5 II is a clear winner, offering 6K full sensor 'open gate' capture or 5.9K at a 16:9 ratio, together with 4K video at 30p. The Sony A7 IV can only shoot 4K maximum, but both cameras – annoyingly – have to switch to an APS-C/Super35 crop to shoot 4K 60p.
6. Bitrates and compression
• Lumix S5 II: Up to 200Mbps, Long GOP
• Sony A7 IV: Up to 600Mbps, Long GOP and All-I
Sony fans might argue that quality counts more, and the A7 IV seizes the high ground here. Although both cameras can capture 10-bit 4:2:2 footage internally, the S5 II has a maximum bitrate of 200Mbps, whereas the Sony can capture at up to 800Mbps. Worse, the Lumix S5 II is restricted to Long GOP compression, while the Sony A7 IV offers both Long GOP and All-I. Of course, Panasonic video fans can always wait for the Lumix S5 II X, and that's a very different proposition.
7. High frame rates
• Lumix S5 II: S&Q up to 180fps
• Sony A7 IV: S&Q up to 120fps
The Lumix S5 II has a small advantage here, though for many filmmakers the A7 IV's 120fps, or quarter speed slow-mo capability) will be quite slow enough. Technically, though, the S5 II does offer a superior 6x slow motion capability.
8. Continuous shooting
• Lumix S5 II: 9/7fps mechanical, 30fps electronic, 200+ raw
• Sony A7 IV: 10fps mechanical and electronic, up to 800+ raw (CFexpress Type A card)
You might not buy a hybrid camera for its continuous shooting capabilities, but both cameras are surprisingly good at burst shooting. The Sony's mechanical shutter speed is higher at 10fps versus the Panasonic's 9fps (7fps with continuous AF) and it has a huge 800+ shot raw buffer capacity – though this does depend on using fast but expensive CFexpress Type A cards. The Lumix S5 II does, however, have a pretty formidable 200+ shot raw buffer capacity of its own, and an impressive 30fps electronic shutter burst mode. It will be interesting to see how well distortion and subject movement are handled.
9. Displays
• Lumix S5 II: 3.68m dot OLED EVF, 3-inch vari-angle 1.84m dot screen
• Sony A7 IV: 3.68m dot OLED EVF, 3-inch vari-angle 1.037m dot screen
Both cameras have 3.68 million dot electronic viewfinders and 3-inch vari-angle rear screens. The screen on the Lumix S5 II does have a much higher resolution, however, and Sony has notably been pretty mean with its screen specs in the past – in fact, the inclusion of a vari-angle screen on the A7 IV is a bit of a landmark.
10. Storage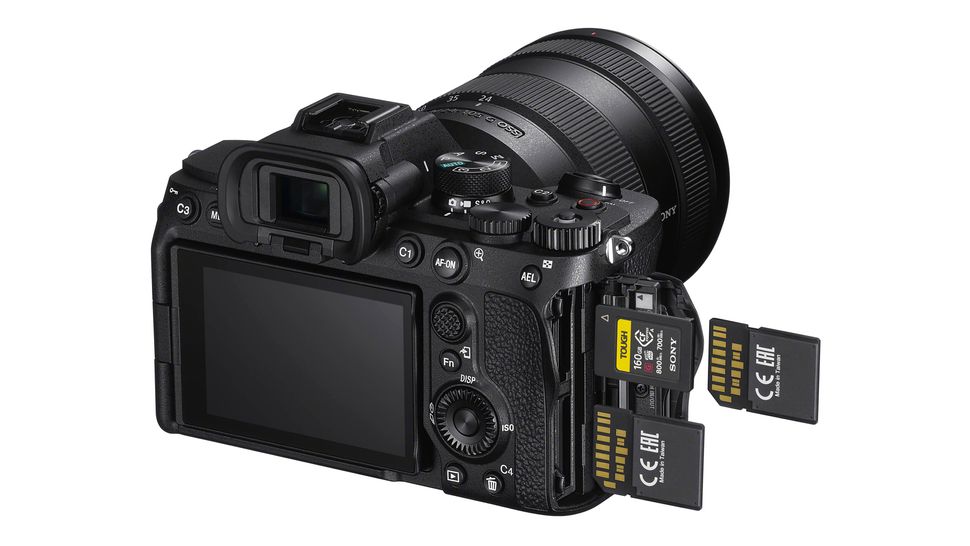 • Lumix S5 II: 2x SD UHS-II
• Sony A7 IV: 2x SD UHS II/CFexpress Type A
The Sony has a technical advantage here in that its twin memory card slots can take both SD UHS II memory cards and CFexpress Type A cards. You do need CFexpress cards to get the full range of video modes and burst buffer capacity, and these cards are pretty expensive. The Lumix S5 II also has dual card slots, both SD UHS II. If you use SD cards only, neither camera has an advantage – but you won't get the full benefit from the A7 IV's performance.
11. Lenses
• Lumix S5 II: L-mount
• Sony A7 IV: Sony FE
The Lumix S5 II uses the Leica/Panasonic L-mount, while the Sony A7 IV uses the hugely popular Sony FE mount. The Sony can use a huge range of own-brand and third-party lenses – far more than the Panasonic – though L-mount support is growing and, as well as Panasonic's own lenses, you can get many Sigma lenses in both FE and L-mount. The Sony wins on sheer choice and scope, but for professional stills and video lenses, they're not so very far apart.
12. Size and weight
• Lumix S5 II: 134.3 x 102.3 x 90.1mm, 740g
• Sony A7 IV: 131.3 x 96.4 x 79.8 mm, 658g
These cameras are a broadly similar size, but – perhaps surprisingly – the Sony A7 IV is just a little lighter and smaller. We've always felt the original Lumix S5 to be perhaps the smallest-feeling full frame hybrid camera, but the S5 II is just a little larger, not least because of the active cooling fan built into the viewfinder housing – the Sony A7 IV relies on passive cooling.
13. Price
• Lumix S5 II: $1,998/£1,999 (about AU$2,882)
• Sony A7 IV: $2,498/£2,399 (about AU$3,551)
Sony is not in the business of making cheap cameras, as Sony fans will know to their cost. It used to sell older models at heavily discounted prices, but seems to be drawing away from that now to concentrate on premium and high-end new cameras. Even with that in mind, the $500 price difference between these two cameras is a little surprising. They are so evenly matched technically that it's a surprise to see the Lumix S5 II being sold for so much less. (Or, you could say, for the Sony to be sold for so much more.)
Panasonic Lumix S5 II vs Sony A7 IV: conclusions
The Sony A7 IV has some advantages of its own, notably its 33MP sensor, higher bitrates and All-I recording options, but the Panasonic's 6K/5.9K video, 180fps VFR capture and claimed unlimited recording times surely put it way out in front for video – and when the Lumix S5 II X arrives, the Sony A7 IV will be placed even more firmly in the shade.
On the other hand, for primarily stills photographers, and especially those who shoot sports and higher-quality commercial work, the A7 IV's 10fps burst shooting, huge buffer depth and higher resolution will make it a fairly clear winner.
If you had to sum it up in a sentence, you would say of the Lumix S5 II that it has good stills and great video, while the Sony A7 IV has great stills and good video and costs $500/£400 more.
Check out the optics for these two cameras with our best L-mount lens guide, and our top choices for the Best lenses for Sony A7 IV