While the enthusiast targeted Canon EOS 80D and EOS 77D may at first glance appear to be peas from the same pod, the pitch for the latter has always been that it offers most of the same technology as its 80D bigger brother, yet in a smaller, cheaper body. Yet, if there are too many similarities with the EOS 80D, does the 77D come across as more range filler than killer deal? As we said in our original review; if the EOS Rebel T7i and the more enthusiast-targeted EOS 80D had a baby together, then the EOS 77D would be it.
Despite the fact that the Canon EOS 80D was released back in 2016 (and has been upgraded in the EOS 90D), it's still well worth the consideration of any photo enthusiast, so there's no need to be ageist here. Both the DSLRs we're examining below are well worth the effort and would appeal greatly to anyone upgrading from a beginner or entry level DSLR who has outgrown those cameras more modest features and functions.
• Read more: Canon EOS 90D vs EOS 80D vs EOS 7D Mark II
These are very much jack of all trades DSLRs, suitable for use and capable of delivering the goods in a wide range of shooting conditions. But, apart from the fact that the EOS 80D is numerically higher up Canon's range than the 77D, and costs that bit more, is there anything intrinsic when it comes to their feature sets to decisively differentiate between them?
Read on to find out, as we pick through the specifications and include a few opinions, where relevant, based on our original reviews of the pair of enthusiast level DSLRs.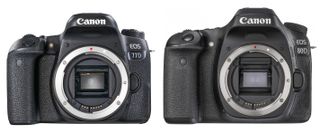 Canon 77D vs 80D Sensor and processor
Why you can trust Digital Camera World Our expert reviewers spend hours testing and comparing products and services so you can choose the best for you. Find out how we test.
• Canon EOS 77D:
24.2 million pixels APS-C 22.3x14.9mm CMOS sensor and DIGIC 7 processor
• Canon EOS 80D:
24.2 million pixels APS-C 22.3x14.9mm CMOS sensor and DIGIC 6 processor
The EOS 77D features a new-at-the-time 24.2MP APS-C CMOS sensor, which utilises Canon's on-chip analogue-to-digital conversion technology, as seen on the likes of the distinctly more grown up EOS 5D Mark IV. On paper, this produces cleaner images at higher ISOs compared to the older sensor in the manufacturer's own 750D and 760D.
As a belt and braces approach, the 77D also features Canon's DIGIC 7 processor with a native ISO range of 100-25,600 that can be extended to ISO 51,200 equivalent. It's further claimed that the DIGIC 7 processor also offers improved autofocus when compared to the DIGIC 6 predecessor, which is the one sported by its bigger brother in the EOS 80D.
In combination with the 80D's sensor, this enables the numerically superior DSLR to deliver a light sensitivity range from ISO 100-16000, extendable to an equivalent of ISO 25,600. Otherwise the APS-C sensor and resolution boasted by the 80D is a match for its sibling at 24.2 megapixels. Thanks to said sensor, we believe the 80D captures significantly more detail than its 70D predecessor for the majority of its light sensitivity range and that noise is well controlled into the bargain.
Canon 77D vs 80D: video
• Canon EOS 77D: Full HD 1920x1080 pixels at up to 59.94fps
• Canon EOS 80D: Full HD 1920x1080 pixels at up to 59.94fps
The EOS 77D offers the ability to shoot up to Full HD quality video clips of less than 30 minutes maximum duration alongside still images. There's no 4K video option here then, which may be a disappointment to some. That said, we do get the advantage of Canon's new-ish five-axis image stabilization system for shooting handheld footage and specially designed for video.
Once again, on the EOS 80D we get bog standard Full HD video rather than a more exciting and up-to-date 4K resolution. However, it does boast an external microphone port with the ability for volume to be manually adjusted in camera, while 'movies' can be shot in a choice of MOV or MP4 format. On top of this, Canon's Video Snapshot feature is to hand to help anyone create more dynamic short films in-camera.
Canon 77D vs 80D: burst shooting (fps)
• Canon EOS 77D: Up to 6fps
• Canon EOS 80D: Up to 7fps
The shooting speed for the EOS 77D is best described as good, without being particularly stellar; its 6fps burst capture rate bettering most consumer DSLRs, while hardly mounting a challenge to more professional beasts. Possibly because if it were any faster the 77D would end up encroaching on the 7fps shooting 80D's territory and its maker wants to maintain some differentiation in its range.
While this means that the 80D's maximum burst rate is the same as its 70D predecessor's at 7fps, the amount of shots achievable in a single burst has been increased to 110 JPEGs or 25 Raw files, if using a UHS-1 SD card to cope with the data hungry demands. This slight edge over the 77D also means the camera is likely to prove that much more attractive to action and sports photographers.
Canon 77D vs 80D: AF system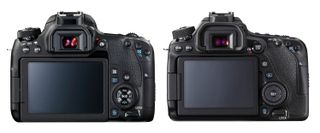 • Canon EOS 77D: 45 AF points, all cross type
• Canon EOS 80D: 45 AF points, all cross type
The Canon EOS 77D boasts the complexity of a 45-point auto focus system and great Live View AF performance with it. In fact we particularly love its performance in Live View mode, where it feels as fast and responsive as the latest generation mirrorless cameras.
The EOS 77D is able to achieve this because it takes advantage of a 45-point AF system with all cross type sensors – sensitive enough in both the horizontal and vertical planes to be able to lock focus on otherwise poorly illuminated subjects. Of these 45 focus points, 27 are sensitive down to f/8. The 77D also uses a phase detect AF system, which does a good job and is more reliable when tracking subjects than Canon's AF systems of old. For Live View and video recording, the DSLR uses its maker's Dual Pixel AF technology across 80% of the frame, again delivering snappy focusing even when tracking moderately fast moving subjects.
On the EOS 80D, Canon has improved AF response whether shooting using the eye level viewfinder, or the alternative of the LCD screen when the camera is switched to Live View mode. Matching the EOS 77D we're putting it up against here, the 80D offers its users 45 AF points, which are again all cross type.
Like both the 77D and its 70D forebear, the 80D uses Dual Pixel CMOS AF technology, which means that its phase detection points are on the imaging sensor itself. And, because autofocusing isn't always desirable when shooting video, the speed of the 80D's system can be cleverly varied over seven steps for slower/less jarring focus changes. In use, the AF system doesn't disappoint either, achieving a sharp focus on static objects in a split second while keeping faster moving objects equally crisp, even in lower light.
The Live View and Video mode AF system is also good on the Canon EOS 80D, being both smooth yet swift enough to capture rapidly moving subjects. In short, the 80D's auto focus system is extremely capable in a variety of conditions.
Canon 77D vs 80D: Viewfinder/LCD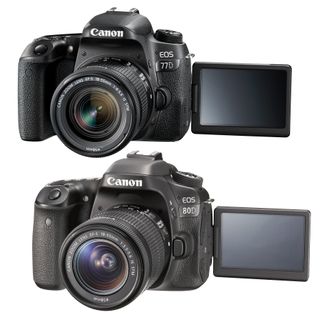 • Canon EOS 77D:
Eyelevel pentamirror single lens reflex viewfinder offering 95% frame coverage; 3-inch LCD with 1,040,000 dots resolution
• Canon EOS 80D:
Eyelevel pentamirror single lens reflex viewfinder offering 100% frame coverage; vari-angle 3-inch LCD with 1,040,000 dots resolution
The EOS 77D features the convenience of a touch screen interface, which is nicely integrated into the camera's broader operational 'interface' and is one of the more polished examples we've seen. If we've one grumble, we'd have liked to see one that's even larger still than the DSLR provides. Also we'd have liked 100% coverage via its optical viewfinder, rather than the 95% provided here. That being said, screen resolution is a more than respectable 1,040,000 dots and this does also allow you to access its maker's clean looking graphical interface which is designed to help new user's get to grips with the camera's functionality.
Thankfully the EOS 80D's optical viewfinder does, by contrast, provide 100% frame coverage. The LCD screen is likewise 3-inches in size and once again boasts a 1,040,000 dot resolution. It also has a touch sensitive vari-angle LCD screen, which can obviously help when shooting subjects from all manner of differing angles and some would argue provides a distinct edge over non adjustable alternatives.
Canon 77D vs 80D: build and design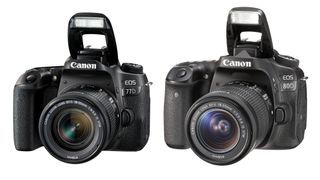 • Canon EOS 77D: Aluminum alloy & polycarbonate construction, capable of operating in temperatures between 0°C and 40°C
• Canon EOS 80D: Aluminum alloy & polycarbonate construction, capable of operating in temperatures between 0°C and 40°C
While both cameras retain that semi pro DSLR look and feel, the more affordable EOS 77D is in danger of feeling a little plastic-y for its price, despite the fact that its body is constructed from a mix of aluminum alloy and polycarbonate resin. We do get a top plate LCD screen here, as on the EOS 80D though, even if it is smaller than its more expensive sibling's. It does however provide a handy and swift point of reference for those glancing at key shooting settings. The positioning of said LCD means that the mode dial moves to the left of the viewfinder and features a locking mechanism. Size wise its dimensions are 131x99.9x76.2mm and it weighs a manageable 540g with battery and card (albeit without lens).
As we'd expect, the 80D is a well-built upgrade of the 70D that camera before it with sensibly arranged controls, good ergonomics and an extensive feature set. Sporting overall dimensions of 139x105x79mm, it weighs a chunkier 730g body-only according to official Canon stats, so noticeably more than the more plastic-y build of the 77D. There will be those, however, who are reassured rather than perturbed by this added bulk, especially when compared to the average APS-C sensor mirrorless camera. Overall this camera's handling is excellent, with a nicely-rounded and robust handgrip helping ensure steadier shooting.
Canon 77D vs 80D: other features
The Canon EOS 77D does feel a bit like a range filler in some respects, using technology already available in the EOS 80D. It does however happily support both Wi-Fi and NFC technology for image transferal and review, as well as allowing the setting up of a low energy Bluetooth connection.
The Canon 80D also offers both Wi-Fi and NFC connectivity options. As well as enabling images to be shared quickly, such connectivity also allows for the camera to be remotely controlled via Canon's free app, if so desired.
Canon 77D vs 80D battery life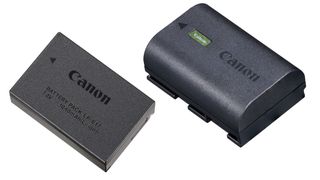 • Canon EOS 77D: Up to 600 frames per charge of its lithium ion LP-E17 battery
• Canon EOS 80D: Up to 960 frames per charge of its LP-E6N rechargeable lithium ion battery
The Canon EOS 77D is powered by a LP-E17 rechargeable lithium ion battery, which is good for up to a maximum 600 shots if using the viewfinder in the main. If you're always shooting with the LCD in Live View mode, however, then the image count per charge is a rather less impressive 270 shots.
By contrast the Canon EOS 80D is powered by a larger LP-E6N lithium ion rechargeable battery which can provide a much more semi professional standard 960 shots from a full charge if operating at room temperature. So if it's staying power you need, then the 80D would seem to have the clear edge in this particular category.
Canon 77D vs 80D: Verdict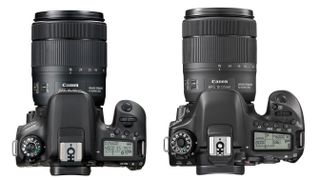 Both the Canon EOS 77D and 80D are very capable DSLRs for both photography enthusiasts and anyone stepping up from more beginner friendly models lower down the range. The EOS 77D does a lot of things well, with good image quality, and a Live View performance that is one of the best we've seen on a DSLR to date. Set against this of course is the fact that there is no 4K video capture at the price, the viewfinder 'only' provides 95% coverage and the finish to the model is a little plastic feeling if we're being picky (which we are).
As always, a better option is just to spend a little more. Fortunately Canon's EOS 80D is within nearby reach for those who can stretch the purse strings just that bit further – and has proved a worthwhile upgrade from the EOS 70D. Its viewfinder provides 100% frame coverage and there is the option to shoot at a single frame per second faster than the maximum burst rate the EOS 77D can achieve, with the fact that image quality is superb with shedloads of detail thrown into the mix. Put simply, if you're looking to upgrade from a beginner's DSLR, choose the latter of these two and you won't be needing to look elsewhere in six months.
Read more:
• The best Canon lenses in 2020
• The best camera for beginners
• The best DSLR camera
• DSLR vs mirrorless cameras
• The best Canon camera