We've become pretty adept lately at finding the best phone cases on the market from top-quality brands that you can trust, having tried and tested a multitude of cases from the expensive premium leather wallet cases to the too-good-to-be-true bargains that you might find on Amazon.
Other phone case guides: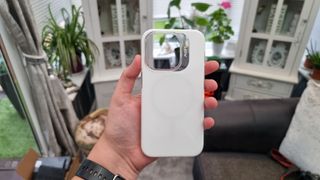 1. Best value for money
2. Best for rough users
3. Best for Netflix
4. Best popsocket grip
5. Best bumper case
6. Best for style
Finding the best iPhone 14 Pro Max cases on the market is a breeze when you know what to look for. Do you prioritize your iPhone's camera safety above anything else? Then you might want to consider a case fitted with a raised lip or edges that offer advanced drop protection.
Be sure to triple-check your iPhone 14 model by heading into your device Settings - General - About - and finding the exact model or device name to ensure you purchase the correct case for your expensive new Apple smartphone.
If you realize that you may have stumbled onto the wrong iPhone case buying guide, don't worry! As we have a whole selection of case guides that should (hopefully) match your device model and be handpicked for your smartphone.
We highly recommend Mous cases for their indestructible nature, but they can be pricey. If you're looking for a phone case bundle that won't break the bank then look no further than Encased at the top of our guide below, the case might not be the most protective but it's safe enough and includes a screen protector and wallet/ kickstand too.
OtterBox cases are great if you're looking for all-around protection for your new smartphone, but for photographers - you can't go wrong with Moment cases either, offering seamless integration with tripods, car mounts, and specifically Moment lenses which are some of the best lenses for camera phones on the market.
Our Top Picks
Best iPhone 14 Pro Max cases in 2023
Why you can trust Digital Camera World Our expert reviewers spend hours testing and comparing products and services so you can choose the best for you. Find out how we test.
Best value for money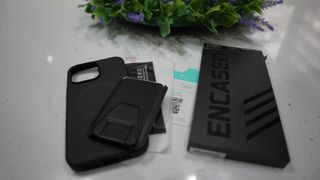 You won't find better value-for-money than with this Encased bundle for the iPhone 14 Pro Max, this collection offers not only a MagSafe-compatible basic phone case, but has extra awesome accessories such as a wallet kickstand and screen protector bundled in too, at an excellent price! While it may not be the best and most rugged case on the market, it's great to get you started with your new phone.
Encased offers a wide (and weird) variety of cases that suit every need, including cases that come with a lanyard strap, durable rugged cases, and those with built-in grip straps with geometric graffiti patterns. This set in particular Includes a tempered glass screen protector, giving you full 360-degree coverage for your device, as well as a sleek magnetic faux leather card wallet that doubles as a sturdy kickstand for streaming content.
The corners of this case are fitted with a protective bumper, and a reinforced camera guard, which means your device will have some level of protection against the inevitable drops and damages that may occur. A scratch-resistant coating is also applied on the back of the case to prevent any marks from appearing.
Best for rough users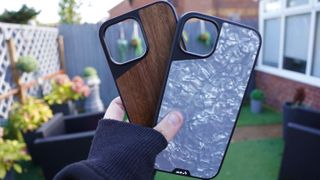 Mous is a smartphone case brand that is truly unrivaled. Cases from Mous are built using AiroShock technology, which provides your device with maximum impact protection. We recently reported how a Google Pixel 7 smartphone had been thrown off of a roof at Google HQ and survived - because of its protective Mous case - and emerged totally unharmed without a scratch on it!
These cases are intelligently designed, and some models are built with a new and unique magnetic mounting technology, as well as being MagSafe compatible, so that you can add to the functionality of your case by using Mous accessories such as it's magnetic wallet or viewing kickstand with your iPhone 14 Pro Max device.
This Limitless 5.0 range of cases are available in a multitude of materials besides the traditional Aramid Fibre, these include real black leather, real walnut, real bamboo, and a pretty cool white speckled PU-coated fabric. Grab yourself a Mous case and you'll never be concerned about your phone's protection ever again.
Best for Netflix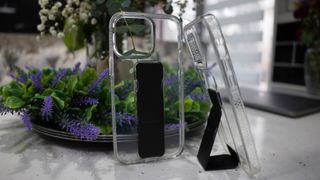 This clear case from CLCKR is designed to support your device in a multitude of ways, acting as not only a secure stand for watching videos hands-free, but also as a comfortable hand grip for easy scrolling when using your phone, and reassurance that your expensive Apple iPhone 14 Pro Max is always under your control.
The lightweight, ultra-thin, and impact-absorbing design of the CLCKR case keeps your device protected without the bulk of other rugged cases, adding only 2.6mm thickness to your device. Available with a black or purple strap, these cases aren't the most aesthetically pleasing - and aren't the cheapest either.
Fitted with CL-KER (Kinetic Energy Reduction) technology, this case can redirect and disperse the effects of large drops, through specially designed air bubbles within the case, keeping your phone cushioned from impacts of up to 3.6 Meters (12 Feet), offering military-grade protection in a sleek format.
Best popsocket grip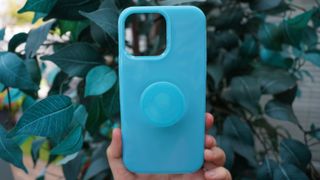 This slim PopSockets case from OtterBox is great for those a little clumsy or who like to use their device one-handed. The Pop-Symmetry series is a collaboration of the original OtterBox Symmetry Series, which has been integrated with the PopGrip by PopSockets. The PopGrip presses down flat to slip easily into tight pockets and (supposedly) works seamlessly with Qi wireless charging.
The Otter + Pop Symmetry Series cases are bestsellers in the protective yet slim and stylish category of phone cases. The "PopTop" of the socket as it is called can be switched out to change up your look and be expressive, available through OtterBox's official website. *Tip* the cases are a little cheaper at the moment available directly from OB, and there are more styles available directly from OB than through Amazon.
Pocket-friendly cases that are made with more than 50% recycled plastic, the Otter + Pop Symmetry cases are designed with lasting antimicrobial properties, to protect the case against many common bacterias, and offers DROP+ 3X as many drops as the military standard (MIL-STD-810G 516.6). While the integrated swappable PopGrip looks fun and is pleasant to hold, the case isn't the best for those who prioritize wireless charging the most.
Best bumper case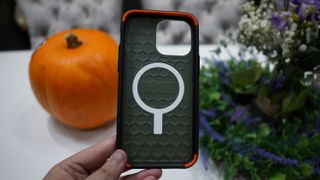 This Civilian case from Urban Armor Gear offers extreme heavy-duty protection in a slim and featherlight format. Tested to 20 ft. (6 meters) drop protection, this case is certified to military standards and boasts ultra-responsive oversized tactile buttons that can deliver a crisp and clean click-feel, with a traction grip that also surrounds the perimeter of the case for easy handling and prevention of drops.
With soft raised edges around the screen plus a raised camera bezel, this case is guaranteed to protect your delicate screen and lenses from any accidental damage and daily destruction that may occur. The ultra-lightweight PC and TPU armor shell feature a hex cushioning shock-absorbing softcore, with impact-resistant bumpers, and a shock-absorbing panel to defend your device to the max.
HyperCush technology is also fitted and engineered into this case to dampen and disperse the energy created when a mobile device collides with another surface. This UAG case overall is very reliable with a slim fit and has a built-in magnet module that can lock in place for wireless MagSafe charging compatibility.
Best for style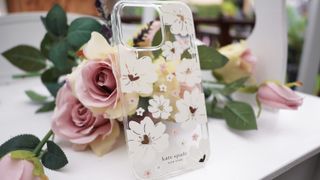 This designer case from Kate Spade New York is elegant and chic for those who want a bit more style as well as protection for their iPhone 14 Pro Max. While it's a little on the expensive side, this isn't just a pretty case.
Having been drop tested to withstand falls from 10ft high, and designed with a shock-resistant bumper, this case is completely capable of protecting your smartphone while keeping your aesthetic up to scratch. The case has also been built with dual-layer, co-molded construction for protection against bumps and drops.
The case has built-in magnets for MagSafe charging, designed for use with MagSafe charging accessories, and is coated with an antimicrobial technology that protects against 99.9% of surface bacteria.
What sort of phone case do I need?
Whether it's something sleek and stylish, light as a feather, waterproof, one of the best magnetic cases, or something a bit more rugged and military-grade certified that you're looking for – we've got you covered (pun intended).
It's especially important to find a case with raised edges if you're a photographer to ensure that it will protect your camera unit from any unwanted cracked or scratched lenses upon impact. As a bare minimum, you'll want a phone case that uses silicone or rubber, as these are shock-absorbent materials.
Don't forget about protecting your smartphone screen too! Though some iPhone 14 Pro Max cases may include a screen protector or two thrown in for free, and some if you're lucky may even include an iPhone 14 Pro Max camera lens cover to protect your lenses, this does not guarantee that they're top quality or made from materials strong enough to protect the entirety of your device.
How we test
In all honesty, there's no real way to test a phone case thoroughly enough without actually putting our own phones in danger. So for this reason, we base our recommendations on things like comfort and grip, case texture, additional features such as kickstands and wallet slots, compatibility with MagSafe and Qi wireless functions, manufacturer reputation, and most of all - price range and value for money.
Ultimately, the phone case you choose has to reflect your personal style or at least be functional enough to match your daily routine. As photographers, we understand what most creatives are looking for in their phone cases. The shutter button can't be hard to press, heavy gear means you might choose to keep your phone case on the lighter side, and the option to attach filters, tripods, and other camera accessories is always a must - cases that block or cover your device ports are a big no-no.
We weren't born yesterday, and we know that most manufacturers will exaggerate and upsell key features of their phone cases knowing that you'll never test them. For example, some cases might be listed with 14ft drop protection, but we aren't about to find out for ourselves whether or not that's true. With that in mind, we always take these things with a pinch of salt, but remember - Amazon reviews never lie! (We're kidding, of course).
---
Need some Accessories?
Check out our guide to the 10 best iPhone accessories that you didn't know you needed to find the ultimate protective and functional tools to enhance how you use your iPhone 14 Pro Max. Are you a bit of a social media content creator? Then check out the best iPhone microphones as well as the best iPhone tripods and supports to up your TikTok game.
Work from home? Try getting one of the best iPhone keyboards and the best iPhone stands for an effortless smartphone workflow to complement your usual setup. You'll also probably need one of the best wireless phone chargers for iPhones to ensure that you always have enough juice in your phone to see you through the workday.
If you're thinking about getting an iPhone 14 Pro Max or any of the latest iPhone ranges, you might also need the best iPhone power bank or an iPhone charger.
If you're happy with your current model but want to take your smartphone photography more seriously, then check out the best lenses for iPhone and Android phones.