Best Pixel Phone: Quick Menu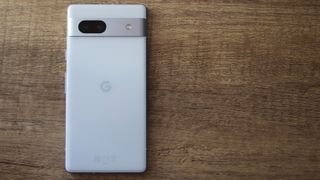 Best overall
Best on a budget
Best mid-range
Best foldable
Best last-gen Pro
Best last-gen
Best bargain
Best pre-camera bar
The best Google Pixel phones are a great choice if you don't want one of the latest Apple iPhone or Samsung phone models. Google phones tend to be slightly cheaper than other smartphone devices, but they're still high-end phones packed with the latest camera features and technology.
Google launched its first Pixel handset back in 2016, and since then has unveiled further Pixel models every year. The latest Pixel 8 Pro and Pixel 8 sell for an affordable price, and they're easily the best Google phones available today – not to mention the best camera phones overall today.
If you're on a budget, most of the previous Google Pixel phones are also very powerful, capable, and user-friendly. The Google Pixel 7a is a great camera phone for the cash conscious, combining Google's camera smarts and styling with loads of power. But older Pixel models can also be a great way of getting a great value Google handset.
To help you choose the best Google phone, we'll go through all the Pixel phones on sale today in this article, highlight the main differences between them – and point you to the best available deals on each. You'll be able to find the best Google phone for your needs and budget.
Gareth is the Reviews Editor at Digital Camera World, and the person in charge of approving all the latest camera-related tech. With several years of experience as a photographer and videographer, shooting for some household names, he has learned a thing or two about cameras and the photography industry. Outside of photography, expect to find him cycling around London, or deep in a Netflix binge.
The best Google Pixel phone in 2023
Why you can trust Digital Camera World Our expert reviewers spend hours testing and comparing products and services so you can choose the best for you. Find out how we test.
The best Pixel phone overall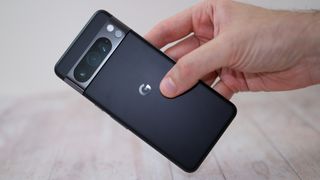 The Pixel 8 Pro is simply the best camera you can buy at its price for photography, it's that simple. It wipes the floor with the similarly priced iPhone 15 Pro and beats the much pricier iPhone 14 Pro Max in a few key areas too.
The Pixel 8 Pro adds a new RAW capture letting you take full advantage of the 50MP sensor, as well as a new pro controls mode giving you manual control over the look of your images. The camera mix is still mind-bogglingly good as far as point-and-shoot photography goes, with a new higher-megapixel wide-angle lens, and one of the best telephotos on the market. Video has also taken a big step up from the 7 Pro but can't quite meet the iPhone Pro Max.
With a sleek design, a mighty screen, and excellent future-proofing by way of continued software support for up to 7 years, you do get a lot for your money here. So even though the phone had a couple of small hiccups in our time with it – as a package, you'll be hard-pressed to get a better value flagship phone than the Pixel 8 Pro.
Read more: Google Pixel 8 Pro review
The best Pixel phone on a budget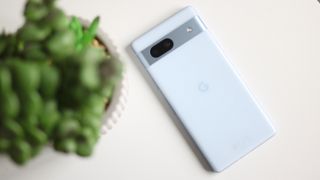 We think the Pixel 7a is a fun little device packed with helpful features. It might not be the best overall Pixel phone, but it certainly offers the most value for money right now; with outstanding camera software, heaps of processing power, and a relatively low price.
At 6.1 inches, the Google Pixel 7a is as small as a modern smartphone can be without overly reducing quality. It isn't quite as little as, say, an iPhone SE, but it is still smaller than what most consumers will be used to. This might not be for those with massive hands or people who want a big bright screen for streaming.
Read more: Google Pixel 7a review
The best Pixel mid-range phone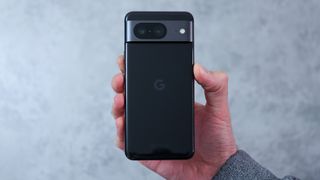 The Google Pixel 8 is a very safe bet for photographers who want a balanced phone. Yes, you have to sacrifice a little manual control – no pro mode or access to 50MP RAW photos isn't ideal. But for a point-and-shoot mobile, nothing in the Pixel's price range can best it.
Google's photo processing is tasteful and still ekes out loads of shadow detail, the large sensor does great things with close-up photos, blurring out the background naturally, and lowlight scenes, brightening things up reliably. The phone won't be for photography purists, but it will likely check everyone else's boxes from a camera point of view.
As for the rest of the phone – sure, more consistent battery performance would have been ideal in our week with the phone. The inclusion of wireless charging and IP68 water resistance is both a boon at the price, though, and after our third day with the phone, it always kept us alive from morning to night.
Read more: Google Pixel 8 review
The best foldable Pixel phone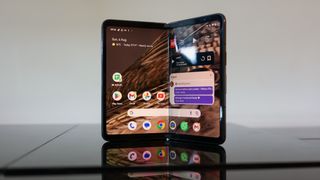 On the one hand, the Pixel Fold is a very first-gen device. It doesn't unfold completely flat, and there are plenty of mainstream Android apps that don't look great on it – or any unfolded folding phone (or Android tablet, for that matter).
But in the Pixel Fold's favor, it's an IPX8-rated foldable with a very sturdy hinge – so durability is where it needs to be, at least on paper. Its cameras also benefit from the Pixel treatment, so while its hardware isn't best-in-class, its photos are consistently balanced. Most noteworthy, the Pixel Fold's periscope camera is a welcome win over its main competition, the Galaxy Z Fold 5, and its shooting modes are very user-friendly.
Read more: Google Pixel Fold review
The best last-gen Pixel Pro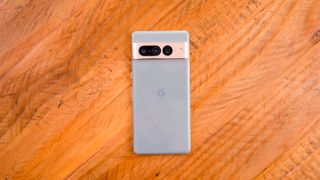 The Google Pixel 7 Pro was launched with the Pixel 7 in 2022, but it has 0.4 inches of extra screen space and a faster screen refresh rate. In terms of cameras, the Pixel 7 Pro has an impressive triple rear-camera system, including a 48MP telephoto zoom lens, with 5x Optical zoom. Features include Face Unblur and Cinematic Blur, but the Pixel 7 Pro also (exclusively) has a Macro Focus mode – useful for close-focusing on subjects up to 3cm away – and 30x Super Res Zoom for capturing far-away objects.
More generally, the Pixel 7 Pro has Google's newer G2 chip, which means you get faster and more efficient processing, enabling you to do more, but with a longer battery. You also get Google's Titan M2 chip, designed to protect your security online.
This is by far the best Google Pixel phone for photographers, and although it's the most expensive, it's still cheaper than the equivalent flagship iPhone.
Read more: Google Pixel 7 Pro
The best regular last-gen Pixel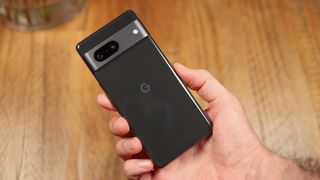 The Google Pixel 7 has a 6.3-inch fast and responsive display, just a touch smaller than the Pixel 7 Pro. It has a dual rear camera system consisting of a 50 MP wide camera with ƒ/1.85 aperture and optical and electronic image stabilization, as well as a 12 MP ultrawide camera with ƒ/2.2 aperture. The front-facing camera has a 92.8° ultrawide field of view which should make group selfies easy.
It features the same camera features as the Pixel 7 Pro, except for Macro Focus. The phone also gets many of the same tech innovations as the Pixel 7 Pro, including the Tensor G2 processor and the Titan M2 security chip, plus a built-in VPN.
If you don't need the three-camera setup found on the Pixel 7 and want a slightly smaller, cheaper phone, this is an excellent option.
Read more: Google Pixel 7 review
The best Pixel phone for a bargain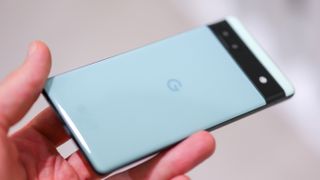 The Google Pixel 6a mixes top-end and midrange features. It gets the same mighty Google Tensor processor introduced on the Google Pixel 6 and 6 Pro – so should deliver flagship performance and 5G data speeds. Google also revisits its playful Pixel 6 styling, for a two-tone, black bar rear, and the phone's frame is a rich, blasted metal. With some competition like the Galaxy A53 5G sporting plastic at the price, things are looking good for the Google 6a's design, and it's water-resistant too. The Pixel 6a is another excellent option for anyone after a great smartphone that doesn't cost the earth.
Read more: Pixel 6a review
The best Pixel before the camera bar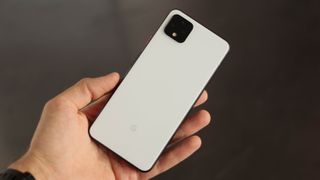 If you want something a little cheaper than a more modern Pixel, but which is still a quality phone, then you'll find it in the Google Pixel 4 XL.
Even though it's been around since October 2019, it's still a very impressive device. The screen itself is superior in many ways to the Pixel 5's: larger, at 6.3 inches, and offering a higher resolution of 1440 x 3040 pixels. The processor is a little more powerful than the Pixel 5's, too.
Elsewhere, you're taking a step down in terms of the specs: there's no 5G, the battery is slightly less powerful and the operating system is one down from Android 11. But it's a pretty small step on the whole.
The cameras, too, are pretty similar between the two phones. Yes, you can only capture 4K in 30fps, half the frame rate of the Pixel 5, but overall this is a great phone for shooting both stills and video.
In short, then, the Pixel 4 XL doesn't quite match up to the Pixel 5, but isn't far off. And as you should be able to get one for a lower price, it's well worth considering.
Read more: Google Pixel 4 XL review