The best canvas print services are a great way of transforming photos you took into works of art for your house. Perhaps you have a particularly impressive photo you want to show off or maybe you've finally got round to printing photos from your big day, either way, canvas prints are a beautiful way to add a bit of uniqueness to your living space.
Canvas printing has become much more affordable in recent years and is now very popular. Whether you're buying for yourself or as a gift for a loved one, it's a sure-fire way to add some art to your walls that no one else will have. After all, what's better than having one-of-a-kind works of art in your house? The fabric finish of canvas prints gives them a really professional look and can even help bring your photos to life.
If you're excited to invest in a canvas print, but you're not sure where to start, then don't worry. We've examined the best canvas print services below to help you decide which will be the best service for you.
Best canvas print services in the UK
Why you can trust Digital Camera World Our expert reviewers spend hours testing and comparing products and services so you can choose the best for you. Find out how we test.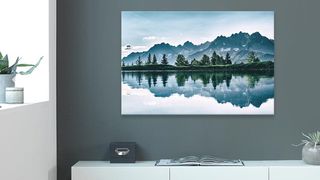 When it comes to the best canvas prints in the UK, you'll be hard pushed to find better quality that that of Cewe. Created by a team of experts, Cewe canvas prints are created using an advanced 12-colour printing process and UV resistant inks on premium quality poly-cotton, which is stretched over a wooden frame.
Cewe has it's own easy-to-use, award-winning canvas print tool, with which you can simply upload your photos and choose from either square, portrait, or landscape canvas photo prints in sizes that range from 20cm to 160cm. There's even the option to split your photos across multiple panels.
Cewe is a little pricier than other services listed here, but the cost still equates to excellent value for money when you consider the quality of print and finish on offer here. Every custom canvas produced is checked individually by eye to ensure high standards, with the company so confident in its service it offers a full refund or replacement within 14 days if you're not happy.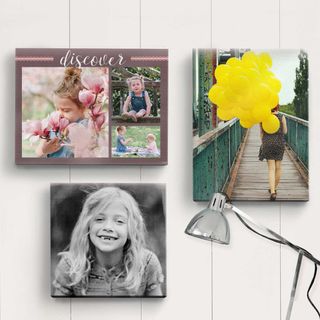 One of the most recognisable names on the UK high street, Boots has been in the photo business for decades. It's professional, expert service extends to creating the best canvas prints you can buy, at very competitive prices. It also has the advantage of being able to offer three handy delivery methods: to your home, a local store or use the print to store service to collect your memories in no time at all.
The benefit of having a physical store in which you can order means you can chat to an advisor about your needs face-to-face, reducing the risk of poor image quality or error significantly. But there's also the online editor, which, like most services listed here, has an in-built image quality warning system. The editor also allows the addition of text, backgrounds, themes and designs to truly customise your print.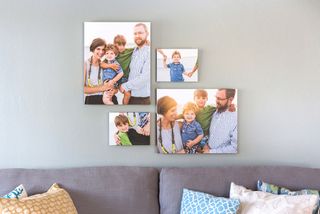 An online photo company based in the US, Mixbook also offers its services across the pond in the UK too. And it's one of the best around when it comes to quality canvas prints. Much like the service it offers in it's home country, Mixbook UK has a variety of canvas print shapes and sizes, all of which are super-easy to create with its simple photo editing software.
Pricing is very competitive when you consider the quality and finish on offer here. Gallery-quality textured canvas material ensures beautiful prints, and gallery-style frames will top it off perfectly. Regular discounts mean you can often make big savings, so if you're not in any huge rush, it's worth signing up to the newsletter for any future deals and exclusive offers.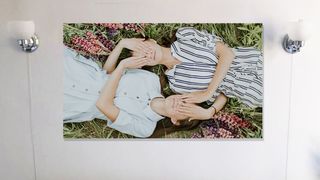 British photographic retailing company Jessops has been in business since the 1930s, so it's fair to say the team know a thing or two about making the best canvas prints. Experts in the field, with this top service you can expect to have a canvas ordered within just a few minutes, thanks to it's super-simple canvas creation tool.
Jessops' 'Image Size Suitability' indicator displays icons to highlight an image's suitability for the chosen canvas size (hint: you want 'Good'). There's Lite and Gloss options, the latter of which is a thicker canvas and shiny, the former, as the name suggests, more lightweight and a matte print.
The Jessops canvas print homepage also features a handy 'How To' video for anyone having trouble getting started, as well as handy hints on getting the best from your canvas print. Prices are competitive, plus you can also save on delivery charges but opting for free pick up in any store.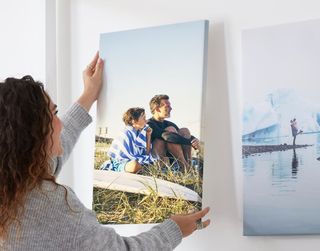 One of the best-known online photo service companies, PhotoBox produces reasonable quality canvas prints, with fairly accurate colour rendition. It's far from the best when it comes to quality, but if you're simply after some canvas prints to brighten up your home and studio, this service will fit the bill for less.
There's not a huge range of sizes, but what there is very reasonably priced, especially when you consider the company regularly runs discounts of up to 40 per cent off. Canvas prints are available in two different thicknesses, Classic and Lite, and it's worth noting the hanging kit for the latter costs extra. There's a collage canvas style, which offers the ability to customise your print with themes and illustrations, or a retro canvas to give your photos that vintage feel. Uploads are a simple drag-and-drop affair, with in built image resolution checker to make sure nothing pixelated is coming your way.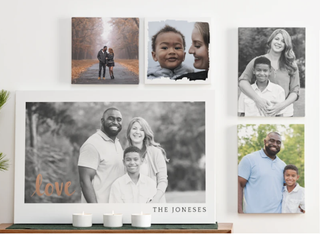 There's not much Vistaprint don't print and everything they do, is pretty good quality considering the price. It might not offer as many different sizes as other brands but it does have a range of square and rectangle canvases to choose from. Using high-quality canvas material stretch over a wooden frame with built-in hanger, the prints are vibrant, colour accurate and can be customized using the editor.
Either keep it basic and just have a singular image printed on a plain canvas or use one of the many templates to add a little bit of spice to your image. Photo canvases are an amazing way of displaying memories and Vistaprint make it super easy. Delivery can take up to 10 workings days depending on which service you choose. Standard delivery starts at £3.59, it goes up to £11.99 for an express, 2 day service and delivery is free on orders over £50.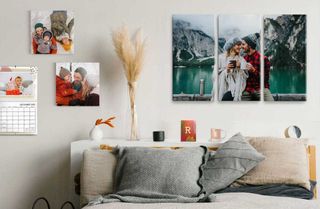 Creating a personalized canvas print with Snapfish is really easy and it'll add a touch of personality to your home. Whether you want a traditional canvas with just one image or you want to create a collage with lots of images, Snapfish's design tools enable you to have full creativity.
You don't even need to get a photo printed, you could get your favourite quote or even lyrics printed. You can choose the font, text colour and background colour so you can be sure it fits in with your aesthetic. There are also several different finishing options to choose from including framed canvas prints, wrapped canvas prints and plain white-sided canvas prints. We think wrapped canvas prints look particularly good as your photo extends over the edge. Sizes range from 8 x 8-inches up to 30 x 30-inches.
As well as the standard size, singular canvases, Snapfish also sells panoramic canvases, split canvases and tiled canvases. Panoramic canvases are perfect for wide-angle landscape shots, split canvases allow you to split up a single image over more than one canvas for a modern twist while tiles canvases are a great way of showing off a series of images, perhaps from a wedding or a trip away. If you want your canvas to be extra special, you can also get it framed in either a black, gold or chocolate brown frame. Turnaround time is roughly a week and delivery is calculated based on where you live.
Canvas prints start at £12.99 for a slim canvas and go up to £84.99 for a premium 30 x 30-inch square canvas.
What is a canvas print?
To create a canvas print, photo finishing manufacturers will take your image and print it onto canvas material using an inkjet printer. Once this has fully dried, the canvas will then be stretched over a wooden frame and secured in place (usually with the help of some heavy duty staples).
One of the benefits of canvas prints is that they tend to be larger than typical photo prints. However, you can also get smaller sizes as well, if that's what you're looking for.
Each of the canvas print services listed above are designed to be as simple as possible, with a clear step-by-step process to help you upload your shot and optimize it for a beautiful canvas print. Some canvas print services will even include photo editing software. This helps make sure that the image you've selected will work with the canvas size you've chosen.
The best canvas prints: key considerations
Image quality – Like with any print, image quality is hands down the most important thing to consider when it comes to canvas prints. These larger scale images will require higher resolution files in order to avoid your print looking pixelated, so choosing a canvas print service that fully understands the importance of image resolution is vital. Professional services will have systems in place to highlight when an image provided is not of a high enough resolution and therefore avoid a bad print. A fail-safe way to avoid mistakes is to the email the company ahead of ordering and ask them outright if the quality is good enough for the size of canvas you're after.

Print styles – canvas prints come in various sizes and formats, including single image and collage format and square, portrait, landscape and panoramic orientation. The key to deciding which to go for is the image you're printing. A collage, for example, are great for wedding and holiday photos, whereas a single portrait image would probably be better suited to a square canvas. Again, if you're unsure, email the canvas print company ahead of ordering to ask for advice.

Canvas quality – What canvas are the printing service you have chosen using? Is it matte canvas or gloss canvas? Gloss canvas under light may have an added shine and distorted color, so it's a question worth asking before you proceed.

Finishing details – When you've got a beautiful printed canvas, the last thing you want is lumpy corners that have been folded badly. Folds should not be visible on your print, and if they are, send it back.

Delivery times – Bear in mind that due to the nature of the printing process, canvas delivery times will almost certainly take longer than regular prints. That said, many of the bigger companies are still able to turn these around within three days, however that may differ in busier periods so always aim to order at least a week in advance of when you need your canvas to be delivered.
Read more:
Best photo frames
Best photo books
Best online photo printing services
Best digital photo frames
Best photo gifts