I am a bit of a camera kit hoarder, as I have previously disclosed, so my problem is how to keep all the kit I like to take out and play with (and occasionally use) organised, accessible and protected.
Like most folk, I imagine, I've just got regular household furniture, so I've got some drawer space in my office/den, but that's not ideal for cameras because every time you pull the drawer open you get expensive bits of kit rolling around and knocking chunks out of each other.
• Get more Home photography ideas
I wanted a customisable drawer-based camera storage and protection system which, surprisingly, doesn't give you much when you type it into Google.
So I made one.
This time (don't ask about the other times) I thought it through completely before I did anything. And then I bought some things:
What you will need
1) A carpet tile
2) A craft knife
3) Some double-sided sticky pads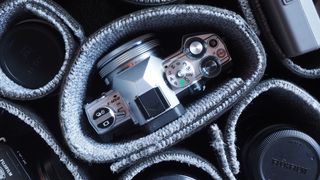 How to make your customisable drawer-based camera storage and protection system
1. Measure the internal height of your drawer
2. Cut the carpet into strips slightly less than this height (just to allow some clearance)
3. Roll the strips up to fit around the bit of kit you want to protect, e.g. a camera body, a lens
4. Leave a bit of an overlap but trim off any excess
5. Stick the ends down to make a 'hoop' to hold your gear
6. Make as many of these as you need and squish them into the drawer until there's no more space
My top tips
Unlike all some of the other things I've made, this has been spectacularly successful. So much so that I'm not even sure I should be sharing this. I do have some additional tips that might make these even more successful if you decide to try this out:
1) You don't have to go to the huge expense of a carpet tile if you have some old carpet offcuts in the house.
2) Don't use a carpet tile with a pungent rubber backing because it will have a strong smell for a long time (don't ask me how I know).
3) Avoid heavy-duty hard-to-bend carpet – it's very difficult to stick the ends together and they will immediately un-stick the moment your back is turned.
4) Some carpets can release lots of annoying little fibres until they lose their newness. I'm not sure what's to be done about this (dammit).
So... good luck, and be careful with that craft knife. Carpet doesn't like being cut, but fingers (apparently) do.
• Don't forget to check out some more of our home photography ideas