Trouble streaming the above video? View/download it here
There are numerous of reasons to go to the beach, but flinging around a disco light in the dark is probably among the more unusual pastimes. However, while it might get you a few funny looks, it can lead to wonderfully vibrant photos. In this project we'll look at how to create stunning long-exposure light paintings with a combination of shooting and Photoshop CC skills.
This process begins with an after-dark shoot, during which we swing a torch or other suitable light source around to create swirling patterns. The beach setting isn't essential – it can be done in your back garden, a darkened room or any dim setting. But to add extra sparkle to our light painting we headed to the coast and splashed around in the shallows with our colourful light. This way, we can capture lovely flashes of colour reflected in the water.
When swirling a torch around in the dark over the course of a three-second exposure, it can be tricky to predict how the finished light painting will turn out, especially if you have a face full of sea water. But one of the great things about light painting is how easy it is to combine several shots into one eye-catching whole with simple layer blending skills in Photoshop. If we want to take it further, we can warp and reshape the colourful flowing lines into any shape we like. We've chosen to create an abstract water lily flower here, but you can use the same skills to make any shape you choose.
Download the project file(s) to your Downloads folder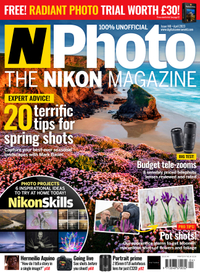 N-Photo: The Nikon Magazine is a monthly magazine that's written by Nikon enthusiasts for Nikon enthusiasts, you can be sure that all the content is 100% relevant to you! So for the best Nikon-focused news, reviews, projects and a whole lot more, subscribe to N-Photo today – with our unmissable sub deal!