Trouble streaming the above video? View/download it here
It's hard to put a foot wrong capturing close-ups with a macro lens. The super-shallow depths of field and the otherworldly shapes and textures seen at high magnification can make almost anything look good. But creamy bokeh aside, even the best macro lenses can create a challenge for anyone wanting to capture a close-up subject that's entirely in focus.
This is especially evident when you photograph plants like our thistle. In the 'before' image, you can see that the front of the seed is in focus, but the leaves around it are completely blurred. That's because macro lenses produce depths of field that are too shallow to provide adequate focus, even at narrow apertures. Unless your subject has very little depth – like shooting down onto a flat daisy flower head – you'll struggle to render everything sharp.
The solution is focus-stacking. This clever technique involves capturing multiple images with identical framing, but different planes of focus. The images are then blended together in post-production to create the desired depth of field. Performed correctly, a sequence of images will cover every point of focus, so the whole subject is sharp.
Download the project file(s) to your Downloads folder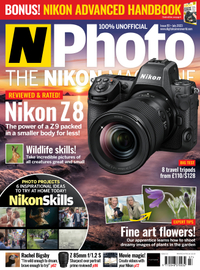 N-Photo: The Nikon Magazine is a monthly magazine that's written by Nikon enthusiasts for Nikon enthusiasts, you can be sure that all the content is 100% relevant to you! So for the best Nikon-focused news, reviews, projects and a whole lot more, subscribe to N-Photo today – with our unmissable sub deal!