Normal 400mm or 500mm telephoto lenses aren't powerful enough to get close enough to many wild animals. However, digiscoping, where you attach your D-SLR or mirrorless camera to a spotting scope, can give an equivalent magnification to an 800mm lens or more. To do this you will need an adapter, which are made by many of the main scope manufacturers. Most adapters have a 'universal' attachment, known as a T2 mount, that are available in a range of camera fittings.
Spotting scopes don't offer the automatic functions such as focus or a variable aperture that you'd have with a telephoto lens, and the effective aperture of most is between f/8 and f/16, so you'll need plenty of light to use them effectively. You'll need to use high ISO settings to get shutter speeds fast enough to prevent blur. Despite these limitations, digiscoping offers a relatively accessible way to get huge focal length optics for your D-SLR.
• See The best spotting scopes in 2021
How to attach your D-SLR to the scope and the settings to use (step-by-step tutorial)
01. Attach the adapter
Before you can attach your camera to any spotting scope, you'll need to fit an adapter. There are various types for different telescopes and manufacturers. With the Nikon adapters you take off the standard viewing eyepiece and fit the FSA-L2 or FSA-L1.
02. Attach your camera
Once the adapter is fitted to the scope, you can attach the camera. With the Nikon versions the camera fits straight onto the adapter, but for other makes of scope and adapter you'll also need to use a T2 adapter in Nikon F fitting to fit the camera to the adapter.
03. Camera settings
With no electronic connections, the range of exposure modes and metering using any adapter is limited. On most cameras you can use manual or aperture-priority modes, and centre-weighted metering. In changing light conditions, aperture-priority mode is best.
04. Auto ISO
You can't adjust the aperture when using a spotting scope, but the automatic ISO setting allows your camera to adjust the exposure without relying simply on the shutter speed. Limit the ISO to 1600, and set the minimum shutter speed to 1/500 sec to get sharp results.
05. Frame your shot
Using the huge magnifications available with digiscoping, finding and framing your subject can be a challenge. Move the telescope until you spot an obvious feature in the viewfinder, look where it is in relation to the area that you want to shoot, then reframe the image.
06. Focusing
You will have to use manual focus, and this can be difficult to judge due to the limited depth of field and the small maximum apertures of most spotting scopes. Roughly focus the scope on the area you want to be sharp, then fine tune your focusing slowly until it is spot-on.
TOP TIP
Using Live View can help you frame your shots and also focus accurately. It's also easier to keep an eye open for wildlife when you haven't got your eye pressed against the viewfinder.
Digiscope adapters
There are several ways of attaching your D-SLR to a scope. The best option is a telephoto adapter that replaces the eyepiece of the scope. The cheaper option is an adapter that pushes over the eyepiece of the scope. Here are some options:
Nikon
Nikon offers two adapters for its scopes, the Nikon FSA-L1 for its Fieldscope range and FSA-L2 for its EDG range. Apart from fitting different scopes, the main difference between these is that the FSA-L2 offers a zoom facility giving a focal length range of up to 1750mm with the EDG85 scope, while the cheaper FSA-L1 is a fixed magnification of between 800m to 1000mm, depending on the Fieldscope that you use.
Opticron
Opticron's 40215 Telephotoadapter replaces the eyepiece of the scope, and the firm also produces adapters that fit over the eyepiece. Both types require a T2 mount (£20). Opticron products are not available in the US.
Swarovski
Swarovski produces a telephoto adapter (TLS 800) that replaces the eyepiece, and a two-piece adapter (TLS Apo) that fits over the eyepiece. Both require a T2 mount.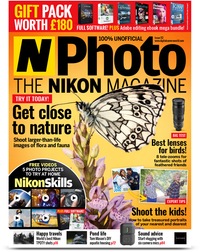 This article first featured in N-Photo: The Nikon Magazine, a monthly publication that's entirely dedicated to Nikon users. For the best news, reviews, projects and more, subscribe to N-Photo today!
Read more
The best spotting scopes
Best Nikon camera
Best Nikon lenses
Best Nikon Z lenses