Customer service might not be the first thing that springs to mind when you picture working as a professional photographer, but like any career where you're providing a service, the way you treat your clients is key to doing well.
If you provide a negative experience, people are unlikely to pass on your details to others, and this rule applies whether you're a freelance photographer working on commercial briefs, or a wedding shooter reliant on word of mouth referrals from the family and friends of your subjects.
Good customer service sometimes means nothing more than common courtesy or clear communication, and positive experiences can result in repeat business, referrals and exposure that often snowball careers.
Here's a list – but by no means an exhaustive one – of ways to impress and inspire your paying patrons, from simple things such as follow-up emails, to incentives that require a little more time.
1. Communicate clearly
Good communication starts when a customer first encounters your name. As this is usually online, ensure that your website is easy to understand and navigate and that your social media profiles clearly explain what you're about. When it comes to emails, messages and enquiries, aim to reply to enquiries as promptly as you can – without being a slave to your inbox, of course.
Set up an automated response for emails with an estimated timeframe of when you'll get back to customers, which helps to manage expectations and let them know that they're important. After you've been commissioned for a shoot, keep the right people in the loop to update them on what is happening, and let them know if there are any problems as soon as you can.
2. Listen to customers' needs
So many of us think we know what a client wants before talking to them properly. For corporate clients, find out if there are any brand guidelines that you need to stick to, what type of models you should look for and how any lighting should be used.
Understanding customer needs goes further than creating a simple shot list. What are the photographs going to be used for? What do they want the images to say? Whether you're on the phone or meeting in person, make sure you leave enough space and time in the conversation for people to share their ideas first, and then ask specific questions to get a better understanding of their needs.
3. Guide your clients
As the pro photographer in the relationship, and the one being paid, it's important that you take customers through the shooting process from start to finish. If you offer any set shooting packages, try to keep these simple and explain exactly what customers will get for the price.
Picture your customer's journey, and remember that they're e-meeting you for the first time. Most of us don't like reading long, rambling bios, so keep your profile descriptors short and to the point. For businesses like wedding and portrait photography – where it's prudent for people to know more about your personality – you could craft e-brochures to send out. That way, serious customers will get all the information they need in a handy document. "What to Wear" guides are also perfect to send to customers who aren't used to being in front of a camera.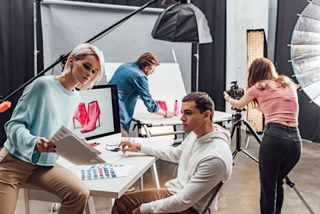 4. Manage expectations
This area of customer service is about setting boundaries around what you can and can't create for your client. If you get asked to produce a shoot that is outside your usual style, budget or even your technical ability, it's worth pointing this out to a client and offering an alternative route that you feel more comfortable with.
While some photographers advocate saying yes to all jobs and then figuring out how to do them after, giving a client work that isn't up to standard will earn you a bad reputation that's hard to shake off later.
5. Create a contract
No matter how big or small a job is, having a written outline of what your customer wants, and what you'll deliver, is a good way to avoid arguments or confusion later down the road. A specific brief will also make sure you're both on, literally, the same page. While the internet is awash with generic legal contracts that you can tailor to your own shoots, specialist sites such as The Law Tog offer resources for protecting your business in more niche genres.
6. Provide previews
Depending on the photo industry you're in, you'll find that each of your clients has a different knowledge of photographers. Sometimes you'll be working with your customers directly on a shoot – especially if you're photographing them – whereas some clients won't see the images until long after the shoot.
Either way, solidify the trust between you and your client by keeping them updated with preview images. Send over a small selection from the shoot to build excitement, put their mind to rest and let them know that you're working hard on the job.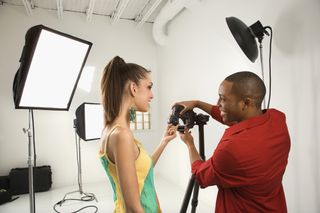 7. Deliver on time
Photographers are often the first ones in a media project – particularly when it comes to commercial or editorial campaigns – and this means that clients will rely on you to work to a set timeframe so that they can meet their own deadlines. Always discuss the deadline for a job at the beginning, so that you can be sure it fits around your existing workload commitments.
If your client isn't in a hurry, establishing an end date is still important, as it will mean that a project is less likely to drift on. Once any dates are set, organise and prep your shoots well in advance to deliver on time. If you're able, delivering ahead of time will do wonders for your reputation as a reliable professional.
8. Add surprise extras
In every genre of photography you can find ways to create "added value" for your customers. If you're a landscape photographer sending out a fine art print to a customer, for example, adding a few smaller postcard shots in their package might be a nice touch. Wedding photographers could send out a surprise card or canvas to couples who've asked for digital files only.
Most added extras do little to hurt you financially, but will give the impression that you really appreciate your customer – which in turn will make them feel special. If you have a database of your customers from email newsletters or spreadsheets, remembering special dates like birthdays or anniversaries with a photo card also goes a long way.
9. Deal with problems
Despite your best efforts, not every shoot will go perfectly to plan. Sometimes customers will have cause to complain, and whether the issues were your fault or not, always apologise and try to make amends. Make sure you deal with problems head on, and as soon as possible so that they don't escalate and result in bad feelings and bad reviews. Listen and then respond to them clearly, politely, and present a solution that benefits everyone involved.
Depending on the situation, you could offer a discount or a reshoot, but often just being empathetic is enough to make a customer feel heard. Once you reach a resolution, learn from the experience to avoid the same thing happening again.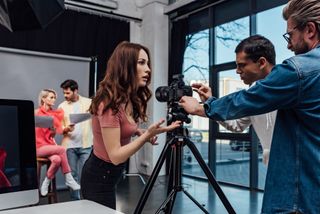 10. Follow up
Once a session is over, don't let the communication take an immediate back seat. Send your clients a quick thank you message afterwards, and give them a reminder of your turnaround time so that they know when to expect the images.
Following up also means asking for feedback; a scary but invaluable way to grow your business and assess your own weaknesses. Facebook and Google have their own review platform, but setting up your own confidential surveys with the temptation of a discount can also work well. Keep any questionnaires short, useful and don't waste your customers' time.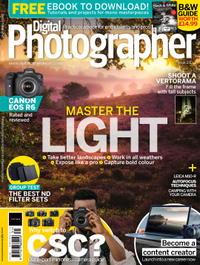 Digital Photographer is a monthly magazine, and the kitbag essential for enthusiasts and amateurs alike!
Inside, you'll find practical guides, shooting tips and techniques from working photographers, plus all the latest industry news.
Read more
How to sell your photo skills online: 5 steps for setting up workshops
Homeworking ideas: make the most of your mobile audience
10 tips for Instagram success: how to make your portfolio stand out