The Zhiyun Smooth 4 is a high-end gimbal that's built for smartphones, but looks like – and performs like – semi pro DSLR camera gear. Obviously created to challenge and undercut the likes of the DJI OM4, Zhiyun's Smooth 4 goes for a lower price.
It's a big effort, both feature-wise and physically. A superbly solid-feeling three-axis gimbal that can pan, tilt and roll, the Smooth 4 weighs-in at 547g and stretches to 328mm in length. So it's a candidate for shoving into (and probably strapping to the outside of) a camera backpack.
Elsewhere in the box is a USB-A to USB-C cable for recharging the Smooth 4 via a USB-C slot beside the control panel and an excellent little tripod. Weighing 71g and with three legs each 114mm long, it provides an exceptionally sturdy platform for the Smooth 4 while also being simple to twist-off to easily pocket. It attaches to the Smooth 4 via a standard 1/4-inch thread.
Specifications
Compatibility: Smartphone (65 to 82mm width)
Stabilization: 3-axis
Dimensions: 123x105x328mm
Weight: 560g
Battery life (approx): 10 hours
Key features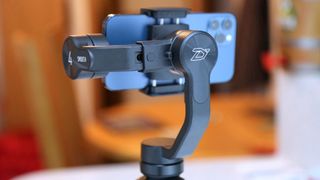 The Smooth 4 is a 3-axis gimbal that pans (though 300°), tilts and rolls (both 240°), though the smartphone payload it can handle is surprisingly slight. Sure, it can take most mainstream smartphones, but it checks-out at 210g, which excludes the very largest 'phablet' smartphones including the Apple iPhone 12 Pro Max (228g) and Samsung S21 Ultra (229g). Since they're both smartphones that photographers and videographers adore, that's plain weird, though plenty of the best phablets do weigh under 210g.
Although the Smooth 4's click wheel doesn't offer joystick-style control for making manual moves, its control panel is otherwise excellent. It's large and roomy, with plenty of dedicated buttons including for pan-following, for quickly taking a still photo, and for locking the Smooth 4 so it can be used simply as a tripod.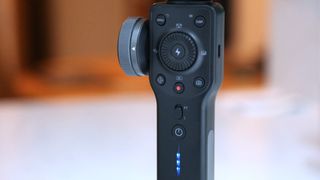 On the left-hand side of the control panel is a tactile wheel that can be used to either focus or to zoom in and out, with a dedicated button to swap between the two. It's super-smooth to use. Just behind the control button is a rocker that can be used to follow, or to do so more quickly in' phone go' mode.
However, the Smooth 4 omits one feature that it really ought to offer; face-tracking, which its cheaper cousin the Smooth XS includes for a lower price. It's not a huge issue, but it's a surprise not to see it here.
Performance and usability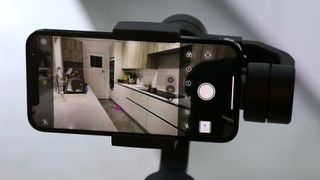 The Smooth 4 isn't all that easy to fire-up. Getting a smartphone into a balanced position is reasonably simple thanks to a small lock wheel, but we had problems getting the ZY Play app to connect to the Smooth 4 via Bluetooth. It worked eventually, though the next time we used it the link wasn't made instantly; it's all a bit too manual for our liking.
That app is pleasingly tech-savvy. It offers a ton of semi-pro features like time-lapse, hyper-lapse, long exposures, panoramic photos and an excellent motion time-lapse mode. With HDR, filters, scene modes, a ton of manual tweaks and an ability to shoot in up to 4K 60fps, its interface is simple and easy to navigate using the plethora of shortcut buttons on the gimbal's comprehensive control panel. However, there is a learning curve.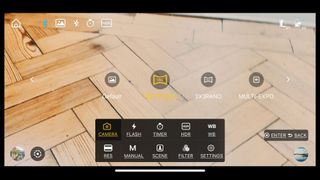 In use the Smooth 4 lives up to its name, helping create fluid and stable footage across all axes thanks to its dependable build quality. Kudos in particular goes to the wheel on the side of the column, which makes it easy to fine-tune a shot. Its function can be swapped between focus pull and zoom using a shortcut on the control panel's click wheel.
One thing that the Smooth 4 has in spades is battery power, with its 2,000mAh lithium-ion power pack good for a 10-hour shoot. That's something less to worry about, but it gets better. The Smooth 4 allows for two-way charging, making it possible to attach the in-situ smartphone to a micro USB slot hidden on the tilt axis arm. That makes it possible to charge-up the Smooth 4 and your smartphone simultaneously – most likely from a battery pack in your pocket – though why Zhiyun chose to use the ageing micro USB specification is a mystery.
Verdict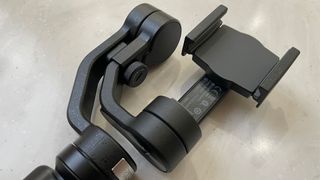 An effective stabilization solution at a low price, the Smooth 4 includes plenty of on-body controls, chief of which is a wheel for focusing or zooming. Tactile and easy to use, the Smooth 4 teams-up with the excellent ZY Play app to create time-lapses, panoramic photos and motion-lapses. An excellent build quality and enviable ease of use helps make this a standout choice for any smartphone content creator user looking for a prosumer DSLR-like gimbal experience.
Read more:
• Best gimbals
• Best camera phones
• Best smartphone tripods
• Best add on lenses for phones