The Galaxy A54 5G is Samsung's lower-cost alternative to the flagship Samsung Galaxy S23 series. Starting at $499 / £449 / AUS $699, the A54 isn't quite half the S23's price, but it isn't far off.
So what do you compromise when you opt for Samsung's affordable series? The design is less premium for starters – there's a plastic frame instead of a metal one on the S23. The Galaxy A54 5G also misses out on wireless charging and a flagship processor, and its entire camera system is stripped back too.
Samsung isn't a total buzzkill, though, loading up the A54 with some serious highlights for the price. It's water and dust resistant, has a great-looking screen, and its main camera packs OIS – hardly a given for a midrange phone.
Alternatives include the excellent Pixel 6a (and the rumored Pixel 7a when it drops, expected in May), the Nothing Phone (1), and past-gen devices like the iPhone 11 (128GB) and Oppo Find X2 Pro, which can be picked up for around the same price.
So while the Galaxy A54 5G may be a value-tastic Samsung phone, how does it fair against the best budget camera phones?
Samsung Galaxy A54 5G Design
When it comes to design, if the S23 was Lego, the A54 5G would be Duplo. It clearly speaks the same design language, but its styling is clunkier.
Weighing 202g and measuring 8.2mm thin, it's far from the chunkiest phone in the shop, but its plastic frame and very simple styling slightly miss out on the maturity of alternatives like the Redmi Note 12 Pro or Pro Plus, or the Vivo V27.
Thanks to a Gorilla Glass 5 front and back, while there's a clunkiness to the A54 5G, it's still sandwiched in glass, so feels solid. And with IP67 water and dust resistance, it's also one of the best-protected phones at its price.
Available in Lime, Graphite, Violet, and White, the A54 has a charm about it, even if its style and chunky plastic frame didn't wow us.
Samsung Galaxy A54 5G Screen
With a 6.4-inch screen, Samsung keeps things conservative, making the A54's display an easy-to-handle size that sits somewhere between the iPhone 14 Pro and 14 Pro Max.
It's nice and sharp with a wide Full HD resolution (1080 x 2340), and thanks to its Super AMOLED technology and a high max brightness of 1000 nits, whether you're watching content or swiping through photos, the screen beams brilliantly.
On the subject of content, the A54 5G supports HDR10+, so has a rich tonal range when playing back compatible content, and with a 120Hz refresh rate, feeds, and web pages also glide with buttery smoothness.
Samsung Galaxy A54 5G Camera Specs
With a triple camera system, the Galaxy A54 combines a well-specced 50MP main camera with a 12MP ultra-wide camera and a 5MP macro camera.
Going into a bit more detail, the 50MP main camera has an f/1.8 lens, phase-detection autofocus, and its sensor is a large 1/1.56". While this won't sound big compared to flagship phones, for the price, it's respectable, so should deliver decent lowlight performance and even a shallow depth when subjects are less than a meter away.
The ultra-wide camera is 12MP, and the lens has an f/2.2 aperture and a 123˚ field of view. Finally, for the rear camera mix, there's a 5MP, f/2.4 fixed-focus macro camera.
Selfies are taken on a 32MP camera which is nested in the top centre of the screen. It has an f/2.2 aperture lens with a 26mm field of view, and the sensor measures 1/2.8" – not too bad for a front camera.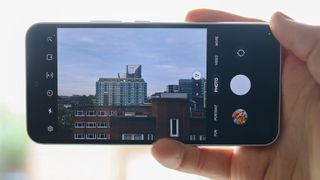 As far as shooting modes go, there are all the usual suspects: Photo, Video, Portrait, Fun, Night, Pro, Pro Video, Single Take, Food, Panorama, Slow-mo, and Hyperlapse.
Unfortunately, Samsung's A54 5G doesn't support RAW shooting, whether in the Pro mode or third-party apps like Lightroom. This is especially frustrating for photographers as the phone has a habit of over-processing photos.
Samsung Galaxy A54 5G Camera Review
Samsung heavily processes photos. Its phones have stylized punchy saturation, boosted contrast and sharpening, and generally high exposure.
The look is more measured than Motorola's photos, but the A54 5G definitely isn't the most nuanced of camera phones, even at its price.
Don't get us wrong, there's plenty of good stuff here. The A54's OIS and auto night mode really help its main camera when it comes to nighttime photography.
The large sensor does indeed deliver a beautifully shallow depth of field, and photos from the camera look Instagram-ready when captured in well-lit environments.
The main camera also has impressive dynamic range when you give it a steady hand. The phone seems to hold the shutter open a little longer to pull out details from highlights and shadows.
On a sunny day, the macro and ultra-wide cameras do an admirable job of capturing landscapes or high-impact close-up shots, though the macro camera isn't usable when the lights go down.
We also really like the A54 5G's video. Super Steady Mode caps out at 1080p and does indeed capture super steady video – great for kids and specifically usable when there's loads of light. At night, it pulls up extra noise, so will want to be avoided.
Standard Full HD 30fps video is more usable in darker environments and is still held together nicely with OIS and EIS – a great balance.
Unless you've got the phone on a tripod, you'll want to avoid 4K 30fps and Full HD 60fps video due to limited to no stabilization at play.
Samsung Galaxy A54 Additional Specs
Just like the Galaxy S23 series, the A54 5G runs Android 13 with One UI 5.1. This isn't a carbon copy of a flagship Galaxy experience – there's no DeX, for example, Samsung's desktop interface that projects from the phone.
Despite some compromises, though, the A54 5G has great Windows integration so you can see your access messages and us phone apps on a big screen, amongst other smart features.
While last year's A53 was crippled by its terrible performance, this year, the Exynos 1380 powering the A54 does a good job of keeping things flowing for the most part.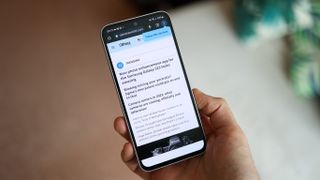 The A54 5G's performance isn't best-in-class – for not much more money than the 256GB A54 5G, you can pick up a RedMagic 8 Pro – a fantastic gaming phone. But at the very least, processor speeds don't hold the phone back from being good enough, which was the case on last year's Galaxy A53 5G.
The phone's available with 8GB RAM, and either 128GB or 256GB storage. It also has microSD card support, so you can easily bump that up, giving you plenty of room for apps on the phone, and photos and videos on a memory card.
To securely get into your phone, there's an in-display fingerprint scanner which works well, and face recognition too, which uses the front camera.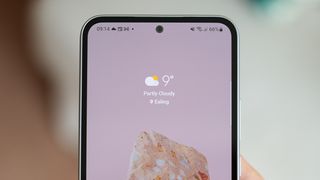 With a huge 5000mAh battery and modest power and screen demands, it's no wonder that the Galaxy A54 5G can easily last a day, possibly even two with light use.
The phone also has fast(ish) charging at 25W, so powers up fully in just under 90 minutes. Thankfully for anyone who needs a quick top-up, the first 50 percent can be had in a little under 30 minutes. As with iPhones, there's no charging brick in the box, just the phone and a USB-C cable.
Unlike the S23 series, the A54 also misses out on wireless charging which isn't unheard of at the price – the lower-cost Nothing Phone (1) has it, for example.
Samsung Galaxy A54 5G Verdict
Samsung's A54 5G isn't best Android phone around when it comes to style or power, and its camera system's held back by some heavy processing. But if you can handle Samsung's saturated, high-impact look, then it could be the best camera phone at the price for you.
The fact it combines optical image stabilization with a large primary sensor means shots and videos look well held together, even at night.
For anyone who wants a Galaxy S23-style UI, the A54 is also a great way of paying a little less but getting much of the same look and feel Samsung's flagships offer.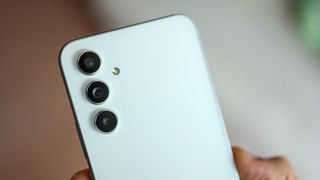 The type of user who might feel frustrated with the A54 5G, however, is the slightly geeky photography fan who will want to either shoot in RAW, or have more pared-back, natural-looking processing in automatic mode to edit. If that's you, then you might fare well with a Redmi Note 12 Pro+ phone, for example. In fact, we'd go so far as to say, Samsung would do well to take a leaf out of Apple or Xiaomi's book, and upon launching the camera app, ask users if they want more vivid or natural processing.
All said and done, though, the A54 5G is still a solid smartphone across the board, especially when you factor in that gorgeous display and its IP67 dust and water resistance.
Read More: Find out more about the latest and greatest Samsung phones in our guide to the best Samsung phone. Or for the rest of the smartphone world, read our guides to the best camera phone, the best Android phone.