Remarkably, well over two years since it introduced the world's first flash monobloc with TTL wireless flash control, Profoto is still unchallenged with this feature. It's since introduced the B2, which further builds on the conveniences of TTL flash control, but is an even more adventurous product in terms of its design.
The B2 is based on the idea of a very compact power pack – similar to Elinchrom's Quadra, only smaller – which has a pair of outlets for connecting small and lightweight flash heads. In fact, the B2 head is small enough to be mounted on-camera via a bracket with the power pack carried on a shoulder strap… in a similar style to the old Metz CT-series models. However, unlike the Metz units, the B2 packs a much bigger punch, but still with the convenience of TTL auto control.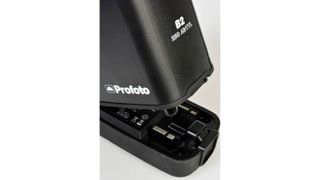 Key specs
Maximum Flash Power: 250 joules
Guide Number/f-stop: f32.2 (at two metres and ISO 100 with Magnum reflector)
Variable Power Output: Nine stops, adjusted in 1/10 or full stop increments
Flash Duration (t=0.5): 1/1000 to 1/9300 second in Normal mode. 1/1000 to 1/15,000 in Freeze mode
Recycling Time: 1.35 seconds to 250 joules
Modelling Lamp: Nine watts LED (equivalent to 50 watts halogen)
Modelling Lamp Control: Proportional, on/off, free adjustment
Triggering: Sync connector, switchable photo/IR cell, radio frequency
Just as the B1 repeats the distinctive styling of Profoto's D1 monoblocs, the B2 pack looks a bit like a scaled-down D4. The battery simply clips to the base and the combined weight is just 1.6 kilograms. As the battery subsequently becomes the B2's base, it's completely encased in a tough rubberised material, while the control panel is also surrounded by rubberised sections to provide protection against knocks and scuffs. While the B2 isn't fully waterproofed, there's sufficient protection to enable it to be used in situations where spray or dust would normally be an issue. Once a head is plugged in, a twist lock secures it in place – reassuring given the some likely applications – and also prevents the intrusion of moisture.
The power setting for each outlet is controlled independently, and the range is nine stops, adjustable in 1/10 stop increments. This means the power output can be wound all the way down from 250 joules to actually just under one joule (0.975 joules to be precise).
In the Normal mode, this gives a flash duration of just 1/9300 second, but switch to the faster Freeze mode and it's an even shorter 1/15,000 second. Also in Freeze mode, the recycling is rapid enough to allow continuous shooting at up to 20 fps. And, despite its compact size, the B2 pack still incorporates a proper cooling fan to deal with those rapid-fire sequences, but this only cuts in when it's needed to avoid an unnecessary drain on the battery.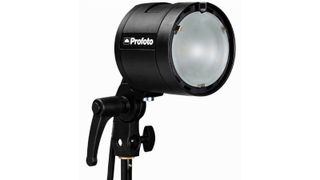 Heads up
The ultra-compact B2 flash head weighs 700 grams and incorporates an LED modelling lamp which is rated at nine watts, but such is the efficiency of this light source, this is the equivalent of a 50 watts halogen lamp. Apart from reducing the demand on battery power, the LED lamps also run a lot cooler.
Like the B1, the B2 flash heads have Profoto's novel built-in reflector arrangement so, for many applications, that's as compact as they need to be. A frosted front glass acts as a protector as well as delivering a more diffused and even illumination than would normally be the case with such a small light source.
The B2 heads are also light enough to mount on things like a Gorillapod, and they can easily be tucked away in tight corners so they're out of sight. Three-metre extension cables are available to extend the set-up options. Profoto offers an extensive system of 'OCF' (Off Camera Flash) accessories such as softboxes, a snoot, barndoors set and grids, so the light-shaping options are the same as any conventional studio lighting system. In keeping with the concept behind the B2, all the OCF light shapers are more compact and lightweight than Profoto's standard accessories and, in the case of softboxes, have been redesigned to make them quicker and easier to set up.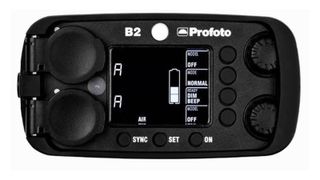 The B2 pack's control panel layout is also simplicity itself. The main buttons operate in conjunction with a large LCD control panel which indicates their settings (i.e. Model On/Off, Mode Normal/Freeze and Ready Beep/Dim). There's an extra-large level indicator for the battery just so you don't miss it… as with the B1, the B2 is exclusively battery-powered. Up to around 215 full-power flashes can be obtained from a full charge, but as the B2 is often likely to be operating at lower power settings, the reality is that you'll probably do a lot better than this even when shooting a lot of action sequences.
Air time
There's a choice of three low-profile, hotshoe-mounted remote triggers which are purchased separately. The first is the standard Profoto 'Air Remote', which is non-TTL and simply allows for remote synchronisation via the flash maker's 'Air' control system which is based on UHF digital radio – operating at a frequency of 2.4 GHz – to give a very short delay (as brief as 375 μs) and a range of up to 300 metres.
For the owners of Canon D-SLRs there's the Air Remote TTL-C, which allows for TTL automatic flash exposure control via Canon's current E-TTL II flash metering system, and also control over various settings, including flash power, modelling lamp operation and switching between first/second curtain sync. It can also be switched to non-TTL operation for radio triggering.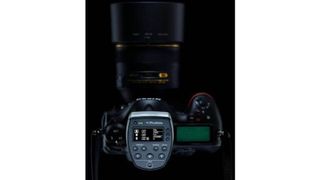 The Air Remote TTL-N makes the B2 compatible with Nikon's i-TTL flash metering system. These two dedicated controllers have a USB connection, enabling firmware upgrades to accommodate future models of D-SLR. In TTL mode, the wireless range is reduced to 100 metres, although few users are going to find this isn't sufficient. Importantly, you can have both the B1 and the B2 in the same wireless TTL set-up as, to quote Profoto, "everything works with everything". Furthermore, you can assign each of the B2 heads to a separate channel, further adding to the flexibility of this system.
The conveniences of TTL auto flash control are many and addictive. If you do need to adjust the exposure, simply dial in the required amount of compensation at the camera. Similarly, if you don't want your TTL exposures shifting as you change shooting angles, composition or framing, switch the Air Remote TTL controller to manual mode and the desired exposure is then effectively locked in. Alternatively, there's an operating mode which uses the auto TTL control to establish an exposure and then allows for subsequent fine-tuning manually.
High Speed Sync (HSS) enables you to shoot with flash at shutter speeds of up to 1/8000 second, but again Profoto has gone a bit further so its technology allows for speed and power with exposure consistency… previously you could have one or the other, but not both. It's done by generating an extremely fast series of flash pulses – as opposed to the conventional method of using the long 'tail' of the flash output curve – which ensures an even exposure while maintaining both speed and power, and it obviously opens up a whole world of new opportunities when mixing flash and ambient light (for example, using wider apertures for shallow depth-of-field in bright sunny conditions)… still all with full TTL control or with the 'hybrid' auto/manual control options explained in the previous paragraph.
Verdict
The B2's compactness, power range, full asymmetry, true high speed sync and, of course, convenience derived from TTL auto flash control make for a hugely potent lighting package. While it's primarily designed for on-location, there's no reason why you can't use the B2 in the studio – it integrates seamlessly with the B1 after all.
It's become popular to promote a set of 'speedlights' as a compact flash lighting solution for shooting in challenging locations, but in practice this has never really proved to be satisfactory… the multi-unit set-ups are cumbersome, you have three or four or more control panels to fiddle with, and there's a limit to what can be achieved in terms of light shaping. The Profoto B2 does the job far more effectively with the added bonuses of more power (and more controllable power), a far superior quality of light (again with more control), and much greater overall flexibility.
Read more
The best photography lighting kits in 2022
Best backdrops for photography