As more and more companies are excluding chargers from the box, unpacking your brand-new camera to find out it doesn't have a charger is incredibly frustrating! However, since investing in the ProCube 2 I haven't looked back, and in fact, I'd recommend ditching the branded one your camera comes with and investing in one of these anyway.
Capable of charging two batteries at once, dual charging is incredibly helpful when you have a big shoot ahead of you as it speeds things up, it has a digital display that tells you your battery's health and charge percentage and I've found it's much quicker than standard chargers.
Build & Handling
This versatile charger can be plugged straight into the mains but it also comes with a 12V car socket for when you're on the move, making it perfect for traveling and holidays - especially camping ones! A USB port at the back of it also enables you to charge a camera phone, laptop power bank, or other USB device.
Unlike a lot of standard chargers, the ProCube 2 has a really nice feel and finish to it thanks to a smooth metal casing. The cube design is compact with an attractive brightly colored body and the screen display is clear and easy to read.
The screen is one of its most useful features, you can check your battery's health using the digital display. You can also do this in-camera but I find it much easier to do using the charger. All you need to do is make sure your battery reaches 100% and then check exactly how many mAh it's charged to. If it doesn't say your battery is at its maximum capacity it means your batteries are on their way out and might need replacing soon!
Performance
For a fast charger, it really does do what it says on the tin. If you're low on battery and just need a quick top-up, a 20-minute charge will give you around 25% (I was testing it using the Sony FZ-100 batteries and a Sony A7 III). To fully charge two completely drained batteries to 100% it only took an hour and a half while a single battery took just less than an hour.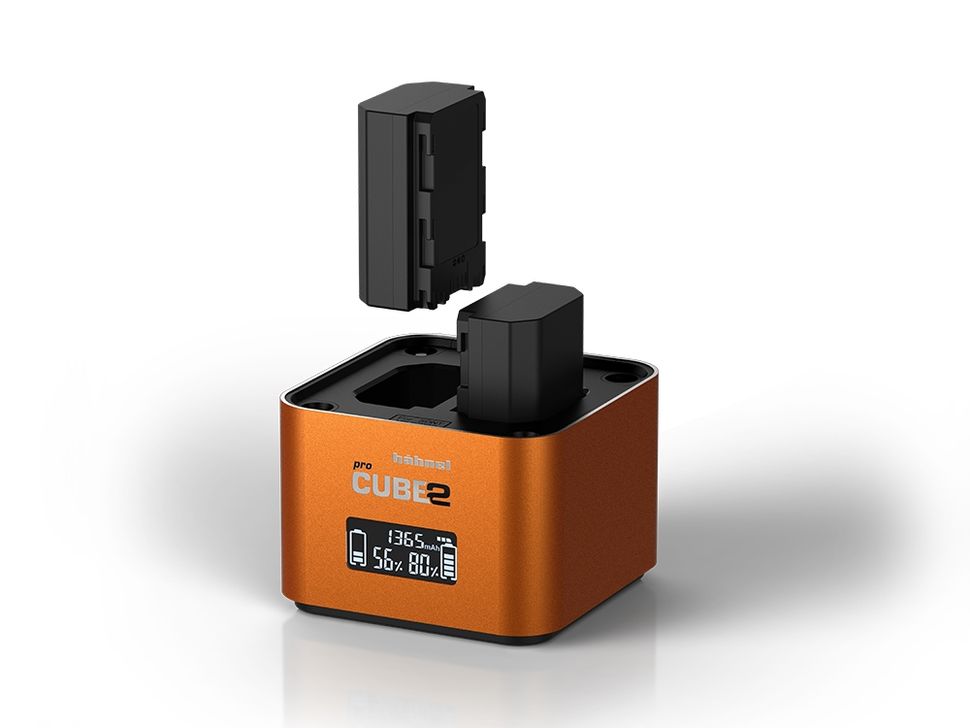 Verdict
As far as third-party chargers go, the Hahnel ProCube 2 is pretty much the best you can get. Not only can you charge two batteries at the same time, but it also comes with an insert for rechargeable AA batteries that can be used simultaneously. If you own multiple camera systems and are looking for a one-charger-fits-all solution, you can also buy different charging plates for Sony, Olympus, Fujifilm, Nikon, and Canon so you don't have to buy multiple chargers.
The Hähnel ProCube 2 is very good value for money and if you can afford to, I'd invest in one regardless of whether your camera comes with a charger. It's much more efficient than branded chargers, is incredibly versatile, and looks a damn site nicer. I literally can't fault it and in some ways, I'm glad Sony didn't provide a charger otherwise I may not have bothered to invest in this very useful bit of kit.
Read more: simplify your battery charging with our top picks for the best universal camera battery charger or the best camera batteries.