These Celestron Outland X 8x42 binoculars are from one of the biggest brands in the affordable binocular and telescope market. This compact pair of binoculars has 8x magnification power and a large-ish 42mm objective lens – making them suitable for use both in daylight and dimmer conditions too – and offers both convenience and clarity of view.
Like the majority of their ilk, in being waterproofed and fog-proof, the optics here are encased in a rubberised housing that aids grip and prevents slips and fumbles even if user's fingers are wet.
We used the Celestron Outland X 8x42 binoculars we're featuring here both in light rain and full sunshine, in wooded areas and open fields, and didn't notice any dip in performance, but more on this later. A soft carry case, lens cloth and neck strap are provided out of the box as standard.
Specifications
Magnification: 8x
Objective diameter: 42mm
Field of view at 1000m: 119 metres
Closest focusing distance: 4.5 metres, 14.8 ft
Eye relief: 17.8mm
Weight: 624g
Dimensions: 146x126x53mm
Key features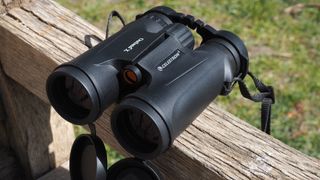 While the magnification factor and objective lens size as mentioned in our intro are really the key features here, in order to achieve high resolution and high contrast views the lenses feature multi-coated optics to improve light transmission and prevent dirt and grime adhering to any surface.
As is the vogue with compact binos from competing brands, the Celestron Outland X 8x42 likewise features tethered lens caps, which hang loose at the front when removed for viewing. We also get slip-on rubberised eye-cups at the rear, which can be threaded through the provided neck strap to prevent loss.
Focus is adjusted via a large and obvious ridged wheel that sits between the eyepieces, while there is a very stiff dioptric adjustment wheel on the right eyepiece. The binoculars are also foldable, to a degree, which means that the eyepieces can be comfortably lined up to match the distance between the user's own eyes, so what they are essentially seeing through the lenses is a giant circle.
We found the action of this folding mechanism slightly stiffer and less fluid than on competing brands, but at least this prevents accidental adjustment when digging the binos out of a backpack or jacket pocket.
Build and handling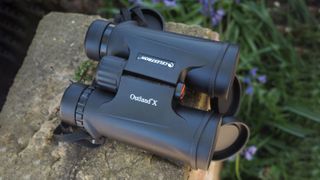 Despite the budget price, the sense we get here is that these feel well built and substantial nonetheless – as substantial as binoculars costing much, much more in fact. As well as the central folding mechanism and unusually chunky focus adjustment wheel aiding comfortable and practical viewing, the Celestron Outland X 8x42 binoculars feature twist-up eyecups for adjustment of eye relief, whether you're wearing spectacles at the time of use or not.
While these binoculars are weighty at 645g, this is not excessive, and of course we wouldn't want them to feel too lightweight anyway as a certain 'heft' enables the binoculars to be held level and steady.
Performance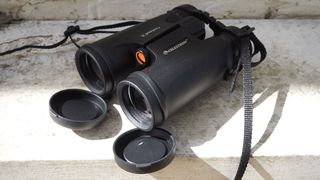 We took the Celestron Outland X 8x42 binoculars out for a walk in the Chiltern Hills, where Red Kites drifting on the air currents, as well as pheasants on the ground, made for captivating subject matter. While the 8x magnification didn't allow us to get quite as up close and personal as we might have liked, the power and clarity here proved sufficient to pick out feather detail and markings from several hundred feet away.
As well as using the binoculars in open ground, we made use under a wooded canopy without suffering any noticeable dip in clarity and performance. What we have here, then, is a jack-of-all-trades' device. Yes, as regards sharpness, the view through the eyepieces may not be a match for a pair of binoculars costing many times the asking price, but that is beside the point. Overall these feel good value for what they are.
Verdict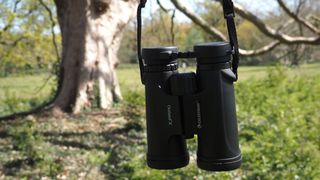 While not a match for a pair of binoculars costing up to 10x the price in terms of pin sharpness, this general-purpose option in the Celestron Outland X 8x42 will be more than 'good enough' for most casual users. Yes, you can spend more if you want to, like always, and get a better result. But before you do so, stop yourself and ask if you actually need to.
Read more:
• Best binoculars
• The best monoculars
• Best night vision binoculars
• Best opera glasses
• Best spotting scopes
• Best binocular tripod adaptor
• Best binocular harnesses