The Canon imageFORMULA DR-M1060II performs scanning on a bigger stage. Let's face, most printers these days have scanners built-in, often with an ADF for automating the process of scanning multi-page documents. The downside is that they can typically only scan pages up to a maximum of A4/letter size, and that's often true for the scanners built into large-format A3 printers.

This purpose-built A3 scanner can accommodate everything from small business cards to A3/11x17-inch documents and beyond. Designed for a busy business environment, it has a suggested daily duty cycle of up to 13,000 scans with plenty of options for single-sided and double-sided documents, folded sheets, artwork and bound media, made quick and easy by fast scanning speeds and good supporting Windows software.

Specifications
Scanner type: CIS
Max resolution: 600dpi
Max speed: 120ipm (duplex)
Auto document feeder: 80-sheet
Light source: RGB LED
Operating system: Windows 8.1 onwards
Interface: USB 2.0
Power supply: AC 100-240V
Dimensions: 424 x 246 x 120mm
Weight: 6.1kg
Key features
Space is nearly always at a premium in the office environment and it can often be difficult to find a home for new kit. Measuring just 16.7 inches wide, 9.7 inches deep and 4.7 inches tall in its retracted state, the imageFORMULA DR-M1060II is remarkably compact for an A3 office scanner, or what Canon bills as a 'departmental scanner'. It can therefore easily fit into small spaces and doesn't take up much more room even with the front input and output trays extended.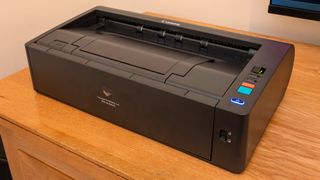 Scanning for regular paper thicknesses utilizes a U-turn path, so the motorized transport system feeds the paper in from a tray or the 80-sheet ADF at the front, and then flips it over and outputs it into a tray that's higher up at the front of the machine. The only catch is that, for thicker paper, card and anything else that you don't want to be bent over, you'll need to use the straight scanning path, which outputs the media at the rear. In that case, you'll need to leave more room behind the scanner. More on that later.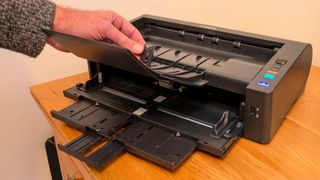 The scanner has a maximum optical resolution of 600dpi but 200dpi will often suffice for document scanning. At this resolution, output speeds are around 60ppm (pages per minute) for single-sided A4/letter pages, and 120ipm (impressions per minute) for double-sided pages. That's because the scanner can scan both sides of a double-sided page in a single pass, effectively doubling the speed. Either way, you can fill the ADF to nearly its full 80-sheet capacity and scan big multi-page documents in around one minute flat.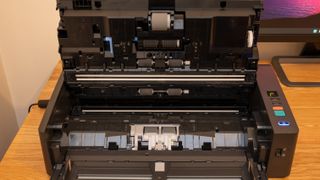 Build and handling
Looking at the compact size of the scanner, the first thing that surprised us was how heavy it was to lift out of the box. Suffice it to say, it's built very strongly from mostly metal parts on a sturdy chassis, with a real high-quality feel throughout.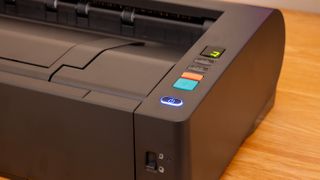 Switching between straight-path and more regular U-turn scanning is set by simply opening or closing the rear paper tray, respectively. The front input and output trays hinge open for operation and can be extended as needed for scanning larger paper sizes.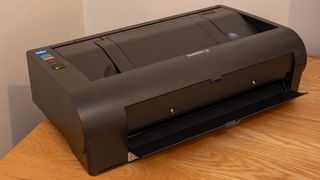 Onboard controls are pretty rudimentary, but effective. You can set up to nine different custom setups for various types of scanning and assign them to job numbers. These are shown on a small and basic, illuminated alpha-numeric display, and you can cycle through the nine presets by repeatedly pressing the 'Job' button just beneath (if you can remember what they all are). Just below that, there's a 'DFR' button. This Double Feed Release feature enables you to scan multiple pages that are bound together, or envelopes, or pages with sticky notes attached, without the scanner registering it as an error caused by multiple sheets being fed simultaneously by mistake.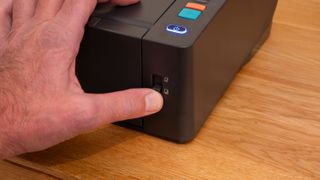 Further handling benefits, from a productivity perspective, include auto size adjustment, deskew correction, text orientation sensing and automatic switching between mono, greyscale and color scanning. A neat touch is that you can also set a color to be 'dropped out' of the scan, so anything on the original document in that color will be blanked out.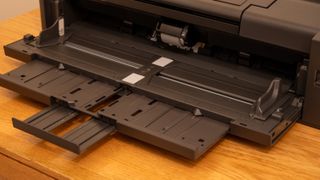 Performance
Scanning quality is naturally a vital element of any purpose-built scanner, whose only purpose in life is to scan things. The imageFORMULA DR-M1060II performs really well in this respect. The motorized paper transport system proved very accurate in our tests, enabling super-sharp scans. It also proved very reliable, taking specialist media like plastic and embossed cards, thin and thick paper and large and small sizes.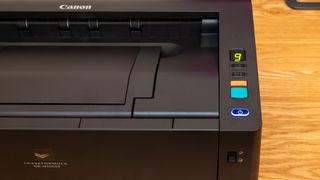 Advertised as an A3 or 11x17-inch scanner, the Canon can actually take on super-sized scans. Using the straight paper path option, you can actually scan really long pages at up to 3m (nearly 10ft) in length. Another option is to fold a much larger A1 sized document in half and scan it in folio mode. The two sides are then scanned simultaneously and the software stiches the result into a single, full-sized document.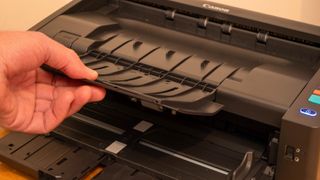 As claimed, scanning speeds are fast, at up to 60ppm for both single-sided and double-sided pages, in mono or color. The supporting CaptureOnTouch software for Windows enables enhancements for both text and images, to makes scans look their best, along with optional OCR (Optical Character Recognition) and the ability to save documents, spreadsheets and images in wide-ranging formats. All in all, it's a highly effective scanner that comes into its own for larger paper sizes.
Verdict
Surprisingly compact for a large-format scanner, the imageFORMULA DR-M1060II is nevertheless surprisingly weighty at just over 6kg (about 13.5lbs). That's because it's very solidly built, designed to fit into a busy business environment, and also because it folds in on itself for neat storage. It's fast and capable, with a built-in ADF (Auto Document Feeder) and the ability to scan both sides of duplex pages in a single pass. The supporting Windows software is intuitive and effective, but it's a pricey bit of kit.
Read more: check out our guide to the best all-in-one printer or best photo printer available right now