The EOS 4000D has a very similar size and weight to its EOS 2000D launch partner. Its plastic construction isn't a problem, though. In fact, the simplified controls and rounded contours make it quite pleasing to handle.
The camera could, however, leave existing Canon owners confused because there's no separate power switch. Instead, there's simply an 'Off' position on the mode dial. Once you know where it is, of course, it's not a problem, but it is a sign of the rather deliberate cost-cutting in this entry-level camera's design.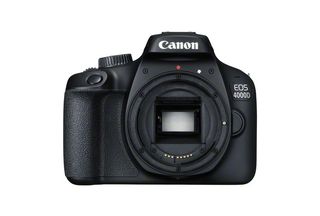 Another is the plastic lens mounting plate. We haven't seen this before – the EOS 2000D has a metal plate, like other EOS cameras. That said, it's unlikely EOS 4000D users will be the sort of photographers who do a lot of lens changing (if they do, they're probably ready to upgrade to a new camera), so wear probably won't be an issue, but it's an unexpected little feature of this camera nonetheless.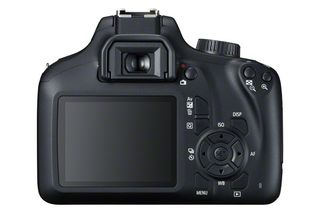 The small rear screen and its low resolution have a somewhat jarring effect too. It's been a few years since we've seen a camera with a screen like this, and while it displays your photos and the camera's menu screens like any other, it doesn't have the smoothness and detail we now take for granted – the same smooth detail that you get with the EOS 2000D's screen.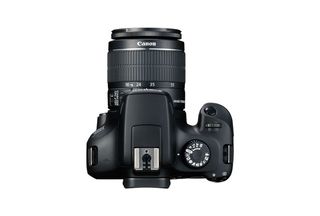 There's one more thing. If you're waiting for the flash to pop up on the EOS 4000D when you're shooting in full auto mode in low light, you're going to be waiting a long time. On this model you have to pull the flash up manually when you want to use it.
Overall, controls are basic but effective. Canon has always been good at making its entry-level DSLRs simple on the outside but still with enough direct access to camera settings and controls to keep up with owners as they develop their skills and technical know-how.