This is an unusual drone, no question. As many of the less well-known firms adapt their designs to match the market leader, DJI, and specifically the folding drones that began with the Mavic, this one seems loosely inspired by the drone that one replaced – the DJI Phantom (an airframe first seen in 2013).
On closer inspection, though, it is a folding drone. The short arms do collapse inward so that the top of the drone isn't too much bigger than the frame below. That frame serves as landing legs and a protective cage for the vulnerable camera gimbal. A powered gimbal, using motors to prevent camera shake, is very unusual in the budget category, with many drones relying on a mix of rubber dampening mechanisms and – increasingly – electronic image stabilization. This gimbal, alongside the 4K claim (which will get some scrutiny below), is a key selling point.
And that, essentially, is what's on offer. A drone that tackles the market leader in terms of specifications but not price. It also throws in some subject tracking features, typically seen as higher-end, and some others which are more frequently associated with the toy category, like gesture photos. Not only do we need to examine whether the drone is any good, but decide whether this somewhat quirky approach is the right one for you. Let's dive in...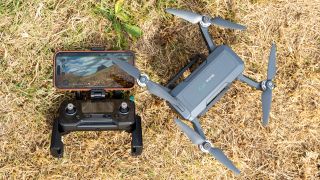 Bwine F7GB2: Specification
Swipe to scroll horizontally
| | |
| --- | --- |
| Video: | 4K 15fps / 2.7k 25fps |
| Battery: | 2600 mAh |
| Range: | 3km / 1.85 miles |
| FOV: | 120˚ |
| Gimbal: | 3-axis |
| Weight: | 570g / 1.26 pounds (on our scales, with battery) |
Bwine F7GB2: Key Features
With a 4K camera that can record to a MicroSD card or direct to the phone (at a lower resolution), GPS to maintain position, a remote control, and live view – using an iPhone or Android device as a screen – the drone's spec sheet is promising. The airframe has foldable wings for some portability while protecting the mechanical gimbal in landing legs.
It ships in a kit with two batteries which sport built-in charge meters and USB-C charging and a good-quality travel case. The controller has a screen to display key flight data but the app does the real work, while it records live video and images directly to your phone's photo feed as well as to the memory card – handy for quick sharing.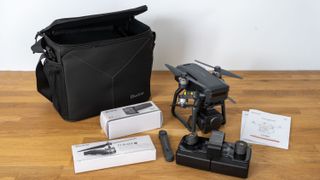 Bwine F7GB2: Build and handling
The Bwine has a certain heft – not a surprise since it weighs more than twice that of a DJI Mini-series drone. It is nevertheless constructed of a relatively lightweight-feeling plastic, and the gimbal and top propellors are kept in place when stowed using a couple of molded plastic pieces. These are actually easily removed and replaced (unlike some other brands, cough...).
The folding design curiously doesn't actually fold much away, perhaps in part because the propellors are fixed-shape; the blades do not spin out using centripetal force as is common on folding drones (saving the cost of using a patent). The result is something that converts from an anvil shape to a kind of angular Phantom-like drone.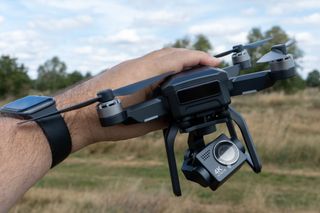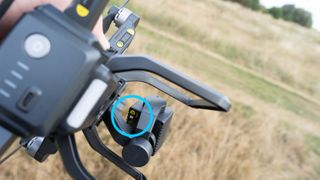 What is a big positive from this design is that the gimbal is enclosed inside the legs, protecting it when stored or from a bad landing. Surprisingly, though, it is so chunky that the clearance is only a few millimetres meaning even shot grass might interfere with the camera's self-levelling. The MicroSD card slot is in the rear of this gimbal which means a degree of care is required to insert the card.
The drone will refuse to record onto a standard ExFat formatted card and insist on formatting the MicroSD card in a way a Mac simply won't read; I had to fish out a Windows machine after several abortive attempts.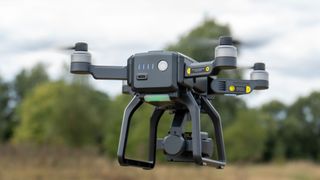 The battery is far easier to handle, inserted into the main fuselage at the rear. Each of the two included has a built-in charger (with a USB-C socket) and a 4-light charge meter. This is a nice touch, meaning you can charge both the included batteries at once with chargers you have around the home, but they take a staggering six hours to charge!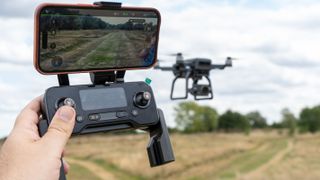 Before each take-off at a new location (or after a battery change), it is necessary to go through the "drone-dance" calibration procedures. First time out you'll also need to install the Bwine app and clip your phone into the controller. In a way it is impressive there is no wired link to the phone – it uses a local Wi-Fi network. (DJI drones insist on being plugged directly into the phone where there isn't a live-view screen in the controller.)
The app has a tiresome but functional on-screen guide with video and instructions to remind you of the calibration requirements before you can choose the live view. There are surprisingly few options available on the menus, but you'll want to disable Beginner Mode right away to be allowed to fly any distance.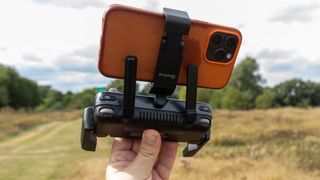 Bwine F7GB2: Flight Performance
The Bwine's performance, sadly, is where things really fall down. Before we even get to the photos and video, the flying was a frustrating experience because the controllers didn't seem to have the feedback I'd expect even from a budget drone.
On a different budget, drones from DJI and Autel (for example the DJI Mini 2 SE, which doesn't claim 4K) the phone is plugged into the radio controller. It takes a few moments longer to set up, but there is as little lag as possible in the video stream coming from the aircraft. The result is the possibility of subtle turns and camera work.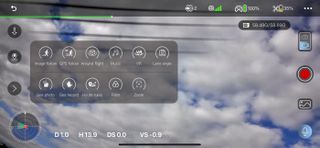 The automatic return to home worked when I tested it, however, the drone was not able to land itself, repeatedly bouncing off the ground and never shutting the props off. Hillarious? Yes. Close to the take-off point? Also true. But not ideal. (Bwine has since told me that holding the stick in the down position, as per a normal landing, solves this.) The return to home is also activated automatically when the battery hits 20%, which is a handy thing, but the battery measure can be a little erratic.
Another issue for me was that the buttons at the edge of the display seemed to hide themselves under my iPhone's "Dynamic Island," but this might be less of a problem for Android phones or older iPhones.
Bwine F7GB2: Camera performance
Anyway, to the video. This is where many of us judge drones – especially if the term 4K has excited us – and this is the Bwine's problem. Yes, it can, technically, produce video that is nominally 4K, in that it is 3840 x 2160 pixels, but it isn't 4K in the cinematic sense we might expect. In that it can't even manage the 24 frames per second of a cinema camera – let alone the minimum 25 or 30 that is expected to match global TV standards.
The 15fps it does produce at 4K is something I only usually encounter in security cameras (where a lower frame rate is desirable as it saves on data storage).
Another measure of quality – bit rate – hovers around 30mbps in one video I shot (lower amounts mean more compressed data, so lower image resolution). By comparison, DJI drones are usually the other side of 100mbps even when they're not 4K.
That means, in practice, the 25fps video is the better choice for output that actually looks like video. Not only that but in the sample I took, despite the lower resolution (2976x1680 pixels), it was pushing 100mbps and was by far the more aesthetically pleasing experience.
In other regards the camera is average. It has successful auto exposure, but not a very wide dynamic range – panning the camera up and down will result in abrupt changes, but that happens with much more expensive drones too!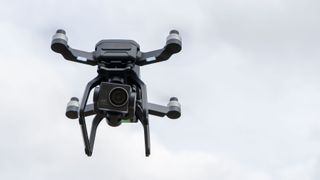 Bwine F7GB2: Final verdict
The Bwine F7GB2 seems to offer a relatively low-cost way into a drone with a mechanical gimbal, eliminating the chief complaint about the hoard of economy drones – wobbly video. Sadly, though, Bwine's insistence on 4K branding when the drone doesn't really live up to that makes the company seem deliberately misleading.
Buy it for...
✅ A cheap drone with some subject-tracking features
✅ Fast and easy content sharing
✅ A complete kit with bag
Don't buy if you need...
❌ High-quality 4K video
❌ An drone under 250g
❌ Flight times over 15 minutes
❌ To use with a Mac
Trying to set that aside, the drone does have serious merits. The subject tracking actually works reasonably well despite having fewer sensors available to it than more sophisticated drones (though, of course, there are no collision avoidance systems). There are many folk who would also appreciate the 'fun' features like gesture photos and videos.
A simple feature of the app – the uploading of images and video (admittedly lower quality samples from the live feed) straight to your photos makes it super easy to post them to social media after flying – no faffing around transferring files. That definitely has an appeal for those often in a hurry.
On the downside, the battery life isn't the best, the range could be better, and the gimbal seems to suffer from imperfect aerodynamics. The controls are also far from perfectly slick – though there is always GPS and some automated features to help out there. Video options are the key flaw, however. Serious creators will simply not be able to make use of limited options, low bit rate, questionable dynamic range, and, above all, limited choice of frame rates.
The weight, too, will be an issue for some. Ultimately you can get a better quality image and smoother flying experience with the DJI Mini 2 SE for a similar price which also has a gimbal and comes in below the crucial 250g weight limit. Sure, there is only one battery in the cheap bundle, but it lasts much longer. That makes this a hard choice to recommend unless it's available at an especially low price.
---
How I tested the Bwine F7GB2
I tested the Bwine F7GB2 over several flights in a preferred safe location near to London but not too near to any airfields. I usually try to test drones in a mix of weather and I've often found that the UK being what it is I can often just wait one battery for a complete change in wind and light. I do not test in rain or outside legal conditions.
I test drones using manual flight patterns based on typical consumer and professional patterns – orbiting the subject, getting an aerial view, that kind of thing. My years of experience flying drones since the time you needed to build them yourself has been a big help, though in recent years I tend not to reach for the soldering iron.
I have flown nearly every major consumer and many professional drones in the last 13 years since 2010, and written several books about them.