Power adapters are certainly not the most exciting technology purchase you can make, although they might just be one of the most essential. We all need to keep our various devices and every increasing number of devices topped up with power, and with fewer and fewer devices coming with power adapters in the box it is up to us to figure out the best way to keep our devices powered up.
There are a few things to consider when picking a charger, primarily do you want to prioritze how small your charger can be, or how many devices you want to charge. If you said you're looking for as small as possible and only one device at a time, then the Anker Nano 3 might just be what you are looking for. As the Nano name suggests, Anker has made this plug as miniature as technology (and sockets) will allow, while still providing 30W of power which is more than the maximum power draw for most small devices like phones, wearables, and tablets.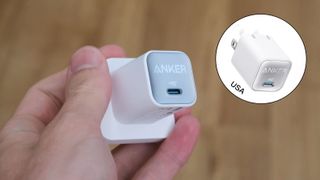 Anker Nano 3: Specifications
Swipe to scroll horizontally
| | |
| --- | --- |
| Maximum output | 30W |
| Number of ports | 1x USB-C |
| Weight | 1.41 oz / 39.97g (US), 2.92 oz / 83g (UK) |
| Size | 1.12 x 1.12 x 1.39 in (US), 10.2 x 7.6 x 4.9 cm (UK) |
Anker Nano 3: Key Features
Aiming to pack the same power into a smaller form factor, the Anker Nano is up to 70% smaller when compared to the 30W charger from a MacBook Air. The Anker Nano has a 30W power output, which is enough power for small devices, up to Apple's MacBook Air and its low-power Apple Silicon chips. The MacBook Air can be powered using 30W, but can also use more powerful 67W power adapters for faster charging.
For charging smaller devices, the Apple iPhone 13 can charge up to three times faster than a standard 5W charger that still comes with so many devices, with Anker claiming an iPhone 13 can charge to full in 1 hour and 35 minutes. Anker's testing also has an iPad Air (5th Generation) able to reach 50% in 45 minutes
Safety is also a top priority, and the Anker Nano 3 monitors temperature 3 million times a day, cutting off power should the temperature reach unsafe levels. The Anker Nano comes in a range of color options (country dependent) as well as the traditional white or black colors.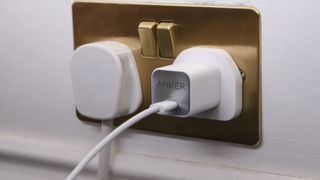 Anker Nano 3: Build & Handling
The Anker Nano is an absolutely tiny little charger. Compared to Apple's 30W or 20W chargers, then the Anker Nano is dramatically smaller. Apple's chargers aren't the smallest on the market however, and compared to other rival third-party chargers from companies like Ugreen, the size saving on the Anker Nano isn't as groundbreaking.
The adapter is really well designed, in the US you get a pair of folding prongs that make the design so much sleeker. Unfortunately in the UK and EU, the nature of wall sockets means that Anker can't quite achieve the same level of miniaturization, so there is a cumbersome plug stuck on the front. We might have actually reached the limits of how small plugs can be to fit wall sockets on this side of the Atlantic.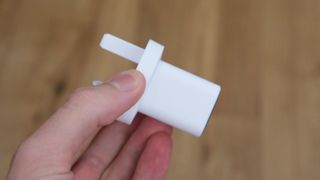 Anker Nano 3: Performance
The Anker Nano 3 performs admirably when used alongside a number of devices. Starting with the MacBook Air (M2), and while the Anker Nano 3 is not powerful enough for the MacBook to fully take advantage of its fast charging tech, but the 30W speed from the Anker Nano 3 was plenty to keep it going. Even when pushing the laptop with Adobe Lightroom and Photoshop, Apple's power management software managed to ensure that it didn't push beyond the power the Nano was providing.
Onto phones, I tested the Anker Nano 3 by charging my Apple iPhone Pro 14, which has an (unofficial) charging capacity of 27W. The phone charged using the Anker Nano 3 from around 1% to 50% in just over 30 minutes, the phone then finished charging in a little over an hour and a half. In these tests the phone was not used at any time, using a phone while charging inevitably draws more power and slows down the charging to a degree. My Google Pixel 7 Pro with its larger battery but faster charge speed took just under 2 hours.
The Anker Nano 3 can also charge all your devices that aren't capable of maxing out its top speed, the power adapter had no issues charging my AirPods or Apple Watch, although it doesn't charge either of these devices faster than lesser powered chargers as both have quite a low max changing speed. So, word of warning, the Anker Nano 3 is not worth buying if you are hoping to charge your accessories faster.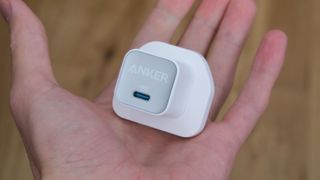 Anker Nano 3: Verdict
The Anker Nano 3 is a tiny little powerhouse of a plug. The advent of GaN technology has allowed Anker to make the plug smaller than ever before, while still providing enough power for a MacBook Air or to fast charge a phone or tablet. If you are reading this in the US then you have got lucky with a folding prong design that makes the power adapter outlandish and small, for the rest of the world bulky plugs up front ruin the aesthetic somewhat.
But no matter where you live the 30W, output from this little plug is excellent, managing to charge my iPhone 14 Pro in around an hour and a half, and keeping my MacBook Air (M2) going even during heavy use. If you only have a few lower-powered devices, then this is an excellent plug for taking everywhere.
Read more: check out our top picks for the best iPhone charger, or for something a little more powerful, take a look at our guide for the best GaN charger.